Standing at the threshold of his door, a 42-year-old Charan Das passed me a smile. We were standing across him photographing the stall of Hindu deities. There was a poster of Durga Mata sitting on a lion with both her legs on one side, reminiscent of the Victorian morality, during which "ladies" sat "properly" on their horses. Muslim women in Pakistan still sit on motorbikes in this way, putting their lives in threat every time they ride a bike.
There was an air of festivity in the atmosphere. The entire mohalla was celebrating the final night of Navratri. There were bright lights everywhere. In one corner there were men preparing food for langar in cauldrons while the womenfolk sat next to them cutting vegetables. The younger lot was busy preparing the sound system and stage for the night, while children chased each other in the streets of this mohalla.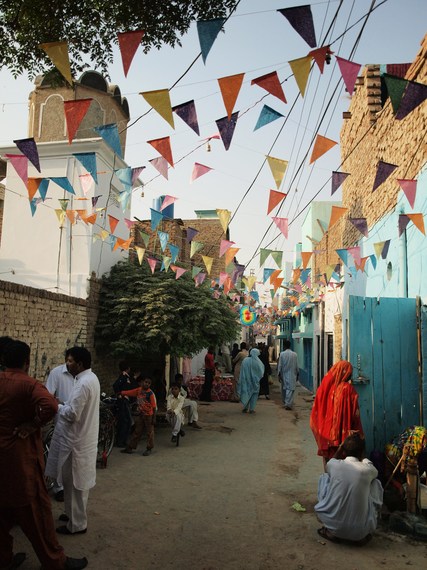 The scene inside the mohalla was in sharp contrast to what lay outside. It was only 8 in the night and the city was already sleeping. There was darkness everywhere, while men slept on the charpoies outside of their shops. The Akaliyan Mohalla or the community of minorities shone beautifully in pitch darkness. This was 2010 when I along with my friends Bilal Ejaz and Iqbal Qaiser had traveled to Bahawal Nagar, a small city in southern Punjab, bordering Bahawalpur district, about four and a half hours away from Lahore. My Hindu contact in Lahore had informed me about this festival where hundreds of Hindus converge from all parts of the country for the festival of Navratri. We were greeted at the entrance by our friend and also by a flag of Jamaat-ud-Daawa, the front face of the militant organization Laskhar-e-Taiba. I had heard reports that militant organizations are now focusing more on southern Punjab and Sindh to recruit their cadres. The flag at the entrance of the Akaliyan Mohalla was symbolic. The minorities might live on a small island and might even have religious freedom to celebrate their festivals; the flag nonetheless clarified who is in control.
"What are you photographing the murtis for?" asked Charan Das in his sleepy tone. His beard was over grown while his hair also needed a trimming. There was a thick bangle on his feet and he wore no shoes. His bangle reminded me of a conversation I had with my young driver a few years ago. It was the month of Muharram, the month of mourning in Shiia tradition, when Imaam Hussain along with his family was massacred on the fields of Karbala. Every year millions of Shiias commemorate the event by mourning publicly. Young passionate devotees, like my driver Tanveer, inflict heavy punishments on their body. For two months he also wears a thick bangle on his foot.
"What does it signify?" I asked him one day. "They represent the shackle that Imam wore when he was incarcerated," he said. "The bangle in my hand represents the handcuff the imam wore. It is my way of showing fidelity to the imam." For the first ten days of Muharram he also does not wear any shoes. "This is for a mannat. I will take off the bangle and wear shoes on the 11th of Muharram."
Charan Das invited us inside his house. We sat on the ground in a small room. There was a picture of Durga Mata on her ride in one corner of the room, along with smaller pictures of other Hindu deities and Guru Nanak along with his sister. Das' younger cousins were also present in the room dressed up for the occasion, with tilaks across their foreheads, holding flags and wearing their cleanest clothes.
"The bangle on my foot is for a mannat," said Charan Das as we started the conversation. "I am praying for my cousin's job." Like Tanveer Charan Das too hadn't worn shoes for the past ten days as a part of his supplication. "We arrived earlier in the morning and went straight to the temple. We cycled all the way from Multan to attend this festival. This is my cousin," he said pointing to a young boy sitting next to him wearing a saffron shirt and pants. Look at his leg." He lifted his trousers to show the deformity of his leg. "He too rode with us. Mata gave him strength. All kinds of miracles come true here at the abode of Mata."
Multan is about 200 kilometers from here. Throughout the day several groups of boys and men made their way to the mohalla traveling on foot or cycling from different parts of the country. This is their way to show their devotion to the goddess, proving to her that they would overcome a difficult journey to get to her.
About a year after my trip to Bahawal Nagar I attended the Christian pilgrimage to Maryamabad, a small village about 100 kilometers from Lahore. The shrine at this village is dedicated to Mother Mary, where several years ago a passionate devotee is reported to have sighted her. Later a church was built over the spot to commemorate the event and every year a group of devotees started coming to the shrine. Now it is one of the largest Catholic gatherings in Pakistan that attracts thousands of devotees from all over the country. Similar to the Hindu gathering discussed above here too several young pilgrims make their journey much more difficult than it should be by either walking to the shrine from far away cities or riding a bike. Once at the shrine they stand in a long queue to present their offering, a scarf to the Mother.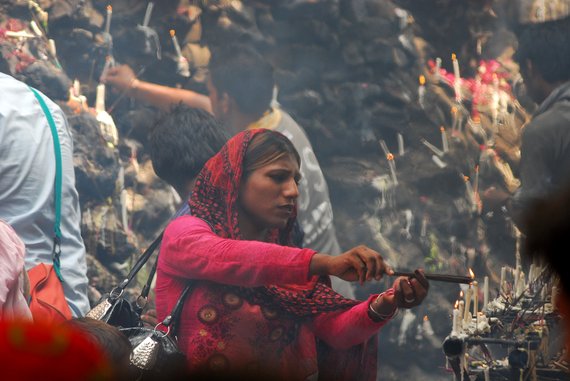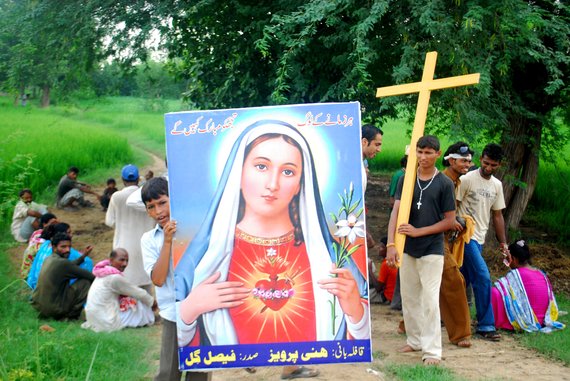 "We went straight to the temple once we got here," said Charan Das. "We had gotten a special chunri from Multan." There were long lines outside the temple as well, as devotees waited for their turn to catch a glimpse of the Mata and present their offering.
Green cloth with Quranic verses on it is an ubiquitous present to a Muslim Sufi shrine. Similar to the shrine of Mother Mary or Mata Durga, it is considered inauspicious to visit the grave of a saint without any offering. There is a congested market outside every Sufi shrine that sells these chadars which are then offered to the grave. Pilgrims present it to the caretaker who might or might not cover the grave with it, after waiting in a long line. Passionate devotees of the saint too undertake a journey on foot or cycle, usually traveling in groups to attend the urs celebration of a saint. They prefer bringing their own chadar as opposed to buying one from the bazaar outside the shrine. It is as if these three distinct religious traditions merge into one practice at their respective shrines.
"I didn't have a job for an entire year so I made a pilgrimage to the Mata's temple and the next day I got a job as a peon at the DIG's office in Multan," said Das. "I promised Mata that I would return next year as well on a bicycle if I got the job, so here I am."
"Do you get holidays for religious festivals?" I asked him. Whereas Muslim religious festivals are a national holiday all across Pakistan, Christians are also given holidays for their religious festivals. Then there are local holidays for certain patron saints. For example on the occasion of Data Darbar's urs, there would be a local holiday in Lahore. On the occasion of Baba Farid's urs there would be a holiday in Pakpattan. However no such rule applied to Hindu festivals.
"No," he replied. "I asked for five days off to come to this pilgrimage but my supervisor rejected it."
"What will happen to your job now?" I asked him.
"Mata takes care of everything," he replied.
More than five years after my encounter with Charan Das I am reminded of my conversation with him when the National Assembly of Pakistan in a surprising move passed a resolution declaring Diwali and Holi to be national holidays for Hindus. I did not stay in touch with Charan after Bahawal Nagar. He probably lost his job when he got back. A Muslim traveling to an urs of a saint would have probably received a more sympathetic boss. But now that a law has been introduced for at least two major Hindu festivals would Hindus in Pakistan have more freedom to celebrate their religious festivals?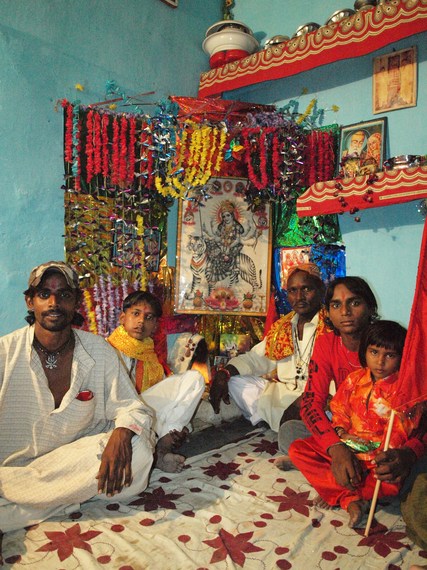 REAL LIFE. REAL NEWS. REAL VOICES.
Help us tell more of the stories that matter from voices that too often remain unheard.