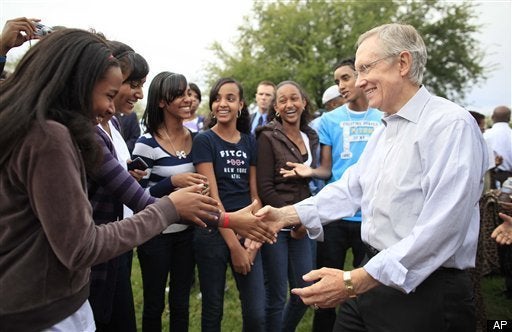 Day-by-day tracking of in-person early voters in Clark County, Nevada shows an uptick of registered Democrats and Independents in the last week of the early voting period. Registered Republicans, on the other hand, showed their best performance of the entire early voting period on Monday, but their numbers have since flat-lined. As a consequence, the number of registered Democrats outnumbered registered Republicans by the greatest single-day margin on Thursday -- 3,400. This is significant because Clark County is home to Las Vegas and it is likely that well more than half of the state's votes will be cast in this county.
We have daily tracking of in-person early voters in only one other county -- Washoe County, the second-largest population county and home of Reno. Here, more registered Republicans have voted early than Democrats. Here, too, there has been an increase in early voting as Election Day nears -- as is typical across many states with various forms of early voting -- but the daily difference between registered Republicans and Democrats has remained fairly constant at about 250 persons.
To illustrate, I plot the number of registered Democrats, Republicans, and those with no party registration who voted during each day of the early voting period. I have drawn the two graphs on the same scale to show that changes in Clark County have a larger effect on the statewide numbers than Washoe County.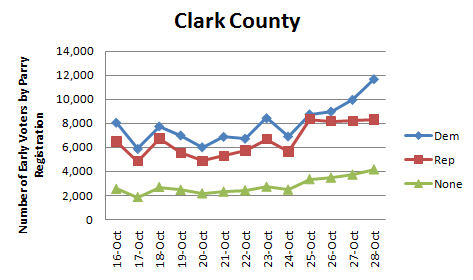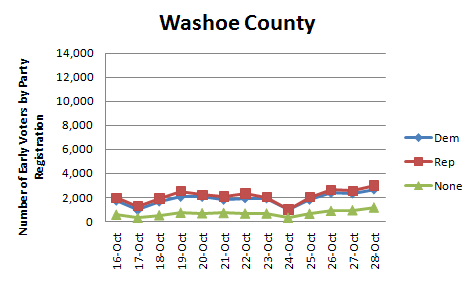 As of last Saturday, the state reported more registered Republicans had voted early in-person. Unless something dramatic is happening in counties where we do not have early voter party registration numbers reported on a daily basis, when the state reports the final statewide partisan registration among early voters, more registered Democrats will have voted in-person early in Nevada. The Associated Press provided me with total mail ballot statistics for Clark and Washoe counties -- with no party breakdowns -- that total 28,323. It could be that significantly more Republicans are voting early by mail, and as a consequence more Republicans have indeed voted early than Democrats when mail ballots are included.
Of course, party registration is only a clue to how a voter will vote. A registered Democrat is free to vote for Sharron Angle. However, these late breaking in-person early voting numbers must be encouraging for Harry Reid. While the latest polls may show Angle opening a narrow lead, the interviews were mostly conducted prior to Monday of this week and may have thus have missed this late surge in Democratic early voting. Hang on to the edge of your seats, because the Nevada Senate election appears to be heading down to the wire.
Today -- Friday, Oct. 29th -- is the last day to vote in-person early in Nevada.
UPDATE: The Associated Press has provided a party breakdown for the Clark and Washoe county mail ballots. According to their calculations, Democrats lead Republicans 43.5% to 41.2% among all early votes -- in-person and mail -- in Clark and Washoe as of yesterday plus all in-person early votes in the remaining counties as of 10/22. What is not calculated here are the 16,830 mail ballots and early votes since 10/22 from other counties.
UPDATE: Democrats had their best day for in-person early voting on Friday. In Clark County, 16,316 registered Democrats voted in-person and 11,734 registered Republicans voted. This is also the best day for Republicans in terms of raw numbers, but the 4,582 Democratic advantage is the largest in any day during the early voting period. In Washoe County, registered Democrats outnumbered registered Republicans 3,677 to 3,502. This is only the second time during the early voting period that Democrats outnumbered Republicans in Washoe County. This is the largest advantage Democrats have had in that county.