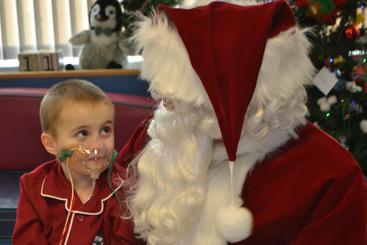 The staples that mark the essence of the holiday season occur like clockwork on an annual basis-and are not dependent on any particular person. Despite any aversion to the holiday season, it will take place all around you just like every single year of your life. However there never is a guarantee on how it will feel from year-to-year. This Christmas season, the thought of taking part in any merriment may be intolerable if you're in the middle of grief. Or perhaps because of a recent life event such as a new baby or relationship, Christmas has taken a new feeling. The holiday season never changes, for it is truly tried and true. Our receptiveness and experience are the triggers that impact how the holidays are acknowledged throughout the years. Loss, change, acceptance, additions- all are moving parts in how we experience life, which includes the holiday season and all things associated with it.
Exactly two years ago this week, a pair of families underwent a life-changing event that forever alter their perception of the holiday season. On the same day in 2013, both families faced unexpected uncertainty, and desperately hoped for miracles that would put their lives back together. Two sets of parents kissed their babies outside of an operating room. Two children took their last breaths with the heart and lungs that brought them into the world. Two sets of surgical teams performed procedures that changed Christmas for everyone involved.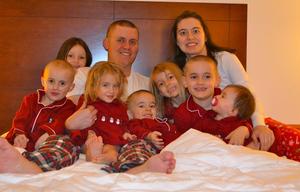 The one family, who continues to remain unknown, made the decision to donate their child's organs. Which meant that less than 24 hours later, 7-year-old Weston Keeton was living with a new set of heart and lungs. Suffering from pulmonary hypertension for most of his life had left him depending on a heart and double lung transplant as his only chance for survival. The Keeton family knew that the only way to save their son from death's doorstep was if another child passed. For two and a half years, the family struggled with this with keeping their family together during Weston's wait for a transplant. However the surreal day of transplant came, his mother Julie had a request by all who spoke with her. Take the time to think of the parent's of the donor, who are facing the unthinkable, for they would be going home to purchase a casket instead of a Christmas tree.
Because Weston's transplant occurred at The Children's Hospital of Philadelphia, located on 34th street, and that it was so close to Christmas, the day was dubbed 'Miracle on 34th Street'. Weston's hospital room was decorated for Christmas, and his beloved 'Elf on the Shelf' wore a surgical mask the morning of transplant. Between the excitement that a match was finally found, the ultimate act of kindness through organ donation and the hope of a brighter future for Weston made for the perfect ingredients of a Christmas season miracle.
And while the gift of transplant was the ultimate gift that Weston and the Keeton family could receive that year- it did not come with a warranty that protected from the uncontrollable complexities of the human body. Three months after transplant, Weston passed away but not before leaving an indelible imprint about of the meaning of life on so many who were touched by his life.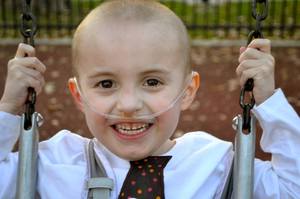 Two years later and the Keeton family is back home in Tennessee working on creating a new Christmas season with their children while simultaneously coping with grief. Although their transplant journey has ended, Weston's legacy continues to educate people about the life-saving gift of organ donation, and true life-transforming effect it has on an entire family. The story of the selflessness of his donor family and the fighting chance it allowed Weston has brought the best out in people. 'The Miracle on 34th Street' was not just that singular day of transplant. It is how so many people continue to register as organ donors after being inspired by inspired by Weston's life, and his donor.
That is why on the anniversary of Weston's Keeton's personal 'Miracle on 34th Street', I share this story. Because at this exact moment, there is a child just like Weston, placing 'a new heart' on the top of a Christmas list this year. And at the same time, there is a family that went from writing holiday cards to penning an eulogy virtually overnight. However in the most selfless choice- a person's legacy be elevated into a status of a miracle making existence providing the ultimate gift of kindness. In honor of Weston and his donor, consider registering online as organ donor so that one day a miracle can be made because of the life you live today.

To learn more Weston's Warriors, click here. To register as an organ donor, click here.
Popular in the Community