A Catholic priest has built a small-scale version of the Vatican -- complete with nuns in black robes, Swiss Guards, and a tiny, waving Pope Francis.
Rev. Bob Simon, pastor of Pennsylvania's St. Catherine of Siena church, says that the project started off as a monumental challenge, and ended up being a journey of faith.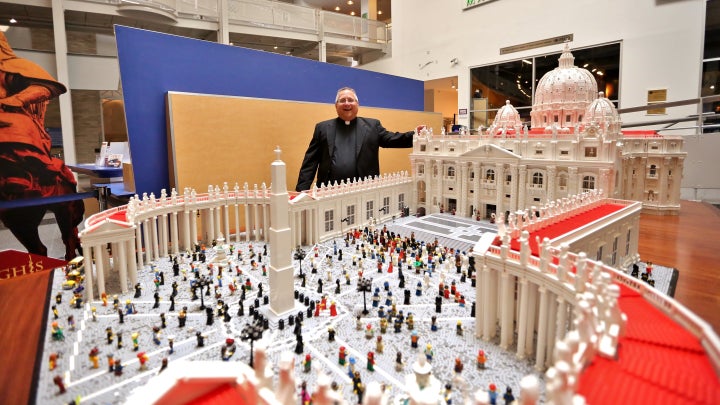 He said there have been two certainties in this 50-year-old life: he's always wanted to be a priest and he's always loved playing with Legos. As a child, he remembers seeing a small parish church being built right in his backyard. The bulldozers and machinery were exciting to him as a little boy. Looking back, he said he wonders if the experience of watching a church come to life didn't also draw him to the priesthood and the task of building a spiritual community.
Simon built his first Lego Vatican in the 7th grade, a "crude" and "very simple" project that involved mostly red and blue bricks.
His most recent Lego Vatican is much more complicated. The facade alone weighs over 100 pounds, he claims, and he used more than 44,000 tiny lego cobblestones. St. Peter's Square is vibrant and bustling with tiny Lego people.
The process of building the piece, which took 10 months, had him thinking about the Vatican's original architects. The Piazza in front of St. Peter's Basilica was designed by Gian Lorenzo Bernini, to emulate the embrace of a mother's arms.
"I wanted to show this that the church extends this great welcome to everyone," Simon told The Huffington Post. As a result, he used Lego people of all stripes -- a robber, a sailor, and even an Elvis impersonator.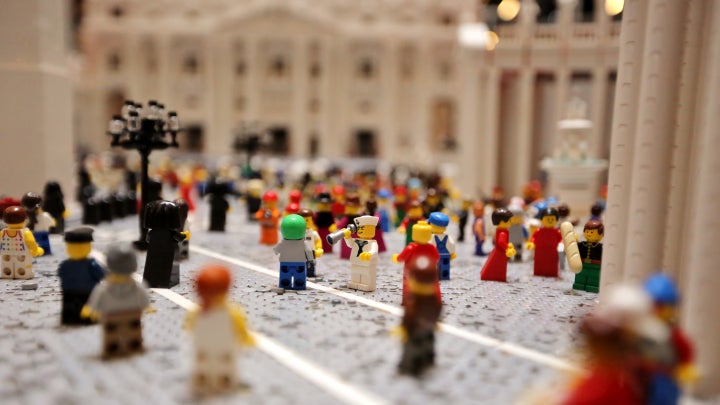 Simon said he would come home from a busy day and spend his nights laying down dozens of the same doorways, arches, and bricks. The repetitive nature of the work soon reminded him of the rosary.
"It was a good time of prayer," Simon said. "It was one brick at a time, one niche at a time."
Simon's Lego Vatican is going on display at The Franklin Institute in Philadelphia, where Pope Francis is scheduled to take part in the World Meeting of Families on Sept. 26 and Sept. 27. It coincides with the museum's new Vatican Splendors exhibit, which showcases significant objects from the Catholic Church's history.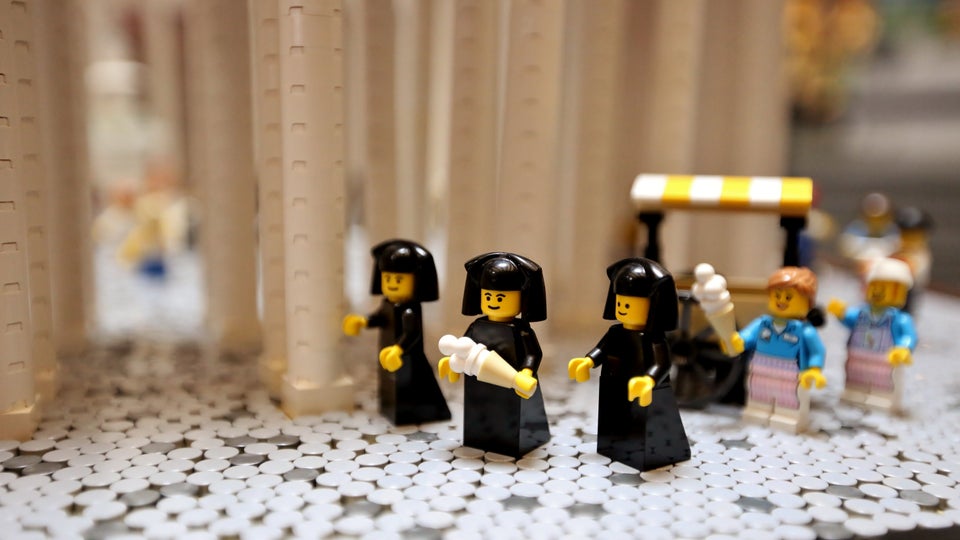 A Lego Vatican Rises In Philadelphia