I thought it would be valuable to take a lesson on fear from legendary investor Warren Buffett. After an epic run in 2013, stocks have taken a breather to start the new year. After reaching a new high on January 15, the S&P 500 has corrected by 6 percent. If you read the recent headlines, you'd probably be scared stiff. It's no wonder that some people end up in the hospital. Just check some of these headlines out: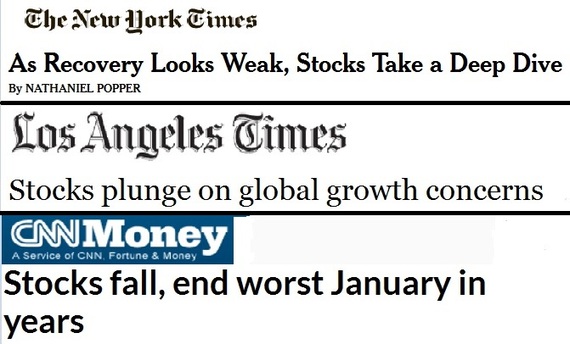 Everyone is worried about emerging markets, Fed tapering, rich valuations and weakening economic data. So far in 2014, U.S. listed ETF money flows are $15.4 billion in outflows. Five popular ETFs (SPY, EEM, IWM, VWO and QQQ) have seen almost $28 billion in redemptions. So is it time to sell?
Warren Buffett's famous rule is:
Be fearful when others are greedy, and be greedy when others are fearful.
This seems to be a simple rule, but even Buffett admits that it is easier said than done. "There is no comparison between fear and greed. Fear is instant, pervasive and intense. Greed is slower. Fear hits," Buffet told CNN.
An interesting investor sentiment indicator is called the Fear and Greed Index from CNN Money. Right now it is registering "Extreme Fear."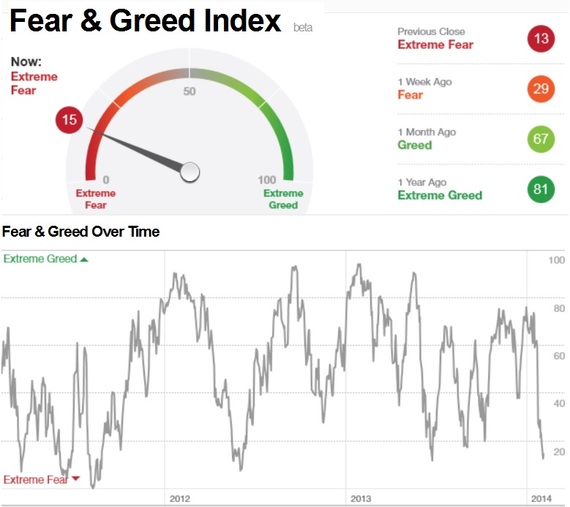 You must decide whether the time is right to buy or sell. On the negative side, the hibernating bear (market) may be stirring after five years of slumber. While investor sentiment is fearful, it is nowhere near as fearful as 2008/9 or even 2011 for that matter. On the positive side, if you were bullish a few weeks ago, then you can surely find investment ideas that are much cheaper today.
Are you buying into this decline or locking in your profits from last year? Please leave your comments below.
Popular in the Community