It's #WorldSuicidePreventionDay 2016 and I'll spend part of the day like I spend nearly every day, walking underneath the canopy of trees in Portland's forest park.
In the weeks and months after my husband's suicide, I spent many hours on the trails in Forest park. Instinctively, I sought out the quiet and caring of the forest, a place where I could come to terms with my feelings of guilt, remorse, and soul-shattering loss.

The arborists who care for the trees taught me about the way in which trees care for one another. They warn each other of illness. They take care to stay out of one another's sunlight. Remarkably, they feed the stumps of long felled companions through their root system, as if to say, even though you are broken, you are a part of us.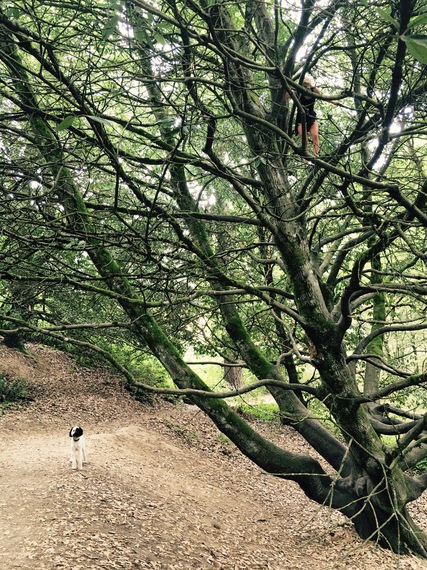 Trees are social beings. So are we. And like the forest, we need to take care of one another, and make friends with our losses. It's only when we accept our fear, our failure, and our grief that we are able to carry on. Trees don't have the luxury of sitting out wind and ice storms. Neither do we. But wisely, they go dormant, they conserve, they protect and preserve one another in order to grow in the coming season.
This September marks the tenth anniversary of my husband's death. But, when I see our 19-year-old daughter scale the tree her father taught her to climb, I am reminded not of our pain, but of our joy, and how sure and steady her grip has become.
#WorldSuicidePreventionDay -- Connect. Communicate. Care.
___________________
If you -- or someone you know -- need help, please call 1-800-273-8255 for the National Suicide Prevention Lifeline. If you are outside of the U.S., please visit the International Association for Suicide Prevention for a database of international resources.
Calling all HuffPost superfans!
Sign up for membership to become a founding member and help shape HuffPost's next chapter