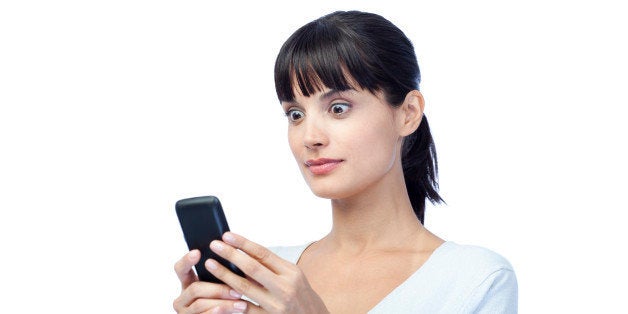 It's a PR and moral nightmare, and the deepest fear of most handlers of a brand's social media presence. It's also one of the most easily avoided, and most difficult to fix: the ever-present Twitter Blunder.

The primary task for social media handlers is to engage with users at every available opportunity. Participating in trending topics not only increases online presence, but, if done with originality and humor, can provide a company with otherwise unattainable attention. "Sassy Branding," is the new and best way of communicating with the Buzzfeed-era of Twitter users, but the fast pace pressure of the 60-second news cycle can easily lead corporate Tweeters into foolishness, and has claimed DiGiorno Pizza as its latest victim.
Almost immediately after posting a poorly placed advertisement to the #WhyIStayed thread, the account removed the insensitive tweet in question (pictured above), and replaced it with a standard apology.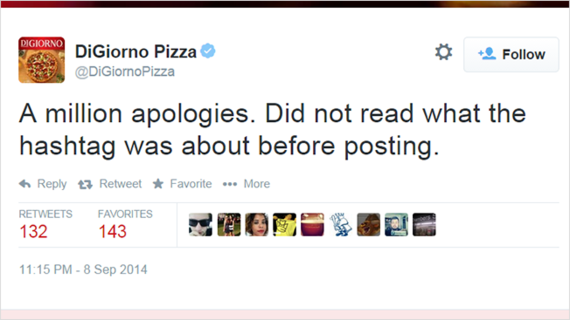 Frankly, the 140-character "We didn't click the hashtag" excuse is getting old, and the public knows it. Twitter has been around long enough that you cannot justify insensitive tweets on not taking an extra 10 seconds to find out the context of the thread you're inviting yourself into. These "apologies" only serve to draw attention to corporate laziness and blatant reliance on key messaging, rather than meaningful accountability. Yet too often this is still where crisis communications ends for corporations following a Twitter blunder. What sets DiGiorno apart from other brands is the steps they took after the initial apology.
Rather than take the overused road of issuing a brief apology and then skulking in the Twitter shadows for a few days until the issue blows over, DiGiorno has spent the last 19 hours and counting individually replying to each upset tweet sent their way. Better yet, the tweets are not the copy/pasted, robotic messaging usually used to deal with unhappy customers by similar brands. Each tweet is original, responds directly to the concerns expressed by that specific user, takes full responsibility of their mistakes, and offers some of the most genuine apologies I have seen in brand management.
So I applaud you, DiGiorno. You may have stumbled, but authenticity and humility will always trump momentary stupidity. May other corporate brands learn from both your mistakes, and your successes.
Support HuffPost
The Stakes Have Never Been Higher
Related
Popular in the Community