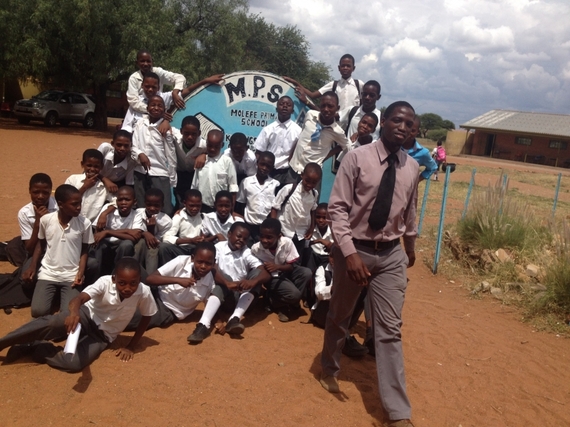 Teacher Mothusi Joseph Kgomo with his students
As a seventh-grade teacher at Kopong Primary School in Botswana, Mothusi Joseph Kgomo has many responsibilities. He teaches the children reading, math and science. He instills self-respect, manners and a strong work ethic in the boys. And on a warm day in October, he became an example of how they can help protect themselves from HIV by undergoing a voluntary medical male circumcision (VMMC). That's not a typical lesson from a teacher, but it's one that could ultimately save their lives.
Kgomo and five of his students who were circumcised that day (with their parents' consent) are a few of the more than 1 million men and youth in sub-Saharan Africa who have chosen to protect themselves and reduce their lifetime risk of contracting HIV by participating in Jhpiego-supported VMMC programs. This is a significant milestone that contributed to the U.S. government's goal of providing 4.7 million men with access to this safe and effective procedure that reduces female-to-male HIV transmission by approximately 60 percent and could avert an estimated 3.4 million new infections.
With generous support from the U.S. President's Emergency Plan for AIDS Relief through the U.S. Agency for International Development, the Centers for Disease Control and Prevention, and the U.S. Department of Defense HIV/AIDS Prevention Program, Jhpiego has helped governments of 11 East and Southern African countries offer VMMC as part of a comprehensive package of HIV-prevention services. These services include screening and treatment for sexually transmitted infections; HIV testing, counseling and referral to care; condom promotion; and HIV-risk-reduction counseling.
While the unprecedented scale-up of this lifesaving intervention in countries with high HIV-infection rates is impressive, what's more remarkable are the people who helped make it happen: fathers who brought their sons to clinics, best friends who encouraged their peers, military lieutenants who set an example for their platoons, tribal chiefs and concerned wives, as well as nurses who took on added responsibilities and roles at health centers, and healthcare providers from neighboring countries who traveled long distances to help their fellow Africans during busy VMMC campaigns. The African proverb is that "it takes a village," and in some regions that is exactly what happened to achieve this milestone.
As teacher and VMMC advocate Kgomo so eloquently put it, "Men must take responsibility for their health and wellness to get a passing grade in life."
Combined with other critical prevention tools, the scale-up of VMMC is providing men with lifelong, increased protection from this devastating epidemic and pushing the pace of change toward creating an AIDS-free generation in our lifetime.
Popular in the Community