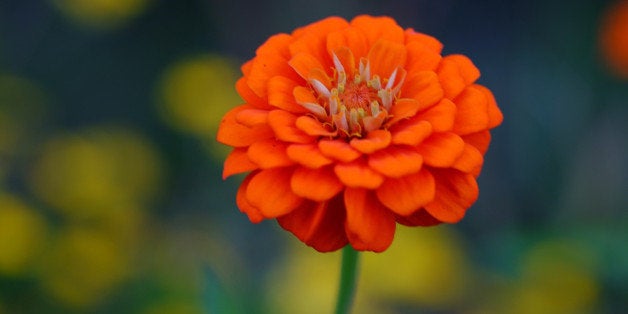 After 15 years of yoga, I can finally do a handstand. First, I started doing a few downward dogs in the living room at night. My daughter, a gymnast, could do a handstand in the middle of the room and my son had mastered handstand pushups (don't ask) and, finally, I joined in. I was the experienced yogi, after all. After a few nights, I realized how much fun it was to bring that part of myself into the house, and within a few weeks I was doing a very short home yoga practice almost every day.
What surprised me most was that my children not only didn't seem to mind, but were generous and kind with their handstand expertise and didn't tease me too badly when I passed gas, which, by the way, is a natural aspect of being upside down. I have been a mother for almost 17 years and, when I am inside the house, I am doing stuff for my children or for the household, or I am concentrating on being with them. I am paying bills, feeding them or bathing the youngest, organizing the 50 million objects we have accumulated, or fine-tuning tomorrow's flight plan so that each of them can touch down at his or her scheduled destination (orthodontist, afterschool class, standardized test, or friend's house). If I am not doing something for one of them, then I am most likely grinding out meaningful questions about their days or playing Go Fish.
It surprised me that my kids seemed more relaxed and easygoing after I had done a few sun salutations. "Weird," I thought to myself -- and then I remembered my mother's marigolds. My mother was often overwhelmed, and in the chaos of living with my charismatic and loud father, she sometimes made herself smaller, perhaps leaving her point unsaid at the dinner table. Some days, she seemed to have no skin to protect her. When one of us kids insulted her outright, she opened her eyes wide but said nothing. The same was true when our neighbor lectured her on the proper method for lining up trash cans on the sidewalk.
But when she worked with her flowers, my mother was beautiful and calm. She was herself. I remember sitting in the shade on the cold floor of our porch as she stood at the rail, balancing a small marigold seedling in her palm. She stretched the ball of dirt out in front of her as if it were a mirror and she brought the orange marigold to her cheek. She smiled her goofy smile, as if she were the luckiest person on Earth. When she gardened, she moved slowly and gracefully, as if she had no worries about the future or the world beyond our porch.
It wasn't that the activity made her feel good. Or that she was having fun. When my mother was gardening, she returned to her true nature. Underneath our experiences, separate from our relationships, aside from our jobs, we are each someone unique and wonderful. My mother was sweet and goofy, artistic and zany, sensitive and so funny. When she was with her marigolds, she was in her own nature, a place where she was deeply okay. And being with her, even if I was just sitting on the floor, I knew that my world was okay and so was I.
It is easy for a mother to find that her authentic self has gotten buried under the day-to-day rainstorm of small tasks and duties that begin at 6 a.m. and end at 9 p.m. We forget that, for our kids, we are the moon, the stars, the sky and the Earth. We don't just matter; we are the environment in which they grow up. When we learn how to shift our own energy in their presence, we give our kids faith that we have a path back to ourselves. So, the next time we get angry or just plain exhausted after a long day at the office and our kids wonder when their real mother will join the show, they know that they will not have to wait forever. When my mood gets ornery, one of my kids inevitably says, "Have you done any yoga?" They know that the sensitive and gentle me who shares my mother's goofiness and tenderness will return to the living room after a few downward dogs.
P.S. I write this as a mother because that is who I am, but I believe it all applies to fathers as well. And, besides, it is much easier for men to do handstands.
This is the third in a series of 10 posts by Paula Throckmorton about (re)discovering ourselves through motherhood. Follow along with the hashtag #HoldingLove!