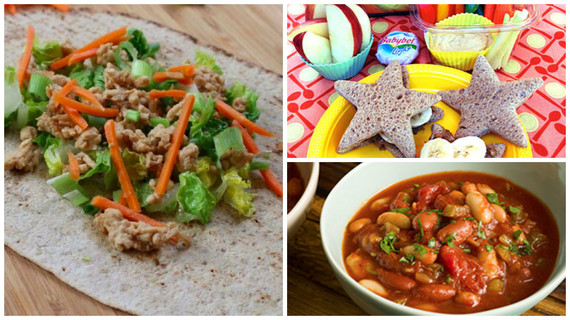 Kids are heading back to school, so while you're busy buying notebooks, pencils and papers, don't forget to restock your pantry and fridge with healthy choices that provide brain-boosting nutrients children need. Many parents try to send their kids to school with a healthy lunch, but they don't always succeed. In fact a report from Baylor University found that packed lunches were less nutritious than school lunches.
A well-balanced lunch should include:
• 1-2 servings of whole or enriched grains to provide the energy that kids need to stay focused and be active;
• A source of protein like beans, nut butter or lunch meats for staying power;
• A fruit and veggie serving for vitamins and fiber; and
• A dairy serving like milk, yogurt or cheese.
Here are lunch and snack ideas that make the grade and are ready in minutes:
1. Asian Chicken Whole Wheat Wrap
Often I like to take a twist on regular sandwiches by using a healthier wrap in place of white bread. Look for wraps that are low in fat, contain at least 5 grams of fiber and are made with whole grains, like Flatout 100% Whole Wheat. For just 100 calories, these wraps pack in 8 grams of fiber and 9 grams of filling protein. Load the wrap with a mix of at least 1 cup of shredded cabbage, carrots, and green onion and add 3-5 oz of pre-cooked chicken (You can use a rotisserie chicken to save time). Sprinkle with ½ teaspoon low-sodium soy sauce, rice wine vinegar and 1 teaspoon of sesame oil. Complete the lunchbox with a fruit serving such as a banana, pear, or sliced strawberries and a serving of milk or cheese.
2. Vegetarian Three Bean Chili
A pantry with a few essentials, like beans, tomatoes and other veggies, equals no-fuss meals in minutes. I make pantry-prepared meals at least twice a week. Canned foods mean less prep and year-round availability, making healthy, homemade meals a reality, more often. This Three Bean Chili takes about 15 minutes -- if you're rushed in the morning, try making it over the weekend. Serve with a thick slice of whole grain bread and a piece of fruit.
3. Banana and Nut Butter Sandwich
An easy kid favorite and dietitian-approved meal is a nut butter and sliced banana sandwich on a whole wheat wrap or bread . Instead of the usual peanut butter, try almond or sunflower seed butter. Pack with an assortment of snap peas, baby carrots, sliced cucumbers, peppers, hummus and mini cheese rounds. For fruit include apple slices, spritzed with lemon juice to keep them from browning.
Skip the cookies and opt for these healthier between-meal munchies:

1. In-Shell Pistachios
Kids love crunchy snacks, but salty chips are calorie-rich but nutrient-poor. Pack a crunchy surprise like in-shell pistachios instead. A serving of pistachios offers 3 grams of fiber and 6 grams of protein to keep kids satisfied. Add For the same 160-calorie serving, you get around 49 nuts compared to 15 chips -- plus 3 times the fiber and protein.
Kids love to dip! Rich, creamy hummus provides fiber and protein to keep kids satisfied. Serve it with fresh cut veggies or whole grain baked pita chips for a convenient snack or lunch box addition.
3. Whole Grain Fig Bar with Low Fat Yogurt
Low-fat yogurt is a great way pack in more protein and calcium into kids' diets. Combine with whole grain fig bars for added energy.