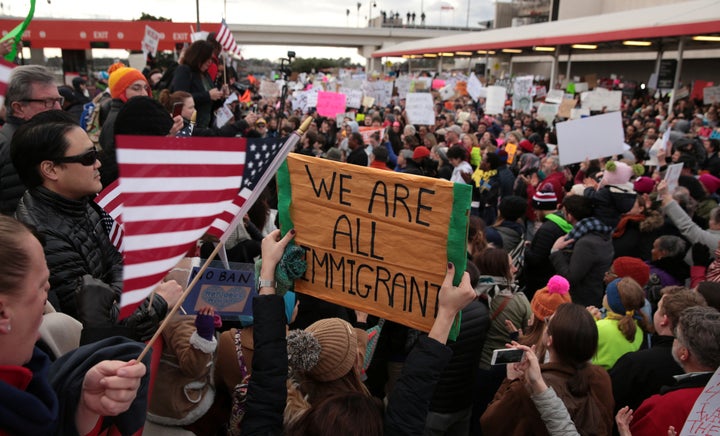 To our allies and friends around the world,
Like many of us here in the United States, you've probably been appalled at President Trump's shrill "America First" rhetoric and maybe even shed a few tears at what seems like the passing of the welcoming, inclusive America you thought you knew. Many of you are asking, like one admirer from Australia, "Dear America, why did you let us down?
So we just wanted to write back with a simple request—please don't judge us all by the impulsive acts and bitter tweets of one man. While Donald Trump may be the current spokesman for the U.S. government, he is not the true moral voice of America.
Yes, Trump was elected president, and he has passionate supporters. Still, more of us—nearly three million more of us—voted for Hillary Clinton. (We elect our presidents by a state-based system, not the popular vote.) Today, only 36 percent of Americans approve of Trump's job performance, making him the most unpopular president in modern history. And most Americans still want the United States to play an active, responsible role in the world.
In fact, even as Trump has raised doubts about America's commitment to our allies, U.S. troops stand guard from the Baltics to the Korean Peninsula, ready to lay down their lives for our common defense. Even as Trump proposes to slash funding for diplomacy and international development, Americans like Michael Sharp—a human rights investigator who gave his life in the Democratic Republic of Congo—still risk their lives to help countries overcome war and disease. And year after year, Americans donate more money to global charities than any other nation.
"Trump may have won an election, Trumpism has already lost the future."
While Trump pulled the U.S. federal government out of the Paris climate accord, more than 1,200 American businesses, cities and states have pledged to continue reducing carbon emissions and investing in clean energy. And with nearly 70 percent of Americans in favor of the Paris agreement, one of the very first acts of the next Democratic president will surely be to rejoin it.
Trump may want to deport millions of undocumented immigrants, but he has to contend with the hundreds of towns, cities, universities and states that have declared themselves sanctuaries and refused to cooperate in deportations.
The next time you hear Trump demonize Muslims, please remember that a majority of Americans oppose his bigoted travel ban and that Christian churches and Jewish synagogues are welcoming Muslim refugees to their communities. When you hear about a hate crime, as in Oregon when a man with a knife began threatening a woman in a hijab, remember the two Americans who gave their lives trying to protect her.
And if, some days, it seems as if our Republic is withering under assault by the president himself, know that our democratic institutions are proving to be stronger and more resilient than even many Americans realized.
Trump tries to undermine the rule of law by denigrating a "so-called judge" and the courts, which he claims are "slow and political." Yet, undeterred, courts have repeatedly blocked his Muslim travel ban and will be hearing lawsuits alleging that his business dealings violate the Constitution. Congress and an independent counsel continue to investigate whether Trump's campaign colluded with Russia to influence the presidential election. Slow as they are, the gears of American justice are turning.
Trump tries to discredit the press by calling critical news coverage "fake" and the media "the enemy of the American people," and in recent weeks journalists have been assaulted—one even jailed—simply for asking public officials questions. Still, journalists persist in shining a light on abuse of power, subscriptions to major newspapers have soared and journalism schools report a new interest among young people—the future reporters that Trump is unwittingly creating.
Finally, the people Trump dismisses as "paid protesters," are, in fact, millions of Americans who have marched against his retrograde policies on women, the environment, and science itself. Donations to progressive causes have surged. Some call this explosion of grassroots activism The Resistance. In fact, it's self-government in its most authentic and majestic form—a new generation of Americans defending the world's oldest democracy.
And while Trump may have won an election, Trumpism has already lost the future. Young Americans have largely rejected him. Minorities—including African Americans, Hispanics and Asian Americans who overwhelmingly voted against him—will only grow in number and, within three decades, will be the majority.
It may be that, under Trump, our Republic is entering a new Dark Age. The days ahead will be difficult. But not unlike the monasteries of Ireland centuries ago protected classic texts from the chaos of their time, people across our country are working to safeguard our democracy today. So please don't give up on us. America is bigger than any one person, even the president. And we're still here.
Terence Szuplat (@tszuplat) was a foreign policy speechwriter for President Barack Obama from 2009-2017 and deputy director of White House speechwriting from 2013-2017. He is the founder of Global Voices, a communications firm.
Popular in the Community