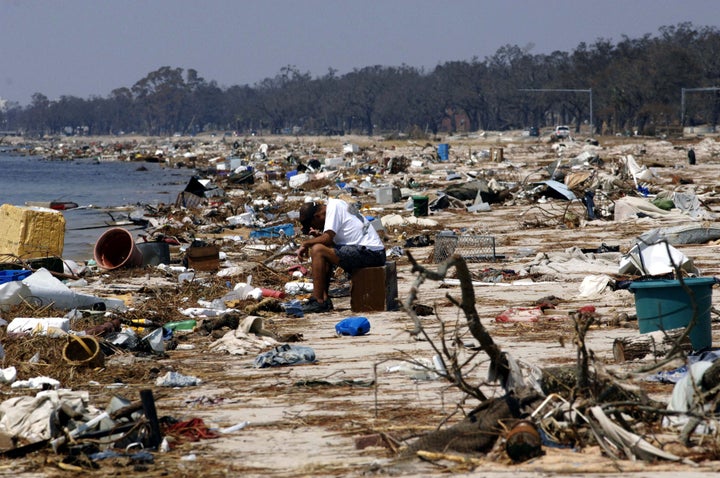 NEW ORLEANS -- It's righteously hot at the beginning of June, a time for this area to take an involuntary intake of breath, if not a full-on gasp, before getting on with finding some shade. June 1 is the official start of the hurricane season. No whistles blow, no bands play, but the news media are full of stories about the onset of "that time of year." I've just finished taking a ride on a stretch of road that brings back memories of a previous hurricane season: the so-called "twin spans" of I-10 across Lake Pontchartrain, which were shattered and scattered like the toys of an angry child during the storm surge of Hurricane Katrina, are still, just now, undergoing the finishing touches of rebuilding.
This is a notable start of hurricane season for another reason. June 1 was the Corps of Engineers' self-imposed deadline for the completion, in name if not in fact, of their renamed Hurricane Risk Reduction System (the previous name, the Hurricane Protection System, was too ironic for the Corps, given the ghastly failures of that system during Katrina). Parts of the system are yet to be completed, or started, but the Corps is proud to say, in press release and soundbite alike, that "New Orleans has never been safer." Coming from an agency which, according to two independent forensic investigative reports (ILIT from UC Berkeley and Team Louisiana from LSU), bore primary responsibility for the death and devastation in 2005 that nearly drowned this metropolitan area, that's mild reassurance indeed. The conclusions of those two reports share an interesting distinction: both were never publicly rebutted in detail and both were widely ignored by the national news media.
So, how safe is New Orleans? John Barry, author of Rising Tide and a member of the East Bank Levee Authority (there's one for each side of the Mississippi River), zeroes in on the central fact of the "100-year protection" project for which the Congress has given the Corps somewhere in the neighborhood of $8 billion so far, with more to come:
But 100-year protection for a major city is the lowest standard of protection in the developed world. The Dutch and Japanese protect urban areas against a so-called 10,000-year flood. So our 100-year protection is not exactly something to brag about.
One other fact as we crank up the air conditioning and celebrate the achievements of an agency whose previous failure here was not followed by a single instance of punishment, sanction, or disincentive for future failure. Take the Corps at its word, for a moment, if you dare. The hydraulic pumps installed at the three places where canals empty into Lake Ponch are temporary, says the Corps, with about a five-year lifespan. (This conflicts with documentation we've found and displayed in my film about the subject, in which the Corps originally projected a 50-year lifespan for the pumps, before a Corps engineer reported that the devices in question repeatedly failed their testing, after which they were installed anyway. But we're taking the Corps at their word, remember.) Those temporary pumps have now been in place since June 1, 2006. That means, as of now, protective structures with a five-year life span are in year six.
If, like the Corps, you thought your pumps were temporary and life-limited, you'd want to be letting the contract for the replacement, permanent, this-time-we-really-mean-50-year-lifespan pumps before, say, now. But that's why you're not the Corps. The agency just announced the awarding of that contract in April, and it estimates the project will be completed in three years.
Of course, if the Corps' estimates of project completion were always correct, the Hurricane Protection System that failed in 2005, and had not yet been completed even then, would have been up and running by the mid-1970s.
But again, let's take them at their word. By the Corps' own estimate, pumps with a five-year lifespan will have been a crucial part of what keeps New Orleans from flooding again for nine years.
Just keep repeating: Never. Been. Safer.
Calling all HuffPost superfans!
Sign up for membership to become a founding member and help shape HuffPost's next chapter