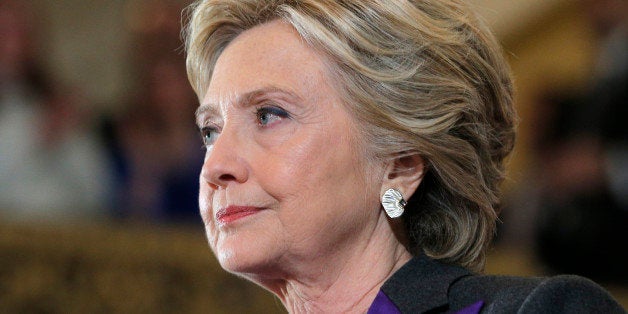 I want to tell you how deeply and profoundly sorry I am for your loss. While over half of the nation mourns alongside of you, I want to acknowledge and respect the personal loss, pain, and disappointment that I know you must be feeling. You are a human being, with real feelings and a real heart, that I know must be heavy and hurting right now. For that, I offer you my deepest condolences.
We all know the feelings of sorrow and regret all too well, when a dream we've worked hard for doesn't go our way or ends prematurely. While setbacks and challenges are a part of life, I can't begin to imagine what this particular one must feel like. With its gravity, historic and public nature, and with the sense of responsibility in which I imagine it came, I realize this was a particularly big dream and a particularly big loss. For that, I offer you my empathy and my compassion.
Perhaps most importantly, I also want to extend to you both my sincere gratitude as well as a very heartfelt apology. I will never be able to adequately thank you for your selfless and tireless life-time commitment to public service and for agreeing to be the representative of love, tolerance, inclusiveness, wisdom and intellect that carried all of us upon your shoulders. Thank you for your leadership and thank you for your willingness to serve and protect so many of our human rights. Thank you for the way you spoke to us and united us during your concession, it was the single greatest expression of grace, resilience, leadership and heroism I have ever experienced, and for that, I think you just may be the greatest woman I have ever known.
As a citizen, I'd also like to apologize on behalf of my fellow countrymen for the unkindness, prejudice, hostility and at times, abuse you suffered from many while serving as the vehicle of change and progress that so many of us needed. Your ability and decision to live in that space, makes you a true hero. While your name might not have the notation next to it (in the books) that we hoped for and expected, I hope you'll take great pride and solace in knowing that you will forever be a permanent part of world history and that you mean so very much to so many people. All of us, particularly our women, girls and our young, will ensure that your legacy is honored and that you are never ever forgotten.
I hope that in this difficult time you will enjoy the warm love and company of your closest friends and family. I'm comforted to know that President Clinton, Chelsea, Marc, Charlotte and Aidan will bring you much peace and joy. And of course, never have I known anyone more deserving of a vacation and of an epic NAP!
A very wise woman once shared a piece of advice to little girls, that I'd now like to offer to you. "Never doubt that you are valuable and powerful and deserving of every chance and opportunity in the world to pursue and achieve your own dreams." Of this, and of you, I couldn't agree more.
REAL LIFE. REAL NEWS. REAL VOICES.
Help us tell more of the stories that matter from voices that too often remain unheard.