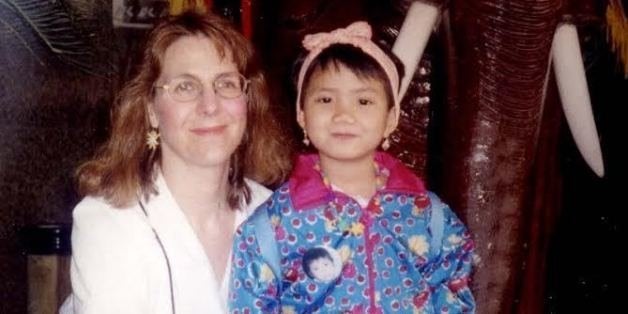 Congratulations on the great news! When I heard of the policy change this morning, part of me sang with joy. I am so glad that you are finally addressing one of the most important and daunting human rights issues that straddled your millennials and their parents. Families in China will now be able to have two children.

And then, there was the part of me that felt like you had just slapped me in the face. As I was on my way to work this morning, my phone rang with the familiar sound of a news notification. As my sleepy eyes read the notification from my New York Times app, I froze. "China to End One-Child Policy, Allowing Families Two Children," it said.
I was winded. My stomach dropped. My eyebrows raised. I managed a small chuckle. Talk about feeling a mix of emotions. The inner commentary started:
"YOU'RE 25 YEARS TOO LATE, CHINA!!"
"Wow, imagine all the women and families who won't have to make so many tough choices."
"Ugh, will my birth mom see this and feel even more remorse and guilt for what she gave up?"
"Imagine how this is going to change adoptions from China."
"Well, this is the closest to an apology I'll ever get for the political situation I was born into..."
"Note to self: China is only doing this to combat the aging population issue..."
"Yay, finally, maybe there will be fewer spoiled only children roaming around China [because they'll have siblings]!"
"Wait, will this actually change anything?"
"Yes, well, errr, maybe. Either way, I wish this had happened about three decades ago."
"How can something so political feel so personal?"
That's just it. How in the world could something so political feel so personal, so devastating? How could I feel so much betrayal and frustration when in my right mind I know that the Chinese officials who made this decision don't even know I exist? Why did this feel like a personal slap in the face? Why did my thoughts drift to my birth mother? To all the other Chinese adoptees?

Yunnan Province, China: Jenni standing with a group of orphanage kids at her orphanage on the first day of her adoption.
Throughout the day, I received a dozen calls and messages from close friends about how they as adoptees were reacting to this news -- and from adoptive parents whose adoptive children were having strong reactions. One 11-year-old adoptee burst into tears when her mother told her the news. Another called her mother from high school distraught and also in tears. My two sisters, who are also Chinese adoptees, stayed silent. Several other news sources reached out to me to get a sound bite and a reaction.
"How many hours do you have?" was what I thought when they asked me how I felt about this. You see, how I feel and think about this is complicated. It's painful. It's messy. It's angry. It's happy. It's self-pity. It's grief. It's "why not me?" It's the soul-seething anger that I wouldn't wish upon my worst enemy. It's joy.
I am angry that this policy change wasn't in place when my birth mother was pregnant with me. I am angry that this makes me and the tens of thousands of other Chinese adoptees feel like a footnote to history. For over three decades, the infamous one-child policy stood. Babies were abandoned, or worse... The majority of the abandoned babies and young children were girls because of Chinese cultural practices, especially in rural populations. Adopting your very own "China doll" became a cultural phenomenon amongst parents around the world. And now, with the advent of this new policy change, from one child to two, with our lives unalterably changed, we end it all with a shrug and a "nevermind." Most of us adoptees have thrived in our new homes, in our new lives -- but won't there always be a What if? for people like me?
Who was the last baby girl to be abandoned and sent to live in a foreign country, never knowing the woman who gave birth to her? That baby girl (or boy) will never know why she has this food allergy, or that the funny mark on her left arm actually connects her to her grandmother. She will always ask her adoptive parents, and they will always answer with a loving hug and sigh, "There are some things we will never know." From an early age, this little girl will have to learn to live with unknowns and ambiguity. She will have to accept that when "heritage week" comes around in fifth grade, she will either need to ask to skip the assignment, explain to her peers why she is talking about Ireland, or tell a story about China that seems more foreign to her than the Irish option her father suggested.
Will you, China, ever acknowledge the pain? Will you set up a registry and help us find our roots? Will you ever help us find a way of reconciling the fact that we are torn between two identities, two parents, and two worlds?
For those of us who felt betrayal and frustration today, this is an insulting end to an historical event that has affected individuals and communities on personal and global scales. Chinese adoptees and the history of how we came to be is social, political, economic, and personal. It's so personal that every day someone asks us why we don't look like Mom or Dad. It's so personal that you start to hate yourself for never fitting in. It's so personal that you get mad when someone makes fun of the fact that you're Chinese but you really don't feel it. It's so personal that sometimes you wish you didn't spend so much time thinking it was so personal. It's so personal that I've been in therapy for about 10 years.
For birth parents and families, imagine the losses and undeniably difficult choices they were forced to make when China was one-child only. Imagine the lifetime of pain a birth mother and father had to accept when they let their beloved newborn go.
For adoptive parents and communities, their Chinese adopted children have changed their families and their lives. New meanings of family, kinship, and community were developed and adjusted to accommodate the creation of transracial families.
I smiled when I watched the video of the young Beijing residents gushing over what the new policy change would mean for them. Their overwhelmingly positive reactions were touching; they see hope in their families and their futures. They are relieved that their children won't have to experience the same financial burden of elder care they will have to deal with when their parents grow old. I celebrate with my peers back in China.
To end, I want to thank you, China. I want to tell you how much I appreciate you finally changing the policy for the future, for the future of China (and its capital markets). I want to thank you for finally addressing a human rights issue, where action was long overdue.
There is no doubt that this is a step forward, but each step forward is also a reminder of injuries past.
If you can, please tell my birth mother I love her and I think of her often. I wonder if I look more like her or Baba. I hope she is thinking of me on this day. I want her to know that she is forgiven, and that she must forgive herself. I am doing well, Mama.
With gratitude,
A Chinese adoptee
Photo at top: Jenni with her adoptive mother, Hanni, in the first few days of her adoption from China.
PHOTO GALLERY
Readers Share: Books Every Woman Should Read
Calling all HuffPost superfans!
Sign up for membership to become a founding member and help shape HuffPost's next chapter