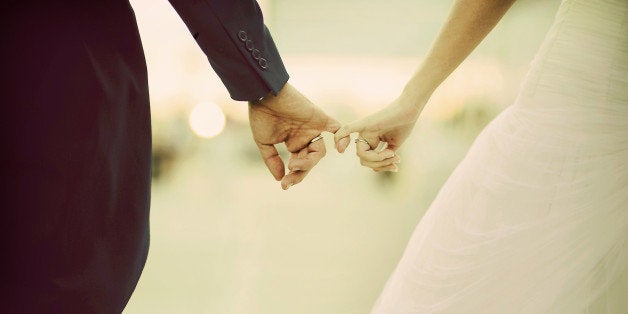 "I can never be who I was. I can simply watch her with sympathy, understanding, and some measure of awe. There she goes, backpack on, headed for the subway or the airport. She did her best with her eyeliner. She learned a new word she wants to try out on you. She is ambling along. She is looking for it."
-Lena Dunham
(Just so you know, in about six years, those two words will mean something entirely different, thanks to Ryan Gosling and Instagram and the explosion of memes on the Internet.) Prepare yourself for that.
Truly, undeniably, happy?
I know you feel like you are. It's a beautiful February day, on that villa overlooking Lake Travis, with a crowd of family and friends gushing over your dress selection. You typically hate attention of all kinds, but today it feels alright. Manageable. That third glass of champagne may have something to do with it, but as your Maid of Honor keeps saying repeatedly, this is your day.
And while you are, I ask that you pause and breathe. Deeply. Not simply because the photographer is beyond frustrated at your inability to sit still (he is) or the fact that your mother remains terrified that your dress will come unbustled in the middle of the ceremony (more like the beginning) but because of this:
It's going to be the last deep breath you'll take for awhile. Five years awhile.
I debated whether or not to spend the entirety of this letter berating you for the laundry list of poor choices you made in the first half of your twenties, but fortunately for you (and your flawless makeup) I opted to take a different path. One that will leave you relatively tear-free and hating Future You far less than otherwise.
I'm choosing to applaud you. For your terrifyingly believable acting skills, refusal to listen to your gut, and faith in mankind. Faith that people, your spouse in particular, embody the ability to change for the better with age.
It's that hope you're clinging to while standing at the altar, bolding stating those vows, and staring back at a face that brings you more heartache than joy.

But isn't that love? I hear you shouting back at me. It's ugly sometimes, but the messiness makes it beautiful.
Sure. I'll play along. It sounds a bit like the millennial relationship version of Chutes and Ladders, but let's go with it.
Uncertainty is surging through your veins right now at lightning speed, and while tempting to offer words of warning and advice, all I can really do is stand in silence at your bravery. And stubbornness. The dream of yours to be married by 25 will happen in mere hours, and being the goal-oriented overachiever that you are, the word "victory" keeps streaming through your head on a loop.
Enjoy the view of the water during dinner, and that amazing chocolate groom's cake (which you'll dream about for months to come). Don't think too much about your mascara. And stay away from the fourth glass of champagne, even though you'll be tempted to inhale it before the first dance.
Above all -- and most importantly -- know that, when your marriage ends five years later, you're going to be ok.
Lean on that wild strength of yours that will so brilliantly hold you up at the altar.
It'll come through when you need it the most.