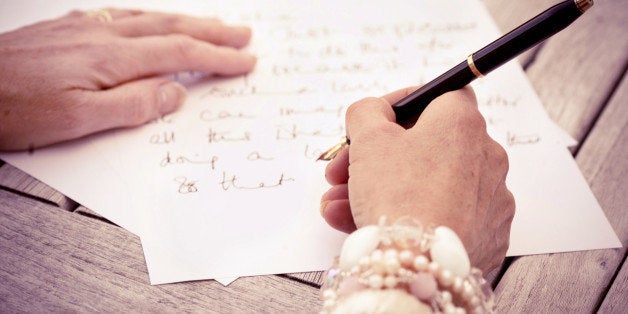 On Jan. 8 the Connecticut Supreme Court agreed with state officials that Cassandra C., a 17-year-old with Hodgkin lymphoma, should be compelled to undergo chemotherapy against her (and her mother's) will. With chemotherapy she has an 85 percent survival rate. Currently she is in custody of the state's Department of Children and Families.
I've been thinking of you today, and every day, since I read your story.
I know you're upset that your decision to forego chemotherapy was overridden by the state. I believe people should have their right to decide matters of their own health and wellbeing. I appreciate the awareness being brought to a topic so important to me, but it hurts to see you go through this painful experience.
You see I know a little bit of what you're going through. While I can't imagine how it feels to be removed by force from my home and family, I know too much about cancer. I started six months of chemotherapy back in May of 2013, at the age of 24. That same year I also lost both my breasts -- and what feels like some part of my femininity -- with a double mastectomy because of breast cancer.
When I set up my first week of oncology appointments, I felt suffocated with information. To make matters worse everyone seemed to have their own agenda for what I should do. One well-meaning friend suggested I find another oncologist. Another suggested that I eat a raw diet and do yoga as my treatment plan. I also got bombarded with different religious practices and "cancer-fighting" diets. Ultimately, I decided on the plan my doctors prescribed for me, which included rough bouts with chemo in addition to some alternative therapies like acupuncture and Reiki.
I had meltdowns as chemo took its toll on my body and mind. I was constantly crying -- on bike rides, in bed, at dinner -- unable to pinpoint why. I frequently felt scared to be around even my closest friends. I felt terrible and consumed by this disease and for the first time in my life I understood what suffering and true depression was. And it didn't go away when my cancer did -- it still lingers.
At one point I reached out to a friend and told him how I was ready to give up and quit. I remember having to repeat to myself, over and over: "Don't quit. Suffer now and live the rest of your life as a champion," a quote from Muhammad Ali. It may sound corny but looking at each day as a fight and myself as a champion was very real me to then, and now too.
But I couldn't have won without the support of my family, friends and even strangers who sent me encouraging letters or pictures. People love to unite together to help each other, which is good because it took a village for me to get through chemo.
I think it may take a village for you, too, but I can see it forming now. People all across the Internet are reaching out to support you. They are writing opinion articles in nationally renowned newspapers, they are writing concerned comments in cancer community message boards, and they are sending you prayers from afar.
I want you to know that although chemo put my fertility in jeopardy, and it took my nails, my hair and made me unbelievably sick, it also allowed me to see my tumor shrinking each week. And it allowed me to be where I am today, which is with a full head of curly hair (my fro!), chipped, pink-painted nails and growing stronger each day.
I'm writing this to you to tell you that without chemo I may have not seen my father dressed up in a muscly Superman suit while I had my infusion. I may not have learned how to properly apply makeup with a cancer patient-centered organization. And I may not have moved across the county with a chance to restart my life. Having cancer gave me my voice. There is a power that comes from feeling like you aren't alone and, for me, being able to offer help to other cancer patients has been enough to justify the long months of chemotherapy I endured.
I understand why someone would want to refuse chemo -- chemo at times made me feel like I was on the brink of death. But I also understand why people want you to receive chemo -- they so badly want you to live.
Ultimately, I believe that you and your family have the most important opinions on your health and how it will be handled. I have read that with chemotherapy it is estimated that you have an 85 percent chance of survival, which would mean even more time being a survivor -- something that is sacred and invaluable when it comes to facing life's hurdles. And although I can't say what is best for you, I can offer my support.
If you need someone to send you goofy sloth videos, I'd love to be that person. If you need someone to talk to about what to do when chemo turns your nails dark and brittle, I can be that person too. Email me at kayla@reimagine.me, find me on Twitter @iamnotmycancer, or just accept this letter and read it to be reminded that you are not alone in this fight.
This article originally appeared on reimagine.me a new online magazine for those who have been touched by cancer, and an education resource that teaches a powerful set of skills to take your life back from cancer.