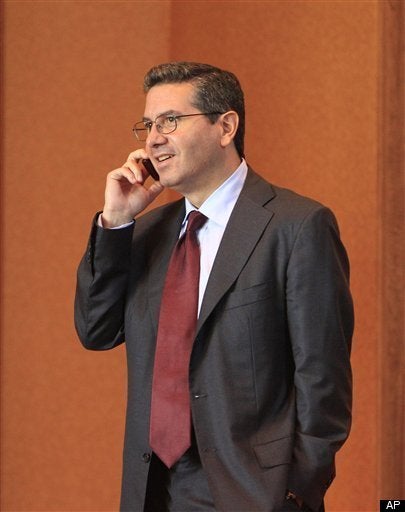 Well, since then, we've obtained a letter from one of those cranky fans, William McLain, to Mr. Snyder, and he has given me permission to reproduce it here. Hopefully, this will help Mr. Snyder in showing him how well this "publicity stunt" is playing. Not afraid to be servicey!
Dear Mr. Snyder:

When I was born in Mississippi in 1945, the NFL promoted the Washington Redskins throughout the Deep South, and by the time I entered the first grade of school I was avidly listening to radio broadcasts of Redskins' games every Sunday (Eddie LeBaron, the Little General, was my first quarterback hero).

After I became a resident of Washington D.C., in 1968 (where I have remained since) my attachment to the team strengthened and deepened. I have attended many games at RFK Stadium and FedEx Field, and over the years I have participated in season ticket packages and purchased my fair share of team apparel and paraphernalia.

Despite my 65-year engagement with the team, as of the date of this letter, I will never spend another penny on Redskins tickets and/or merchandise, nor will I further support the team in any other way, tangible or intangible.

Until now, I have always thought that I could separate the owner from the team, and that disdain for the former did not preclude support for the latter. Your latest actions have irrevocably shattered that rationalization.

As I understand the matter, in a November 24, 2010, letter, the Redskins' general counsel threatened to drive a local alternative newspaper into bankruptcy by pursuing a "war of attrition" through protracted and expensive litigation -- all because your sensibilities were offended by an opinion piece that was satirically critical of your management of the Redskins and other business ventures -- and on February 2, 2011, your lawyers made good on that threat by filing a lawsuit after the newspaper refused to capitulate to your bullying. That is, simply put, a morally reprehensible abuse of legal process (and I categorically reject any suggestion that I am an anti-Semite for saying so).

Because continued support of the Redskins would, in my view, make me complicit in your repellent enterprise, I am, very sadly, shifting my allegiance to another NFL team, and I therefore close with:

Who dat say they gonna beat dem Saints,

William G. McLain
Are you a Redskins fan who's thinking of "moving your fandom" because of this lawsuit? Let us know!
[Would you like to follow me on Twitter? Because why not? Also, please send tips to tv@huffingtonpost.com -- learn more about our media monitoring project here.]

Related
Popular in the Community