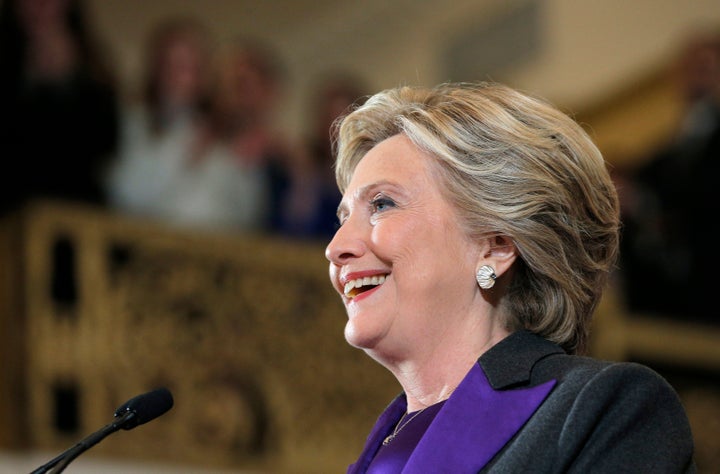 When Donald Trump won the presidency late on election night, it tore into the spirits of tens of millions of Americans. Many of us, so sure that you would be elected as the first female president of the United States, felt something indistinguishable from grief. The days that followed passed heavily, as we turned inwards to reflect on our nation's fragmented democracy and to question if the hard-fought human rights of all Americans would be preserved.
Secretary Clinton, you represent many different things to different people. To Millennial women such as myself, we think of you as smart and tactical — we watched you dismantle Donald Trump in all three of your debates. We think of you as passionate — we were inspired when you vowed, unprompted and unequivocally, to protect a woman's right to choose and to keep Planned Parenthood's doors open. We think of you as tenacious— for many of us you have been a political presence in our lives since we were little girls.
All of this we saw and admired. For those of us who grew up with you through the decades of your public service; who watched you as First Lady; canvassed for your New York Senatorial campaign; interned under you at the State Department; and took time off from our busy schedules to elect you as the first female presidential nominee of a major United States political party — your loss feels remarkably like our loss.
So many Americans are outraged by how Donald Trump's campaign legitimized the mistreatment of women. His attacks were not singular in nature. They were not just attacks on the women whom he sexually assaulted, or verbally insulted, or cyber bullied. These were attacks on the dignity of all women. And while many Millennials' focus on inequality has shifted away from gender to privilege, it's undeniable that all women still struggle, at varying levels, for respect.
"Secretary Clinton, we need you to continue your public service and dedication to this fight."
Throughout our lives, we've been taught how to safely navigate harassment and danger. And yet, during this election cycle, we've seen the familiar menacing actions that each and every one of us has experienced or been witness to play out on the national stage. We understand what it feels like to be physically stalked and assaulted, to have our personalities lambasted as a form of critical feedback, and to question if we are being taken seriously on a profound level. In turn, we saw an American electorate shockingly indifferent to racism and misogyny.
While not everyone viewed you as a symbol for radical change, you lit the spark for it. You wrote to us that when women see injustice — or experience it ourselves— we have an impulse to do something about it. We're seeing this tendency today. Our family, friends, and colleagues are reacting to this election by undertaking new pledges to recover the moral health of our country, so that decades from now, not only will our current rights remain protected, but our country will have continued on its path towards equality.
Millennials are the largest and most diverse generation in our nation's history. We have women among us of different ethnicities, religions, socio-economic standings who are preparing to lead. My greatest fear is that your loss will deter some of these women from a life in public service or from running for office. Or worse, that we will not have built the support networks in time — that we will not have raised the capital or have offered the guidance — to help elect these women and to assist them once in office.
Secretary Clinton, we need you to continue your public service and dedication to this fight.
We have friends to protect and children to teach. We have state representatives to campaign for, and a first female president to elect. We have local elections taking place in less than a year. We need to work together to strengthen the organizations that focus on women's material realities — whether that means the fight for paid leave or for criminal justice reform. Even if not all Millennial women are willing or able to stand with us, now is the time to assemble the ones who will. Because, as you have said, no campaign is ever just about the nominee or that single election. It's about building a nation that is more courageous, representative, and inclusive.
All Millennial women have something to learn from you no matter which piece of the fight they want to claim as their own. You are in the middle of teaching us how to not give up — to be kind but fierce and to fight for what we believe is right and good in the world.
If Millennials had been the only age demographic to vote in this election, you would have won in a landslide. It's a reminder that while the path is long, our country is headed towards progress. I take a lot of solace in that. My hope is that this election will bring together a generation of women that is brave and self-assured, that has a clear vision for how they want to move this world forward for themselves and for the collective, and that will be offered a helping hand and encouragement from exceptional leaders like you.
California Women's List is a full-service political organization and Political Action Committee that fundraises, supports, and elects pro-choice Democratic women to California state office. Its leadership consists entirely of Millennial women.
Related
Popular in the Community