Daughter, you are amazing. One day you're sweet and needy, where I feel like you'd cuddle up in my lap if you were smaller. The next day, you spew venom and the look in your eyes tells me someone has taken over your body and she is not of this world. You are my 14-year-old daughter and I am simply your parent along for a ride that makes Google maps question the route at times.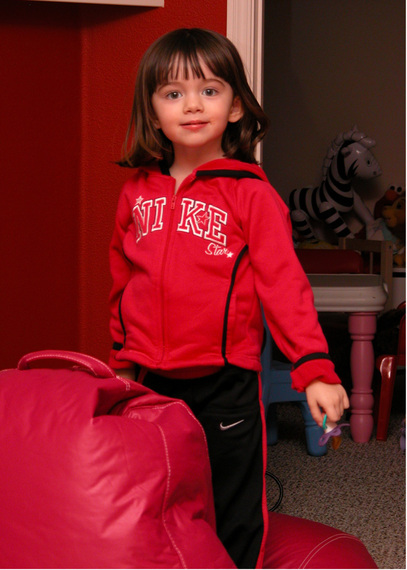 I look at you and see a smart, talented, pretty, respectful, kind teen that is focused on big dreams and a conviction that nothing or no one will stop. I want you to know I believe in you, through delightful days and demon days. While I may question my parenting skills from hour to hour, I never, ever question my love for you. I am there, forever and always.
You dream of Broadway and stardom. When we returned from New York when you were 12 you wrote this list: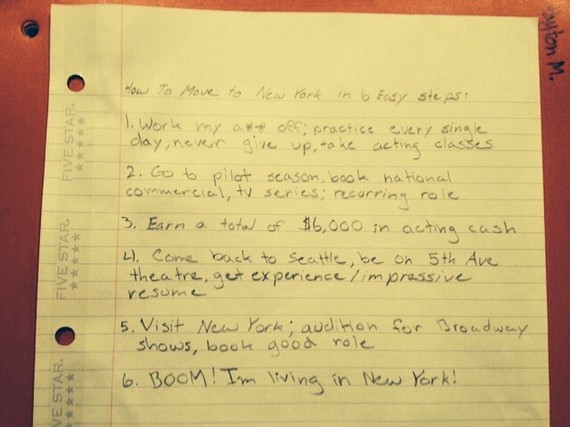 You immediately started searching for apartments and potential jobs for me. In support of you, I did my own searching. Crazy, I knew, but in my heart, I felt the need to explore my career options... for you. Honestly, I didn't have a clue at 12, so I truly admire your big thoughts and big dreams and want to do everything to support them, even when you're breathing fire that's singeing my arm hair.
I'm told that age 14 is the worst and that moving past this "magical" year makes all the difference. I truly, honestly hope so. Again, it doesn't mean I ever love you any less, but it may mean my already gray hair masterfully covered by Yvette every five weeks, gets a slight period of remission.
Today when you woke you came over and hugged me. An hour later you were in tears and told me to "get out of your room, and quit asking questions." I want you to know that when you hurt, I hurt. I know that doesn't matter now, but I'm hoping someday you understand that I had a lot of those angsty feelings myself - friends, boys, fitting in, acceptance - no matter what era, the clothing may be different but the feelings are the same.
There are days I still have feelings of angst. I went through years of self-doubt and a lack of self-confidence. In fact, I'm in a job that gives me lots of reasons to doubt myself. But these days I brush it off and in my head give the big, F-you to those that I think deserve it. At my age, it works.
So, to my 14-year old daughter who I know will successfully launch into this not-always-kind-world, I want you to know that I will always love you, no matter what your mood. I will support your choices even though they may not be what I would choose. I will give advice as I see warranted. I will be there, no matter what. Go forth and conquer. I know you will.
Debra Carnes is a working mom by day and blogger by night. You'll find this post and others on her blog at A Touch of Clash.

Follow Debra Carnes on Twitter: www.twitter.com/debracarnes