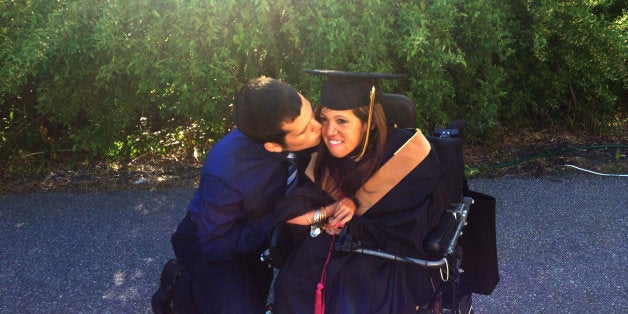 Okay. Breathe. This is it. Today is HUGE. It is monumental. It is something you've been waiting for ever since you spent time with that pretty brunette at the Patriots game. Today is the first day of the rest of your life.
I imagine you're going to be reading this letter in the morning while we're all getting ready. Mom will be tearing up, the guys will be suiting up, and I'll be putting on my dress that I decided to put together at the last minute. I've always been notorious for doing things at the last second, but now that I think of it, so have you. Timing has never really been our thing. Whether it's because of our procrastination tendencies or some other excuse, we have never mastered the art of punctuality. Maybe it's genetic, so hey, good luck with your future children. Speaking of punctuality, as the best woman, I'm in charge of getting you to the church on time, so let's not let your wife-to-be down, okay?
In just a couple of hours, your beautiful bride will be walking down the aisle to spend the rest of her life with you. I caught a glimpse of her dress a few months ago, and she is going to look absolutely stunning. I can't wait for you to see her. Pretty soon, you both will exchange your vows, say your "I do's," and officially be married in the church of God. We'll celebrate on the trolley (because limousines are definitely overrated), take pictures in the city, then head over to the reception for the greatest night ever. That's where I'll make my best woman speech. I'm a little nervous about it, but I hope you and Kryssy will like it. I apologize in advance if I start crying. Actually, that "if" should probably say "when" seeing as I'm tearing up just writing this. Since my speech will be about your beautiful love story with your lady, I've decided to write this letter to talk about me and you.
As my older brother, you've been a great role model to me, and, as your younger sister, I couldn't have asked for a better sibling. We've always said how we share this unconventional bond between us, and I think that's what has made our relationship so special. It's hard to describe our relationship in just a few sentences, but I know you know exactly what I'm talking about when I say "unconventional". Life hasn't always been easy for us. My disease has brought upon a great deal of medical scares, and your accident that almost took your life led to an incredibly long recovery process. We've experienced some of life's biggest challenges, but, truthfully, these challenges only strengthened the bond we share. Through the power of love and faith, we have learned just how beautiful and short life can be and to always be thankful to have each other. No matter how cruel this life may be sometimes, I thank God I have someone like you to guide and to love me each day.
Adam, it is both an honor and a pleasure to be your best woman today. You've been by my side for all the major milestones in my life, and I am so unbelievably excited you have asked me to be a part of yours. Thank you for being my best friend these last 24 years and for embracing our unconventionally remarkable relationship. I can't wait to watch you start the next chapter of your life with the luckiest girl in the world. I wish you both the absolute best.
So, this is it. Are you ready? Let's go get you married!
With love,
Your best woman
This post originally appeared on Alyssa's WordPress blog. To view more of her work, click here.