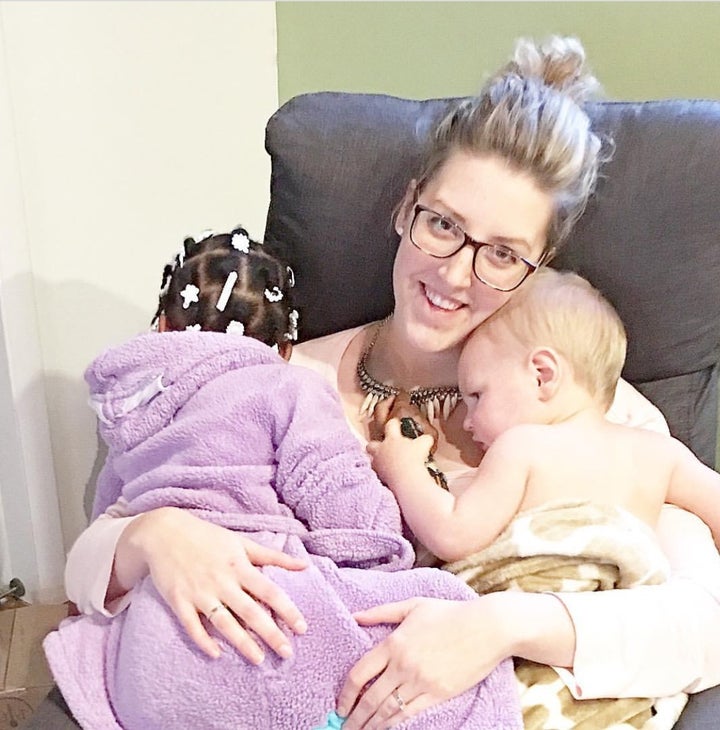 Much of my motherhood journey has been spent feeling like I don't have much to give you. What I often offer is equivalent to a cafeteria lunch―it provides the basics to hold you over until your next meal, but it is never enough to leave you feeling satisfied and whole. I chalk my failures up to my lack of interest in some of the responsibilities required of a mother. For example, I am not a huge fan of "play." Even as a kid, my version of "play" was different than others. Barbies were never my thing. I would use my eye for design to set up my sister's Barbie mansion. The layout and decor of the house were important to me, but when it came to dialogue, I would draw a blank and stop playing. Sure, I could imagine storylines and dramatic interactions between Barbie and Ken, but in my mind, stories were meant for real people, not plastic, soulless figurines. Other forms of play with you is fun, but it's hard to sit there stacking blocks or dressing baby dolls without thinking of my to-do list in the back of my mind. I want to enjoy playing, but I haven't quite figured out how. Awhile back, I wrote to you about other things I don't do as a mother because I am far from perfect.
I certainly don't hold the title of Super Mom, but I have watched families who are "super" raise kids giving them all the love and support they could ever need, yet the kids grow up still not knowing who they are and feel lost trying to find their way. In a book I read recently, a mother and father were head over heels for their son, but the image of him growing up to be a lawyer overtook their ability to love him unconditionally. Every ounce of support and encouragement were, in fact, a shell around their motives for his future. The pressure they put on him, although paired with love, canceled out their affections and left their son feeling like he was never enough. Despite being grateful for the provisions from his parents, he harbored resentment. His parents never took the time to see him for who he was and to give him the freedom to choose his future without their added expectations. This pained me to read. In the area of future freedom, I promise to do my best and give you much more than a basic cafeteria lunch. You need the proper nutrition that is going to help you get to where you want to be. Only you know what you want for your future, and I vow to help you find the ingredients and prepare the meal that will help set you up for success!
Every mother and child are different. Just like a buffet, we are drawn to different foods. If we only ever served meat, vegetarians would feel less than loved. If someone had a sweet tooth and all they could find were vegetables, she would feel dishonored. We have to learn each other's needs without dismissing the differences found in each unique palate.
There are some days when all we have to give is a regular cafeteria lunch, but there are lots of holiday feasts too! I'm not always the best at setting work aside to play dress up. Sometimes I am so concerned with getting dinner on the table by the time daddy comes through the door, and I don't throw the ball back to you. But the one thing I won't let myself fail to give you is the freedom to be you. We will see the world differently, and your dreams won't align with the one's treasured deep within my heart, but I vow to offer support and spend my time giving positive acknowledgments and encouragement while I walk with you on your journey. Sure, I have many more miles under my belt, and I would be happy to share what I have learned on my own journey, but know that I refuse to be the one looking down on you after a mistake or trying to shove you into a box where you just don't fit.
I haven't become the ideal mother (no one does), but I hope and pray you won't just see me as the mom who never could quite make up the dialogue for those puppet shows and served sometimes less than edible dinners. Just as you are unique―E with your sensitive and peaceful spirit and L with your large movements of stubborn determination―please see me for the mother who believed you could do and be anything. And the mother who tried to honor who you were instead of molding you into who I wanted you to be.
Let's celebrate together what we each bring to the table and walk confidently in our true nature.