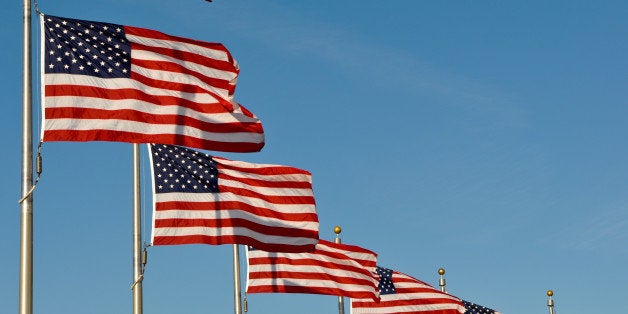 This morning, I told you about Memorial Day and we painted our toe nails in red, white and blue. We pulled the Old Glory T-shirts out of the cupboard and prepared to eat BBQ for lunch. I hope, I really hope, that this immigrant mama of yours is doing right by you.
I grew up in such a different world than yours. I learned about the World Wars in school, and even though I had grandparents who had served in the armed forces in North Africa, they were not the heroes of my World War II and Cold-War heavy curriculum: It was the United States who held hero status. Half a world away, I sat in a classroom and learned about Pearl Harbor and Hueys and the flying soldiers of the green beret and I was grateful that the world looked as it did: Not Nazi and not communist. American troops were the ones to thank.
In the years that followed, though, I grew restless and frustrated by what I learned of international affairs. Years of war in the Middle East and Afghanistan, and an (in my opinion) knee-jerk and paranoid response to the (admittedly tragic) events of 9/11. The American troops were not my favorite.
But more than a decade later, I find myself living in the States with you three children, and you are American. We enjoy security, peace and a freedom to laugh and pray and move around and go to school, and I am not unaware that these things came at a cost. I may not be the parent who can fill your heads with patriotic stories of old -- I don't even know the words to the pledge of allegiance. And yet, I want to honor the place we live, and the country of your birth, as best I can.
For while I don't understand and can't condone the reasons for all the wars the U.S. has engaged in, I now know that Memorial Day is not about the politics of war. It is about the individuals and families I now know by name whose fathers, brothers, sons and daughters have traveled far away in our service at great cost and at great risk to themselves and their loved ones. I have now sat with a friend whose father was killed in Lebanon. Memorial Day honors those who have fallen. I have cried with friends whose loved ones have been deployed, ready to risk all, and I have rejoiced with them on their return.
And so as I painted your toenails this morning and told you about the history of this day, I want you to know I'm not so conflicted anymore. I'm painting my toes alongside you in honor of Memorial Day: to show you that we can honor those who have served us even though we didn't fully understand how or why they were serving. We're wearing the T-shirts to show gratitude to those who protected us from dangers perceived and real.
Happy Memorial Day, little ones. This immigrant mama of yours is grateful to this country, and grateful that you belong to it.