As you lay sleeping in my arms, my heart melts. There is so much I want to tell you about our family and the world. Regardless of what anybody ever tells you, I want you to know that your family was built on love.
When your mama and I (your mommy) decided to "get married" in 2005, same sex marriage wasn't even legal. We still had a "wedding" with not one, but two Rabbis officiating. When Mama was pregnant with your older brother in 2010, the world was quickly changing in wonderful ways. Every year there were more legal protections for our family and LGBTIQ+ (lesbian/gay/bisexual/transgender/intersex/queer) people.
However, today we are living in scary times again, because there are some new people in our government who do not like people and families like ours, and they are trying to take away our rights. The sad truth is that the LGBTIQ+ community is discriminated against in almost every part of the world, including our own country, and that isn't going to change unless we continue to work together.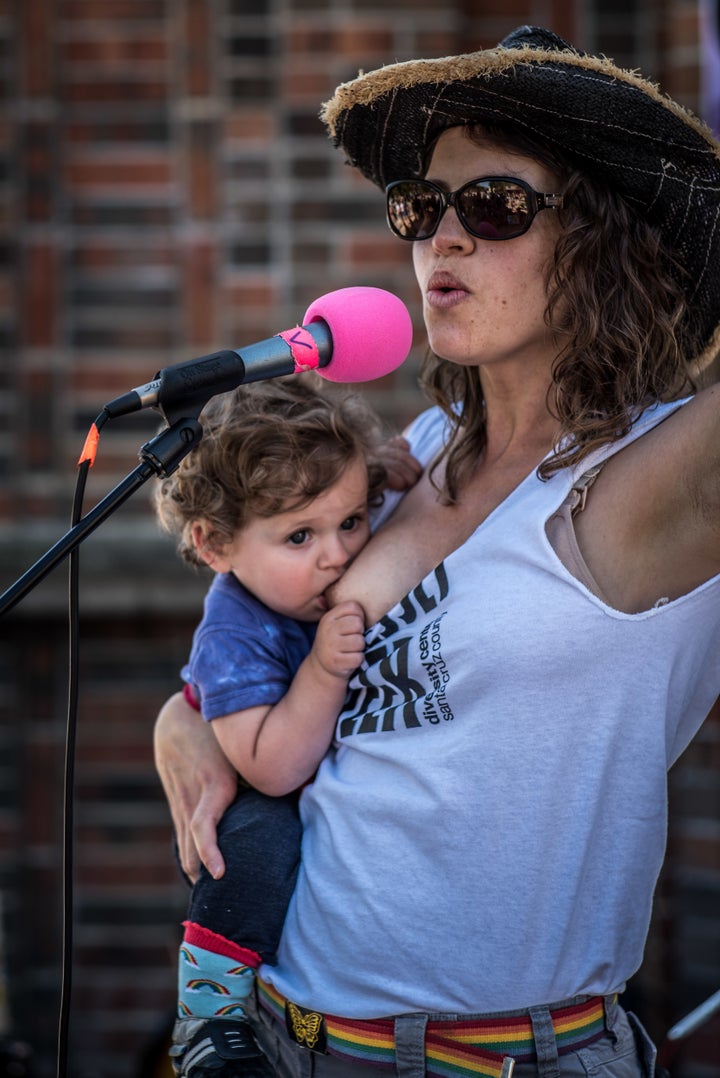 I am writing you this letter in June, which is Pride Month. At Pride festivals and marches around the globe, we come together to celebrate and stand up for our right to live genuinely as who we are. Even in the most horrific moments of the AIDS pandemic, Pride festivals still had celebratory moments. In queer culture, there have always been elements of laughter and joy, even in the hardest times. So my hope for you is that in your own life, may you always bring joy to your resistance.
It is my dream that you will have pride in all of who you are and who your family is. While you can only walk/toddle a few steps today, you have already "marched" in two Pride parades. You have also joined me on stage in making a speech at Santa Cruz's Dyke/Trans March. While I was speaking, you decided that it was the right time to have a little snack of milk, so I nursed you while I talked about the unstoppable power of our community rising together. This felt like the most natural thing in the world, to show up for the people that I love while being a mom taking care of my baby. I am so grateful to have a community where I can show up as all of me: where I can be an LGBTIQ+ professional and integrate my kids into my work, both at The Diversity Center's wonderful Rainbow Families gatherings and in political spaces too.
I want you to know that even though some people don't understand a family like ours, our family is perfect and whole and healthy. All LGBTIQ+ lives are worth living. Our love and gender expressions are beautiful. Authentic expression is a blessing, not something that needs to be changed or fixed.
I don't know who you will grow up to be, who you will love, or how you will walk through the world, but I want you to know that your mama and I will always love you exactly as you are.
When I birthed you, I found the balance of nurturer and warrior within me. In our world, people often ask women to choose to be a professional or a mother, fierce or gentle. Those are false choices. You can be all of it. Forge your own path.
I don't know who you will grow up to be, who you will love, or how you will walk through the world, but I want you to know that your mama and I will always love you exactly as you are.
I dream of a world where we can all be safe and celebrated for being exactly who we are, where we can show up authentically and vulnerably and be seen and heard. That's why I'm working with people here in Santa Cruz, and across the country, to make sure all of the intersections of our identities, our gender, sexuality, ethnicity, religion, and beliefs are accepted as part of the wonderful diversity of our humanness.
So little, one, may you have pride, not one day, but every day. May you step into your light and your greatness to be authentically exactly who you are… whoever that is.
Calling all HuffPost superfans!
Sign up for membership to become a founding member and help shape HuffPost's next chapter