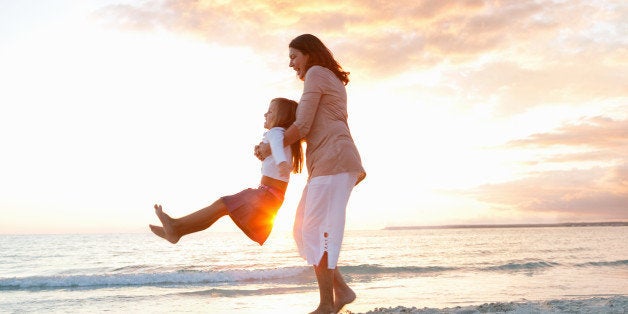 Seventeen years ago, I gave birth to a beautiful daughter who was adopted by an incredible couple. Shortly before she was born, I wrote her a letter. In it, I tried to explain the circumstances of her adoption. I told her that it had nothing to do with how much I love her and to never think that she wasn't wanted. I told her that I would love her forever and that she will always occupy a very special place in my heart. I told her all the things that I hoped for her life. I covered it in tears and kisses and sealed it for her mother to give to her when she was deemed old/mature enough to read it.
Now I have the opportunity to write another letter to another daughter; the one I get to keep and raise. I don't feel like I need to get everything out at once, and my heart doesn't have to break a bit more with each word. It's a very different letter, but just as important, and with the same powerful love.

To My Baby Girl,
I'd given up hope a few years ago that I would get to be a mother. When your daddy and I found one another and I realized that there was still a chance, I felt as excited as a child waiting anxiously for summer vacation. When we married, we agreed to start right away trying to have a baby, because we were both so eager to become parents. Within six months you were growing inside of me.
The time for you to come into this world is getting close now. I'm in week 33, and I have this feeling that you'll make your appearance before you're due. So many people are looking forward to your arrival, but I doubt any are more enthusiastic than I am. Needless to say, between grandparents, aunts and uncles, friends and your father and me, you will not lack for love.
You also have a sister who is so excited to have you in her life. I'm sure that by the time you read this you will already have a lovely relationship with her, and I'll have told you all about her and why she doesn't live with us. I fully expect that your bond with her will be strong and extremely special -- there's nothing quite like having a sister in your life. She'll be your best friend if you let her, and will loyally stand by your side, no matter how far apart you may be from one another, for all of your lives.
These people who love you and are so ecstatic for your life to begin in this world make you one very lucky little girl.
I have so many hopes for you. I want to be an example to you in what a good, intelligent, independent and strong woman is, but I know that I so often fall short of my own expectations. This is why I want you to look to other incredible women as you grow up as well as to me. You won't have to look far; there are so many amazing women in your life. I had my great-grandmother and my aunt when I was growing up to show me the kind of woman I wanted to be, and I'm sure that by the time you are reading this I'll have told you all about them. I want you to know that while I want you to be able to look to me to see what kind of woman you want to be, I encourage you to find other women, as well, to give you a wider perspective.
I want you to be able to look to your father and me to see the kind of partner you will someday want in your life. I want you to be able to witness our relationship and see what a healthy and happy marriage should be. I hope that you'll see the respect and unconditional love that we have for one another, and that you will one day hold any potential romantic partner in your life to a high standard. Whether you fall in love with man or a woman, you deserve to be treated as the amazing woman I know you will grow up to be, and unfortunately there are people in this world to be wary of -- those who don't know the meaning of respect, kindness and unconditional love. Hopefully your father and I will have taught you how to see those people for what they are, as well as to recognize the good ones and know that you are deserving of the best.
I'm a little scared that I won't be good at being your mother. My mother wasn't very good, and it made me sad (it still makes me sad) that I couldn't have a relationship with her. I'm told that just having the fear makes me a good mom already, and I hope that it's true. Just please know that no matter what, I love you with every part of my heart; while I will no doubt make mistakes, that heart is at the center of everything I do for you -- every choice I make, every time I tell you no, every time I do something that makes you hate me, even if it's only for a moment.
I want to be your best friend one day, but most of all I am so eager and want nothing more than to be your mommy. I can't wait to meet you and show you all the magic this world holds for you. It's going to be a truly awesome adventure.