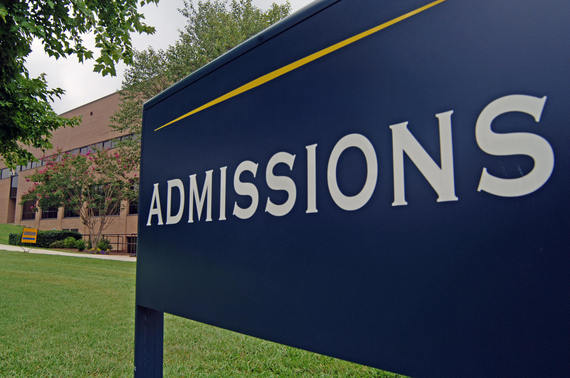 I had two conversations recently with mothers about the college admittance process. One mother has children in high school. She's desperately trying to get her teenagers into the best colleges possible, and told me about private SAT tutors, resume padding, and obscure sports that are easiest to get scholarships for. The other mother has children just a few years older than mine. She described her 7-year-old learning piano through the Suzuki method of immersion, websites providing guidance for preparing young children for the Ivy League, and the best private summer enrichment camps in our area.
Both of them nearly fainted when I told them where I went to college. Both urgently asked me how I got in.
Apparently, the greatest accomplishment for today's upper middle class parent is getting a child into an Ivy League school. Because I graduated from one, will there be even more pressure on me to get my kids admitted? Yikes. And I thought potty training was difficult. This must be what mothers mean when they tell me, "Little kids, little problems; big kids, big problems."
Because I have a tendency to get caught up in things, especially things like the competition of high school athletics and academics, I'm going to write this letter to my future self while I have a little perspective on this. So that I can remember to take it easy on myself and my kids in ten years' time.
Dear 10-years-from-now Me,
I'm writing to remind you about where you've come from because college admittance is crazy business and has likely become even more cut-throat in the past decade. I hope this letter finds you well. You're in your late forties now. DS and DD are teenagers in high school and it's time to talk college applications.
Let's review: DH and I moved from Los Angeles back to my hometown in the Mid-West for many reasons, including the safe and nurturing atmosphere of this cozy suburb. When I was growing up, no one spoke of how to get a 6-year-old prepared for the Ivy League. But, I guess things here have evolved. This type of thinking is no longer confined to California and New England. People in any affluent suburb are no longer simply content with sending their teenagers to local regional powerhouses.
I'm still young enough to remember my humble beginnings. I wrote my college application, including my essays in my near illegible handwriting. Cornell accepted me early because of great grades, great SAT scores, but admittedly, mainly, because I played basketball, and played it well.
I mailed my completed application to my future basketball coaches and they hand delivered it to the admittance office with their blessing. Of course, they would have never recruited me to play there had I not been smart enough. Nor would playing basketball get me through my engineering curriculum. Once there, I had to do it on my own. And, I did; I did not squander the opportunity of getting in.
It's not going to be that easy to get DS and DD into college, I know. Even if I exponentially increase my donations to my alma mater each year until their eligibility.
I know first-hand the doors that opened because Cornell University was on top of my résumé. Yes, it was important. Initially. Like everyone's college experience. It's important in your twenties, but less so as you turn into a real adult with real adult experience. Yes, I'd be thrilled if my kids attended this or another top-tiered college. However, I'll be alright if they don't. They'll need to find their own path, on this and on many other decisions.
Remember if DS and DD even apply to an Ivy League School, you have done a good job. This is a luxury that you didn't think you'd obtain when they were preschoolers. You worried about them living independently and going to college at all. You spent hours teaching them to talk, to recognize letters and numbers, to select a dominant hand in which to write their names, to read, and to go to another part of the house without you. Here are their great accomplishments to date: four lost teeth, riding the school bus, and a routine at a dance recital. They don't even know how to tie their laces.
You spend many days explaining the importance of taking the time to poop. In fact, you had that conversation yesterday at dinner. New social interactions make DS anxious. DD spends most of her days in a make-believe world with fairies and mermaids.
Keep plugging away at their work sheets, teaching them study skills, and encouraging them to be curious. Hopefully this will lead to high grades and prep scores. In the interim, help them select activities that they enjoy. Expose them to many different physical and intellectual pursuits. Don't worry if they are not good athletes. Having two parents that were college athletes does not guarantee them anything. You were entitled to nothing. You had to earn it all. They will need to learn the same lessons.
Parents of teenagers tell me about how college admittance officers are now focused on true, meaningful extracurricular activities, instead of mere window dressing. This is what I want my kids to do as teenagers: hold a job at the mall, babysit, scoop ice-cream, shovel snow, cut grass, and volunteer in some meaningful way. They will not be climbing Mt. Kilimanjaro for the experience.
College admittance standards constantly evolve. But the pillars of what makes someone a success remain the same: hard work, determination, self-direction, and a just the right amount of grit.
Now, my burning questions. Did DS's teeth finally come in straight or did we need to get braces? Did DD end up as tall as me?