There are few milestones in life that will alter your perspective on everything you thought you knew before they occurred. The first is marriage, and the second is children. I often watch, a bit nostalgically, as first-time soon-to-be parents revel in unapologetic excitement, completely oblivious to what is about to come their way: financially, emotionally and relationally.
If I could have prepared my husband for the first year of parenthood, this is what I would have told him...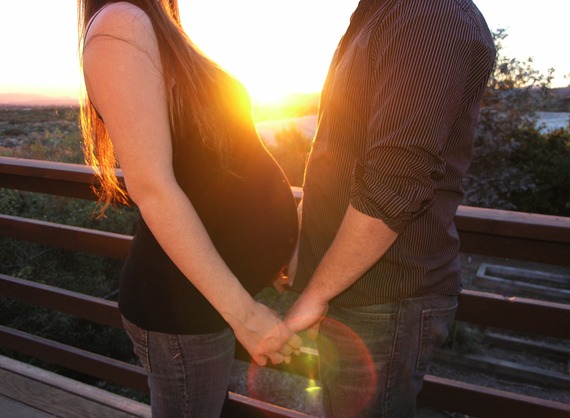 To my husband,

Life is about to change around here in both the best and the worst ways possible. As my due date fast approaches, I want you to be as prepared as you can be for the impact of this journey on our relationship.

In the coming months, please remember that I love you, even when it doesn't feel as such. Know that I love you when I'm too exhausted to carry on a normal conversation or care about things I used to care about -- like Game of Thrones or the local news. It will take too much mental effort to follow a storyline, and the news is just so damned depressing -- I can't stand to cry one more tear than I have already.

Know that I love you when I suddenly have no time for anyone other than this little alien who has invaded our personal space. There will certainly come a time when it may appear at first glance that I've given up on life, and I barely have time to keep up a basic hygiene routine. Please don't take it personally -- it's just a lot more work to keep another human alive than I ever could have imagined.

Know that I love you when I react with unapologetic rage when you ask me what I did all day. I honestly don't remember, but it infuriates me that you would ask just the same, because trust me... I've been busy.

Please know that I need you more than ever. I need you because I will feel like I'm failing every day. I can never do enough. I don't know what I'm doing a good portion of the time, and I'm scared. I need your encouragement to keep going, to tell me it's going to get better, and most of all to reassure me that I'm doing a good job as a mom.

It will be tough. There will be times when we each may want to call it quits. There will be times we think we don't need each other anymore, but we do. Our relationship will certainly change, but if we stick together it will evolve into something richer and deeper than it ever was prior to the chaos. We will become co-pilots in this adventure they call parenting, and there will be no greater joy than watching the fruits of our efforts grow into a living, breathing miracle.

We will get through this... and on the other side, we'll find we have grown as well, into much better versions of our previous selves. We'll look back one day and know it was all worth it. I'm sure of it.

Sincerely,

Your wife
Tiffany Austin is a mom, a wife, writer, and educator living in Canada. Tired of never feeling "good enough" as a new mom, she began a blog to encourage other moms to feel confident and empowered in their own decisions. Her blog, The Good Enuf Mommy, includes everything from helpful parenting advice to product recommendations aimed at making the lives of moms just a little bit easier. Show her some love on Facebook and Twitter, and if you like what you see, sign up for her monthly newsletter!