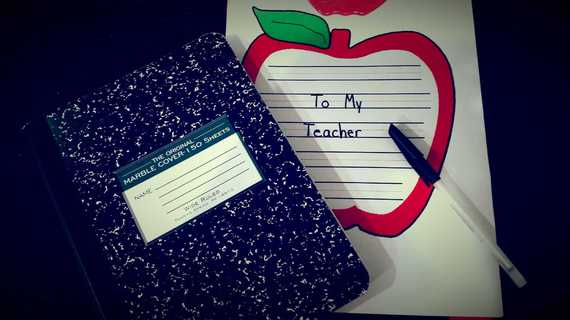 **names have been changed**
Dear Mrs. A,
I can't believe this year is over. My little boy is one year older and I see such an amazing change in him. I owe a lot of it to you (and Mrs. B too!!).
They say a child's parents are their first teachers. For almost three years I nurtured him the way most mother's would care for their young. When I registered him last summer for nursery I had so much anxiety. Who was I leaving my son with? Would he be sad? Lonely? Scared? Would his teacher know this and care for him like do? I chose to be a stay at home mom, so the idea of someone else caring for him scared me.
From the moment I met you at open school night I knew you were a perfect fit for my son. I was very nervous at our first meeting because I knew the next morning would be the beginning of my baby no longer needing just me. He wasn't a baby anymore.
Those first few months were difficult. He cried 95% of the time at drop off. You reassured me that he would be fine. As the months went on his crying stopped after 5 minutes. Until, one day, the magic happened. I dropped him off, he turned to me and said, "Bye Mommy! Me have fun today. Love you!". I left that day smiling. In all honesty, though, I cried my eyes out when I got to the car. They were happy tears. But there was a small tug of sadness in my heart. My little boy was growing up.
This year he has learned so much about numbers, letters, and, shapes. He learned how to socialize and make friends. He learned to share (well, that is still a work in progress ;) ). Most of all, he learned that school is a fun and exciting place to be.
And I owe all of that to you, Mrs. A.
They say it takes a village to raise a child. Mrs. A you are definitely an irreplaceable part of our village. You always had a kind word and offered words of encouragement on even the hardest of days. You not only took my son's hand and guided him but you also guided me through the ups and downs of the school year. It is true when they say that a teacher not only teaches her students but also guides their parents through the school year as well.
I also want to let Mrs. B know she is an amazing part of our village as well. You were always there to comfort my boy when I had to make a mad dash out of the room. You always said good morning to him and he loved how you called him buddy!
From one educator to another, I want to commend you on such an amazing job you did this year Mrs. A. You fit the mold of an exemplary teacher. You have always been supportive of everything when it came to making him feel comfortable those first few months. You were always readily available whenever I needed to talk. (And I am going to miss the daily updates on your homepage. It was a source of comfort knowing what was going on in my son's classroom and it allowed for wonderful conversations for us through the year. I have learned many things from you and plan to use them when I return to the classroom one day. I hope the daily updates are one of them.)
As a mother, there is nothing I can do or say to you to express my gratitude and appreciation for caring for my first baby. You made his first real school experience a wonderful one. You have guided him and all with a comforting smile and hug. You have children of your own and might have had days when one of them was sick or needed you. But you were always there for my son (and the entire class). You made him feel welcome. You made him enjoy coming to school. For that, I can never repay you.
I have loved walking my son into class every day. It is a routine that I will miss and will fondly look back on in the future. The end of this school year is very unique for me. I use to wish for the summer. As a child and as a teacher. It was a time to unwind and relax. I would bid farewell to my "kids" on the last day of school and shed a tear or two. When I heard that final bell, though, I was overjoyed with the thought of relaxation. This year when I walk my big guy into your classroom one last time, I will be fighting back tears. That last time he comes up to me and gives me a hug and says "I love you Mommy" one last time from your doorway, I will probably be a mess. I wish I could bottle these moments. However, life goes on.
I hope that you enjoy your summer with your own children. You 100% have earned it. Just know that as this school year ends there is a little boy who has come so far because of you. And a mommy who thinks you are pretty amazing(and is completely stressed out about who he will get next year!).
P.S. I hope your class next year is super!
Mrs. Z is a stay at home mommy to two wonderful boys and wife to an amazing husband. Spending time with her family, writing, and enjoying life are some of Mrs. Z's favorite pastimes. You can check her out at The Mrs. Z Files. You can also find her on Facebook and Pinterest.