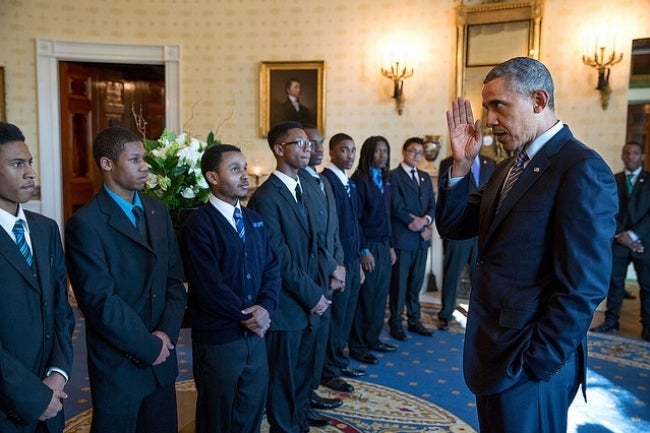 Now that you're all grown up and in your own places, Dad and I are finally exhaling and feeling a sense of peace about the men you've become.
Although I'm happy with the choices you've made, I'm sad that the world that you've inherited is so socially and politically chaotic.
Never did I imagine that your fairy tale childhoods would be overshadowed by mass shootings, police killings and crime. I'm sad that there's so much racial disharmony, which I know is especially difficult for the three of you because I raised you to love your brown skin, to know that the color of your skin does not determine your worth or value as a human being, and to be free black men with infinite possibilities.
There's nothing I loved more than having three handsome black sons. As babies, your smooth brown skin, your curly jet black hair, and your rosy cheeks meant that I had to shield you from kisses of strangers in grocery store lines.
I loved breastfeeding each of you, although the time spent decreased with each birth because your dad couldn't stand that he was excluded from such an intimate parental activity.
I loved rocking each of you in the rocking chair we kept in the nursery and watching my favorite shows while you nestled my breast and rocked back and forth.
I read books to you when you were infants, and I talked to you on long walks (we didn't have cell phones then). I named objects and described their colors. I loved driving you around in a Jeep with warm breezes floating through open windows and the sunroof.
When your dad worked nights, our evenings were quiet and peaceful. After an early warm bath, we'd listen to music, color, read and wind down from a day's activities.
By eight, I'd have you boys in bed. My friends would call at 8:15 and joke that I sprinkled some sort of magical dust over you boys.
When we learned that our oldest was autistic and would need special support on his journey of life, I bargained with God. I bargained with God, not because our oldest wasn't perfect, but because I knew that being a good mom to him would take considerably more effort than raising a child without special needs.
I loved being a Mom. Then came our next baby boy, our middle son. You were a leader, smart, and excelled in all subjects. You were athletic and played all sports. When you held your training cup with a steady grasp, I informed dad that we had an athlete.
Then came our baby boy, which we had planned to be a girl, and he followed in your footsteps and was excellent at everything. He had a soothing, peaceful demeanor.
I loved toting you both around to baseball fields and basketball courts. I loved that you two were admitted into a competitive college preparatory school here in Southern California. You went on to college without a glitch. I never worried that you would have to come home because of failed academics.
You both were patient with your oldest brother and understanding of his limitations. He's now grown to be a loving, compassionate, and helpful young man, despite his disability. He loves his younger brothers. He's so proud of your accomplishments, and Dad and I are proud of all three of you.
But what has me praying, incessantly, is the world that you've inherited: How racist and violent it is. You're now tall – 6, 0', 6, 2', and 6, 3' – your skin smooth and brown.
Like Moms of all black men, I pray constantly that you'll be treated fairly and with dignity when you're out in the world. That you won't be stopped by a police officer and misjudged to be a criminal instead of being the great young men that you are.
I always, proudly, told you stories of your Nanny, my mom, who rose out of poverty to earn a Ph.D., and how the United States was a great country that gave all of its citizens opportunities to transform their lives. Now I'm not so sure of this with the hatred I see being spewed on the internet and on the news.
But despite this, I continue to believe that the United States is the greatest country in the world. I want you to continue to believe that you are perfect just as you are. That your brown skin is a wonderful small detail, not the determining factor, of who you are.
I pray that you will never be discouraged from going after your dreams. It's the only way to live. I'm grateful that you're not filled with the kind of hatred, anger, and despair that would make it easy for you to take a life of another. It's complex, but for some black men, that despair is rooted in United States' history of slavery and Jim Crow. It's the outer manifestation of inner internalization of feelings of unworthiness.
I wish that I could hug every black boy into adulthood like I hugged the three of you. I wish every black boy had quiet evenings filled with coloring books, soft music, and rocking chairs. I wish their mothers toted them around in the summer in the back of jeeps with warm summer breezes floating through sun roofs, and took them to the beach, to basketball courts, and to baseball fields.
I wish they sat in soothing warm water each evening as their mother poured warm water over their glistening brown backs. I wish they had a tall daddy who pummeled through the door each evening to snatch them out of their mother's arms as they nestled on their mother's breasts, then hoisted them high in his arms, tightly carrying them around for a view of the world from up high.
What matters is that black boys are loved, that black boys are spoken to softly, that they're read to, and that they're given soothing baths in the evening.
What's really important is that sometimes when black boys walk into the room, all motion stops and all talk ceases so that they understand that they are the center of the universe.
I pray that you experienced enough of those still moments, Kelly Boys! I love you.