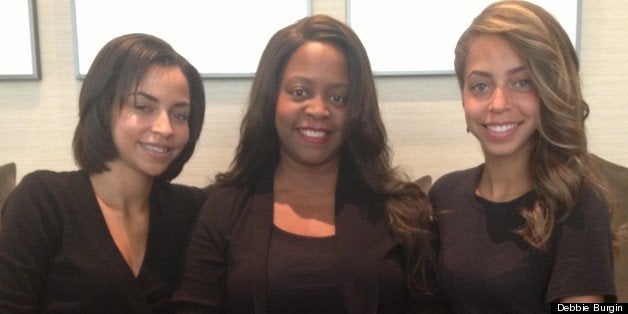 I recently wrote this for my daughters, who are 20 and 24. One said she wanted to frame it, the other said she loved it, and both suggested that I publish it. So I am.
When I was 20 years old, like most 20-year-olds, I probably had the world by the tip of the tail, but my immature and insecure brain hadn't thought at all about all of the incredible possibilities of what my 20-year-old brain was capable of.
If I could turn back time, there's a huge part of me that thinks that there are some things that I would do differently. Now in my 40's, I look back at my 20-something-year-old self, and think that if I could go back and simply talk to that bright, ambitious young woman who knew beyond a shadow of any doubt what she wanted for her future, I would tell her about the things that are to come for her in terms of life in general, but particularly with regard to family and career.
I'd tell that 20-something-year-old that even though her plan is to focus on her career, she should take no-fail, bulletproof precautions to insure that nothing derails that plan. Specifically and especially, a man. Any man.
No offense, I love men. They can be amazing, but when you're 20, men, and everything that comes with them, can wait. I'd tell her that there's plenty of time to work out what her family life will look like, if she decides to go that route. I'd tell her that issues of whether or not to start/have a family are much different for her than they are for men, in ways that are both positive and not so positive.
Many women have a 'biological clock' that tick, tick, ticks throughout their 20's and 30's (notice that I said 'many,' not all). I didn't have that clock. There was NOTHING in my biological make-up telling me that I needed to have children. Nothing. I wanted nothing to do with being a mother at any age, yet I had my first child at 22... young by anyone's standards.
At first, I was in total denial. How could this possibly happen? I'd taken the precautions that I knew I should take; thought they were bulletproof. I was on The Pill, and we used 'backup' protection. I was also on antibiotics for a moderate bout with acne. The pill and antibiotics are a chemical combination that no woman wants to find herself relying on. For the record (and unbeknownst to me), use of antibiotics while taking The Pill makes the latter almost completely inert. I'd go one step further and tell her that when her doctor says the words, "The test is positive. You're pregnant," her ears will start ringing, and she'll feel as though she's being sucked into a vortex, the whole room is spinning, but in reality, her chair is completely still. She'll start sweating profusely, feeling like she's burning up from the inside out, and she'll lose her comprehensive capacity, so misunderstanding the meaning of the word "pregnant," she will literally, verbally ask the doctor for clarification.
I'd tell her that ignoring what her own biology is craving no matter how seemingly self-serving, is essentially... no... literally, putting those dreams that she has for herself, and all the things that she wants to imagine and create, 'on hold' indefinitely. And when 'indefinitely' finally comes, her dreams will very likely have changed. I'd tell her that while she's waiting for the opportunity to get those dreams back on track, she'll be overwhelmed with life as a mother. In place of those dreams will come diaper changes and car pools. Sleepless nights and family fights. I would warn her that in the beginning, though all intentions are probably good, she'll likely end up raising that first, and any additional children, on her own.
I would tell her that there is power in youth. Particularly in the fearlessness of youth. The power that she now has to think of the things that she thinks of creating in her 20's will very likely leave her by the time she's in her mid to late 30's. Not because she's any less capable in her 30's, but because she will be much less daring, less willing to take on the risks that she's more than happy to as a bright, fearless 20-something-year-old. By the time she's in her 40's, she'll have grown a kind of 'second skin,' a protective layer of sorts that comes simply from having heard the word "No" a time or two... or a hundred. It's a protective layer that naturally comes from being told "you can't" or "it'll never work". I'd tell her that the people who say those things are simply afraid of what they perceive as their own limits, and I'd tell her that she should do those damn things anyway.
I'd tell her that her 'Nothing to lose' attitude will vaporize once she has kids, unless she actually focuses a large portion of her efforts on simply keeping that attitude 'sharp,' and that she should also focus on not backing down when she knows that her ideas and her instincts are good.
I'd tell her that by the time she's in her 40's, should she choose to 'let life take over' and have children and family, she'll find that after having raised her family, she has to start all over again in the process of building that dream. She will by that time, have no blasted clue what that 'dream' looks like.
I'd tell her that she will have no doubt whatsoever about the dreams that she has for the family that she created, but for herself, she'll be starting from square one, and 'square one' at 40+ doesn't look anything like it does at 20+.
I'd tell her that unless she's an extremely, unusually confident personality type, she'll succumb to those idiots who tell her "You can't," and when that family that she spent the last 20+ years raising has grown up and left the nest, she'll find herself 'settling' for some brainless, soul-sucking 9 to 5, for the simple sake of the fact that she has bills to pay. But she knows that she can do better and bigger, which makes the settling that much worse.
I'd tell her that her 'extreme' confidence will serve her well when she decides that she cannot merely sit behind a desk working for someone else, to pay those bills. Unless she understands that her intellectual creativity, her ambition and her potential for bigger things are at risk unless she does something BIG (whatever that 'big' might look like to her), all three will eventually disappear (my mother says, "If you don't use it, you'll lose it").
I would tell her that when it comes to friendships, she should value quality over quantity, and no matter what friends she makes and loses along the way, she should always, first and foremost be true to herself. I would tell her never to alter any part of who she is for those who call themselves her friends, yet shun her when she does something that doesn't suit their selfish needs.
Friends come and friends go. But the ones who truly belief in, value and respect her will never doubt or leave her. They will never make her feel like less than she is. Those are the ones that she needs to hold close.
In a nutshell, I would tell her, "You are a strong, worthy, creative, independent and wildly intelligent young woman. You can do, and have any damn thing that you put your mind and your unlimited talents to. Now go out and infect this planet with your beautiful, crazy imagination."
Calling all HuffPost superfans!
Sign up for membership to become a founding member and help shape HuffPost's next chapter