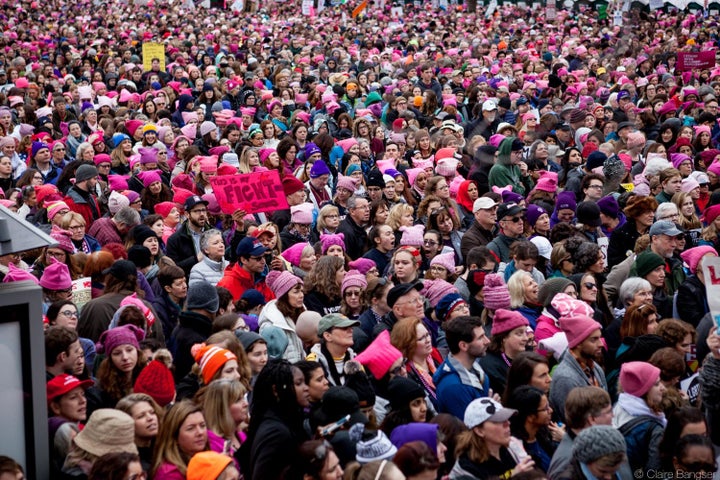 Story by Why Women Staff. Photo by Claire Bangser.
At Why Women, we think broadly about the vastly different experiences of being female. And we know well that not all women begin their daily sprints and lifelong marathons at the same starting line. So we thought carefully about how to participate in A Day Without a Woman, the day designed by the Women's March organizers to unite women in solidarity to strike against paid and unpaid labor, patronize women- or minority-owned businesses only, or avoid spending money at all. We are different women, and the decision to participate in these actions is not an option for everyone. So today, we are asking a question that women can participate in whether or not they're able to strike: Why are you invaluable?
We acknowledge the invaluable space of a woman in the workplace, for her family's or her own fiscal welfare and well-being, and at the job she cannot afford to strike. If you take away one thing today, perhaps it is this: The absence of a woman is powerful, but we will not forget to acknowledge the presence of a woman who cannot afford to participate. If you can participate in the strike, do it for the women who will still work on A Day Without A Woman because they don't have the privilege to take a day off.
What unites us today is the truth that every woman is invaluable. For those who are unfairly perceived as lesser, we reach across the aisle. For those who are privileged, we ask for your solidarity and self-education of cultures and experiences other than your own. There are no rules to being female, but for the women who will step back today in person and in spirit, we leave our stand-ins with a few footnotes for walking in our shoes. You can try to fill them, but this is what the world will be missing on a day without us.
Today is a day without action. The clock stops now, and for 24 hours, business will backlog, clients will go unanswered, deadlines will be missed, production will halt, invoices will go unpaid, finances unpaid. Professional women will strike today, leaving businesses without vision, staffs without leaders and mentees without mentors. Stand-ins, be ready to fill the roles of smart, strategic leaders, with the dedication and skill of professionals who build, grow and develop workforces as well as businesses. Oh, and all for 20% less pay than men.
Today is a day without love. A mother who steps away from her responsibilities today will leave them to partners and caretakers who will feel the weight of the workload. Prepare to sacrifice. Prepare to plan and schedule, then rearrange and cancel your own plans and appointments. Prepare to pick up the slack of your partner, who has been conditioned by society to handle the most time-consuming, energy-consuming parenting tasks herself. And make sure you do it with all the love and sacrifice that's required of her daily. You'll be tired.
If you're filling our shoes at our jobs today, be prepared to work as hard as your white, male counterparts for significantly less. Today your wage will be 85% of white men's earnings if you're Asian, 63% of white men's earnings if you're black and 54% of white men's earnings if you're Hispanic.
Today, our children will be your children. The ones we've taught to present themselves differently from other children to protect them from harm. And the ones we've lost. Keep these names on your lips: Trayvon Martin, Eric Garner, Michael Brown, Sandra Bland, Emmitt Till, Alton Sterling, Philando Castile and Freddie Gray.
Today is a day without knowledge. Your children will not learn or be mentored. Today is a day in the dark. Our future leaders will not have a trusted teacher to counsel them on a college application or to turn to in the face of a bullying classmate. If you're substituting our children's educators today, ask us for the nuanced mental list of our students' quirks and personalities, learning disabilities and behavioral patterns, so that you can address all of their needs at once, each period of the school day. If you're not standing in for a teacher because your local school is striking in solidarity, school children with poor access to food may not have a lunch to eat today.
Today is a day without understanding. You will not find us today, making peace and educating others on what love looks like. You will not have our example to teach to your children so that they grow into compassionate people who can love and be loved by whomever they choose. Fight our daily battles for the basic human rights to express love, exist in healthy relationships, and care for our families without legislative intervention or social stigma.
Your day will be difficult in this skin. As transgender people, we already know this. As our stand-ins, be strong and follow in the path of transgender people who have walked bravely before you. Try to create awareness of the rising violence against transgender people, 27 killed last year. But carry yourself with dignity and pride, for you're a person, not a statistic. Keep the names of the fallen transgender women of color on your lips, today and every day. In 2017, those names are Jaquarrius Holland, Ciara McElveen, Chyna Gibson, Keke Collier, JoJo Striker, Mesha Caldwell and Jamie Lee Wounded Arrow.
For one day, your struggle will be the struggle we know daily. You will encounter a new world that's neither made to order nor suited to your needs. You will improvise today, learning how to navigate a path designed for someone else, and you will thrive because of it.
We do not exist today. Your technology does not function, your medical advances halt, your production decreases, your service industries backlog. Businesses, your best-educated employees from countries who excel in math and sciences will not contribute to advancing the field today, and your working-class employees' absence will trigger a halt in operations. Look for a decrease in productivity, as immigrants make up 17% of the American workforce. If we can afford to strike without fear of losing our jobs because of employer backlash (questionably legal), you will have a busy day.
If we cannot strike because we need the wages, fear losing our jobs for striking, or fear retaliation from our employers, colleagues or social circles, we will be the ones keeping the economy in motion.
To our colleagues who might have picked up the slack in our absence, we will be working beside you today. Though we'd like to, we're not taking today in solidarity with women of greater privilege, because we can't afford to. We are the women who provide labor for your communities, care for your families, and work long and odd hours to earn wages that are less than fair. We are the backbone of the world that will continue turning on March 8, the reminders that women never truly take a day off.
Calling all HuffPost superfans!
Sign up for membership to become a founding member and help shape HuffPost's next chapter