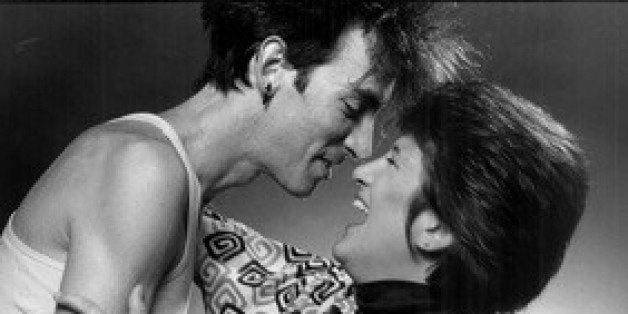 Even before I was old enough to drink, I was desperate to get into the El Moroccan Room. I didn't know why I thought I would feel more at home in a gay bar with a drag show than I did in the straight, teenage world of my New Jersey high school, nor did the bouncer at the door. When I produced a fake ID, he invoked No Open-Toed Shoes to keep me out.
I switched to saddle shoes and returned with a couple of swishy senior boys from the Drama Club. Success. I saw my first Tallulah, my first Judy, my first Liza. They were outrageous -- husky-voiced, garishly painted, gleefully lewd. Threading my way to a spot beside the runway, I stared up in admiration.
I had been having a rocky coming-of-age as a young woman; femininity felt like a put-on. All around me, girls seemed to be magically metamorphosing into silky, alluring creatures; I was still looking for the teen magazine that would tell me how. Vamping down the runway in their clodhopper high heels, those reckless, ironic drag queens appeared as beacons to me, fur-coat aunties from somewhere in my spiritual family tree. What a little pioneer of gender dysphoria I was.
If I could not be one of them, I could at least be the kind of girl the gay boys love, a dramatic, whiskey-flavored, junior division fag hag, a reputedly derogatory term that never bothered me. My apprenticeship in this department included an intense friendship with a hazel-eyed, long-lashed college housemate who read Proust in French and put Gruyere and peas in his macaroni. I was not jealous of his boyfriend nor he of mine, but those two were sometimes slightly annoyed.
Next came my brilliant boss at Stanley Kaplan headquarters, stooped and bespectacled at 38, who taught me to write reading comprehension passages and to love the painter Marsden Hartley. His mother was a famous novelist of the mid-century, still alive when we met. The only time we were together outside the office was the day he kindly escorted me home from work on the subway -- my bumpy romance with a reluctant co-worker had collided with my drug problem and caused a nervous breakdown in my cubicle.
I still attempt his dashing way of pouring hot coffee from the carafe into the cup, beginning high, swooping down and up, finishing with a snap of the wrist.
After the breakdown, my friends took me to Mardi Gras to forget my troubles and there, in The Fatted Calf on St. Peter Street, I found Tony. The second I saw him I fell for him, and by this time I was enough of a Judy to get his attention. At the time, I customarily wore a satin-lapelled tuxedo jacket, one of the pockets filled with packets of drugs. Once he began to return my interest -- and then to fall for me, hard, famously propping up my picture on the napkin dispenser at meals after I went back to New York -- I briefly considered having a sex change so I could be perfect for him. In the end, he was the one who changed as best he could; we married, set up house and had two sons. For everything that didn't work about this relationship, there is little doubt we were the loves of each other's lives.
Not long before he died of AIDS in 1994, Tony and I became friends with a young gay deejay who ended up staying in the guest room for several hot summer months of our Blue Period, a time of betrayal, disease, dysfunction and despair. To live with us at all was noble work, including not just emotional chores, but quite a bit of free babysitting. When it was over, my pseudo-son, as I thought of him (Tony may have had other thoughts) paid me back all the money he'd borrowed, swept the kitchen one last time and moved to San Francisco. These days -- and how different these days are from El Moroccan times -- Mark is engaged to a handsome architect, a pseudo-mother's dream, and I have recently become ordained a minister just in case they need my services. But more about my godless ministry another day.
My second husband was straight, and good thing. I was ready for that. But among the other crises that developed over the 10 years I lived with him in rural Pennsylvania was the prolonged absence of gay men. I missed having them in my life almost as badly as if I were one. In any case, when the marriage collapsed, it is no surprise that the hand that reached in to save the day belonged to a tall, dark, handsome realtor from Baltimore who was also gay.
After six months of careening around town in his smashed-up car, my new BGFF showed me a place for sale around the corner from his, and I moved right in. Ken and I have had a great mutual aid society in recent years, supporting each other through various health crises and vehicular disasters. He too is getting married, on January 6 in Buenos Aires, an event which I will only miss because I have a ticket to Africa to visit Jim and Steve, a beloved pair who have decamped to Kampala.
The older I get, the more like a drag queen I feel. I am not complaining.
Calling all HuffPost superfans!
Sign up for membership to become a founding member and help shape HuffPost's next chapter