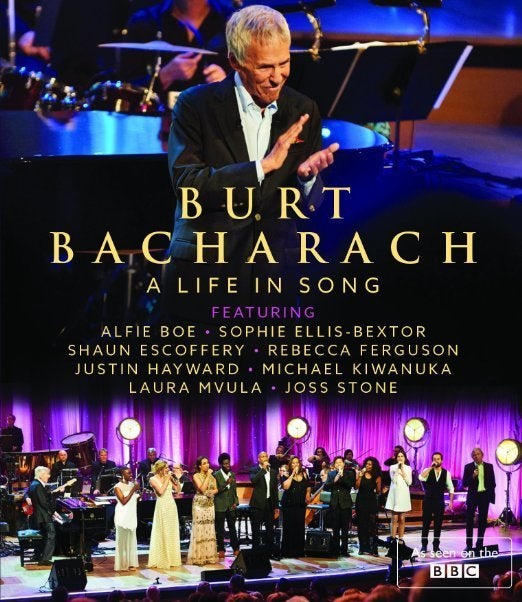 A Conversation with Burt Bacharach
Mike Ragogna: Burt, the title of your new Blu-ray is A Life In Song. That may sound like a magnanimous title, but after watching the program, it seems appropriate because of the impact you've had on music and culture.
Burt Bacharach: I guess so. I think it's fine, I think it's a good title. For me, you don't plan something like that. You don't plan that by writing this way for a certain amount of time or writing this kind of record that it's going to live forever.
MR: Many generations and thousands of people have recorded your music. As you've heard your songs evolve through the years, what are your thoughts about what's happened to them?
BB: There's a certain astonishment at the durability and the duration. Again, something that can't be planned. It's a question that I'm asked: "How do you write something and then forty years later, people are still playing it or still care about it?" Does that mean it will go on forever from here? I don't know. There's a certain astonishment on my part that we've gone through so many cycles of what's in, what's popular--and not in a healthy way, the way the record business is now. But so many artists could take a song and basically make it their own, bring their own touch to it, and could sing. I'm talking about the Gladys Knights and the Patti LaBelles and Dionne [Warwick] and Aretha (Franklin]. And there's no better voice than Gladys Knight's...come on!
BB: I could listen to Gladys forever.
BB: And Dionne! But for me, I wrote some pretty good songs--as well as some bad ones in the old days--that I had no control of how they were done, the framework they were then put in, and how they were changed. I remember Mitch Miller once said, "Listen. I like this song but it's a three-bar phrase. If you give me an extra bar I will give you Jo Stafford," or something like that. You listen to Mitch, and you want to get a record, and you say, "Okay." You try to force it in, but sometimes, just one note makes a difference. If you take one note or one bar and put it in or take it out, it influences the whole balance of the actual song. So for me, the turning point was an A&R man out of Chicago named Calvin Carter. He was working at Vee-Jay Records, an R&B label. Good label. He called me in New York and he said, "Jerry Butler wants to record this song of yours and he wants to be able to come into New York. I want to be there in New York with him and we want you to do the date." That means write the arrangement, set the tempos, get the musicians you want, be in the studio--everything. That was the door that opened. Once I had permission to get into the studio and was able to control the environment of that particular song and episode that was going on, how it was done, and being able to say, "No, I need another take," things changed.
MR: And over the years, it seems you had that relationship with all the artists you produced, especially those whose songs you'd written.
BB: It was great to be working with as many R&B artists and working in the urban sphere and be able to cut Gene Pitney and make good records, even with Bobby Vinton with "Blue on Blue." I guess it's a good song; it's not one of my all-time favorites, but even being able to control the way that went, it was great. But did I ever take the time to smell the roses through this whole process in New York? It was on to the next project. Can I sneak down to Puerto Rico for three days? "You deserve it, Burt!" No. "Your wish is declined. Stay in New York, you're into the next one..." But it was exciting, no regrets about not going to Puerto Rico.
MR: This is a work ethic you learned when you were in the Brill Building, right?
MR: What kind of training did you get there?
BB: You know, I'd been making a living being on the road, conducting for different acts. I started with Vic Damone and Imogene Coca, and Marlena Dietrich was the last one. I got fired pretty quickly; I didn't know what I was doing. I was learning how to conduct on the job, and Vegas musicians are a little bit rough. "Who's this kid, telling us how long to hold a note!" But out of there, it came to, "I think I'll go back to New York." I moved back and wrote in the Brill Building with Hal and Sid Shaw. We wrote Heavenly and Faithfully, the two big [Johnny] Mathis albums, and Bob Hilliard was a really good songwriter. You played with somebody in the morning and that person was going to write with somebody else in the afternoon, then you were going to write with somebody else. Musical chairs. Those were exciting times because the Brill Building was seven floors of music publishers. You'd make a demo and then you'd go peddle it. I was not an overnight success. I went a long time with a lot of rejection, so you've got to have the stomach for that, too.
MR: That's good advice right away. Burt, what other advice do you have for new artists?
BB: The hope is always that they'll land with a really good song. Then it's a real narrow road to where you're going to get it played, how you're going to get it exposed. David Foster's a good friend of mine and I always liked how he took Michael Bublé, whether it was a party at the Canadian consulate where he would say, "I've got this friend of mine, Michael Bublé, he'll play a couple of songs." And there were a couple of charity events. Michael got exposed that way. That was a different time, then. Now, radio is so thin as far as exposure. There were times when you could take a new artist and have somebody working for the label that would just deal with college radio. With the intensity in the Brill Building, you never knew who you were going to get in the elevator with. It was a good time. I must say this. Yeah, the songs have lasted, there was no predicting that, there was no way to even hope for something like that. You just wanted to hear it on the radio and you hoped for a little longevity in the song, you know? What you did was just make it as good as possible. So much of the music has come from being part and parcel of what I was hearing in my head--the song, where the strings would come in... They all were born at the same time.
MR: Beautiful, and you and Hal wrote some amazing anthems, such as "What The World Needs Now is Love," et cetera. So how does a human being hear something like "Knowing When To Leave" with all its octave jumps and notes in their head? I think that's one of the hardest vocaleses ever!
BB: That's interesting. There are two difficult songs in that show [Promises, Promises]: "Knowing When To Leave" and "Promises, Promises." That was pretty taxing for Jerry Orbach to sing that in the original. We went to see him backstage after the show had been running four months and he kind of confronted me and said, "Why'd you have to make it so damn difficult!" I never want to make it difficult for anybody--not the listener, not the singer. I think then you're treading water that's a little deep and dangerous. You do not want to exhaust the audience. I'm sure you've heard songs that you loved at first and then after a week, you said, "I don't want to hear that anymore." Actually, I'm writing for the moment of what's going on onstage. He has to show that he's pissed off and he is finished with committing his apartment to those people.
MR: You've contributed to movies as well. Maybe it's because you wrote from seeing a sample film scene instead of starting cold, but it seems that you approached writing for movies differently than pop music or Broadway.
BB: Yeah, you had to service the film first. You couldn't be thinking, "Well this could be a hit." You don't think that way, you think, "Does this work for what I'm seeing on film?" I didn't do that many films. I would never trade the experience and the fear of having never done a film and having such a crazy film to start with--What's New, Pussycat? I wouldn't trade that experience and what I learned from it or Butch Cassidy and The Sundance Kid. I'm very serious about my work, which is an important consideration overall on this. I always think, "Can I make it a little bit better?" A song like "Alfie," I had to keep trying to make it better. I knew it was good, and it was good for what the film was going to say, but there's an obsessiveness about it. On "That's What Friends Are For," I was married to Carole [Bayer Sager] at the time and we had written the song. She had it starting with, "I never thought I'd feel this way again," and I wanted it to start with, "And I," like a pickup. Carole just kind of wondered why. "You don't start songs with 'and.'" But to me, that was the balance of the whole verse, just that one verse, when you think about it. Sing it in your head. It's not as good as "And I..." It's conversational. It's a continuation of the introduction.
MR: You also had a hand in breaking the Carpenters with your song "Close To You." What's the story on that?
BB: What happened with the Carpenters was before they had "Close To You," I remember playing the St. Louis Municipal Opera, which is an outdoor venue with a lot of people. They opened for me in Westbury. I thought they were very talented. I think they did one Beatles song first, "Ticket To Ride." This is also showing how I can be really wrong, which I have been many times. More right than wrong, but the first time that song was ever recorded, I made the record with Richard Chamberlain. It was a really terrible, terrible record, because I wrote a terrible, terrible arrangement. Richard was not that kind of voice. I tried. I have to say; the song was there, it just needed somebody else other than me to have a concept. Herb Alpert and Jerry Moss and Richard Carpenter came up with this other kind of groove to it. Jerry called me in Del Mar over that summer. "You got a minute?" "Yeah." "Let me play you this." He played it over the phone and I said, "Whoa. That's the same song but it in different clothing. It's brilliant!"
MR: And their recording sounded thoroughly Bacharach yet it sounded unique when the Carpenters recorded it.
BB: Absolutely. They brought their own touch. It still was our song, but wearing different clothing.
MR: You did it again with "One Less Bell To Answer," recorded by The 5th Dimension. What's that story?
BB: I was living with Angie [Dickinson] in London in the What's New, Pussycat scoring days, and Angie was pitching movies. People would deliver things from the studio--new changes in sequencing, things like that. She came up with the line, "One less bell to answer." That's her title. Hal said, "That's a great song, let's write that one up for when we ever get through this film."
MR: And at this time, you also had your own music career, recording your own records. Considering your amount of output and responsibilities, how could you have juggled all that?
BB: And I was playing Vegas two weeks at a time...that's why I never got to Puerto Rico! [laughs] You've got it now, Michael. My vacation was like the next day after a two week engagement in Vegas. "Okay, I'm going to play tennis in the broiling sun and then do two shows." Just very interesting times. Unhealthy times in a way, creatively.
MR: I love that you worked with Dietrich.
BB: I tried to make Marlena sound better than anybody could make her sound. The music was terrible, but I tried to work with her, and she listened. She exposed me to the world. We went to places that I never would have gone, not in the same way, also. I got to experience all of that and keep making records at the same time.
MR: And we can't forget Dusty Springfield, another amazing icon in music who you nurtured.
MR: You had a unique studio experience with her, right?
BB: I would listen in the booth where we all would listen, but that was not Dusty's choice. Dusty wanted to be in a room by herself because she's so hard on herself. If I was hard on myself, she was really hard on herself.
MR: You mention in A Life In Music that Aretha Franklin's version of "I Say A Little Prayer" was "seamless." But your version with Dionne Warwick isn't too shabby, right?
BB: Well, yeah. It's got the time signature changes in the bridge, "Forever, and ever, you'll stay in my heart," it goes from 4/4 to 3/4 to 4/4 to 3/4. It wasn't intentional. I never want to make it hard on the listener; that's just the way that it felt right. So to treat that, Aretha just did it differently so you never heard it go to the 3/4. If you play them both back to back you'll know exactly what I mean. Mine, you know it's a 3/4 bar into a 4/4 bar.
MR: Now, the version of "Windows Of The World" on the Blu-ray is acoustic. Is that how you always heard it in your head though it was never recorded that way?
BB: That is a good question, Michael. I totally missed that on Dionne's record. I treated it too heavy-handed, too rhythmically. I should've done it just that way, maybe two guitars. I just wasn't thinking that way, so it has a full rhythm section and it's very heavy-handed. I wanted to get to the grain of what Hal's lyrics were saying, and now, this is the way that it should be, and should have been. I think that boy, Michael Kiwanuka, who sang it on the Blu-ray was terrified. He sang it and it was horrible in rehearsal. I took him into my dressing room and got John Pagano, one of my singers who plays guitar, to come in and I worked with Michael. I said, "Just say it like you mean it. Understate it. Don't sing it. Tell a story." He spent a fifteen minute period in the dressing room with me approaching it in a totally different way than he was doing it. Now it's one of the best things on the project.
MR: Through music, your life has touched so many. I don't know if you acknowledge this, but you are leaving a spot in history the same way that Irving Berlin and Johnny Mercer and the classic songwriters did. That's an amazing feat.
BB: If it's so, that would be an amazing feat. But time will tell. It spooks me to hear comparisons like that, but I do know I have a place. And the other thing, Michael, what I try to do--and it's very important to me, because it seems like I'm still touring...I toured last year in Europe and I will tour again this summer--is to get on stage and meet people through music. But I'm also going to try to make them happy, whatever they're feeling. If there are a couple of tears on "House Is Not A Home," I've done what I wanted to do, which is go on the road and play my music and nobody else's music. You don't get a lot of uptempo stuff on my music. I play it the way I feel it. I'll go to Nashville and work with the Nashville Symphony. That's one of the remaining reminders of what rowboating was like in Nashville, because there are all these writers there. It's the one place where the health of songwriting is in a good place.
MR: Ultimately, do you think that the mission of your life in song was about connection and touching people?
BB: I wouldn't pick that up had I just sat in a room and wrote these songs and gone into the studio and recorded them. Going out into the studio and performing them, you're having a direct contact and you can see in their faces if they're feeling something, what they're feeling, what they say afterwards. You'll hear stories about, "Hey, eight years ago, I had cancer and I've taken chemotherapy and 'House Is Not A Home' really helped me so much." When you hear things like that, it's more than you telling me what my music has meant in your perspective of musical history. You get it from people wherever you are, whether you're in Tel Aviv or whether you're in Italy. You get a reaction from an audience that makes you feel good.
REAL LIFE. REAL NEWS. REAL VOICES.
Help us tell more of the stories that matter from voices that too often remain unheard.