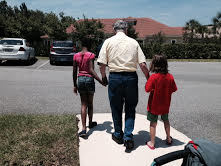 It's been a year since I published "A life examined and worth living" -- a post about my 84-year-old father-in-law, his battle with alzheimers disease and his desire to pass on some important life lessons before his tired brain shut down for good.
At the time, some complained about his penchant for repeating himself. What I heard then was a man desperately trying to pass on his thoughts about love, fidelity, family and overcoming hardship before the lights flickered out. A year ago I wrote that "he's mined the recesses of his brain and carried out a few priceless things that he refuses to surrender and that he feels compelled to give to his children, grandchildren and loved ones." Today, the lights flicker on rarely. My father-in-law has been moved into a long-term care unit for people with advanced dementia.
Now instead of talking about what life taught him, he is asking us what his life meant.
His questions are poignant and to the point.
"Do I know you? Are we related? You're my son?"

Son-in-law, I say. I'm your son's spouse.
"Hmm. So. You know me pretty well?"
I nod and wait for the inevitable next question- one that doesn't have an easy answer, and one I have no right to answer. But right now, I'm the only one here.
I look into his eyes. Every time he asks me this question, I search for a better answer. I realize that even in the depths of dementia, he wants and needs to know.
He has few memories and therefore no capacity to revisit them. He cannot remember the beginning or middle of his life story. But somehow he must define the ending.
I nod again, hoping that's enough for him. But this time it isn't.
"Did I ever do anything to hurt you kids, hurt your mother?"
I look around. Explaining that I'm not his child or that I can't speak for his children or his wife is pointless. I am here and for the moment, he is looking to me for the answers.
I believe he is a good man. I believe that if he could remember everything, he would own up to small mistakes and admit some large regrets. And I know, like anyone else facing the fading light, he would weigh those against many other moments and milestones he was proud to look back on.
But, I cannot know where he would eventually place himself on the ledger of life.
So all I can do is to tell him what he desperately wants to hear.

"We love you, dad"
Satisfied, for the moment, he nods and closes his eyes
Calling all HuffPost superfans!
Sign up for membership to become a founding member and help shape HuffPost's next chapter