This post is part of the Global Moms Relay. Every time you share this post, Johnson & Johnson will donate $1 (per action) to help improve the health and well-being of moms and kids worldwide through MAMA, Shot@Life, and Girl Up. Scroll to the bottom to find out more.
When I was asked to be one of the co-chairs of the Second Annual Global Moms Relay, I was delighted. I have always felt that, as mothers, we can learn so much from each other. We help each other and our wider networks of friends and family in ways that empower, comfort, strengthen and support -- saving and enriching lives.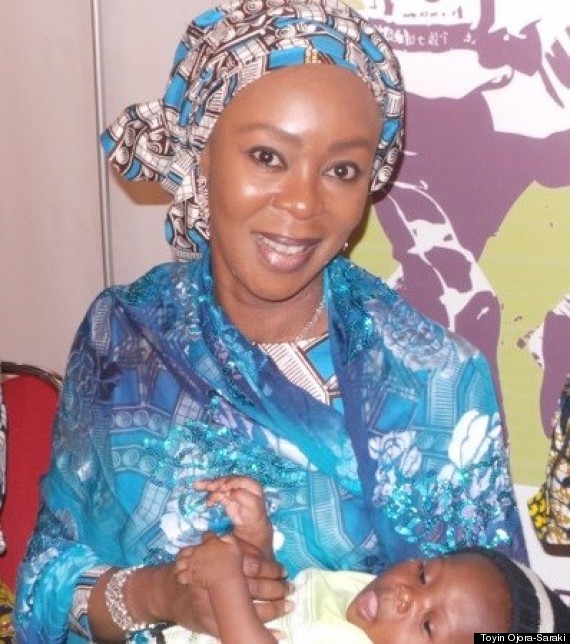 Several years ago, a close friend of mine made the ultimate gift from a mother to her child -- she gave part of her liver in a transplant procedure to her son who was experiencing liver failure. After a nerve-wracking stay at the hospital, my friend needed a few hours of "me time," so I offered to look after her son for the day. When she dropped him off, we were talking about healthcare facilities in Nigeria, and she remarked: "Nigeria has some incredible doctors that do incredible things," and went on to tell me that after the birth of her youngest child she had suffered severe postpartum bleeding, which put her in a critical condition -- until one enterprising Nigerian doctor decided to administer a pill in an off-label manner.
In much the same way as I would note down an ingredient for a cooking recipe, I made a note of the drug's name but soon forgot about the conversation.
Fast forward a year or so later, another close friend, seven months pregnant, was lying critically ill in hospital in the U.K., with what was later diagnosed as HELLP syndrome (a combination of hemolysis, elevated liver enzymes and low platelet count). Her life and that of her baby were hanging in the balance as the doctors battled to stabilize her condition.
Eventually, the doctors decided to perform an emergency cesarean section to give her and her newborn a better chance of survival. The baby was born weighing just 980 grams (just over 2lbs) and was whisked straight to the neonatal intensive care unit, and my friend was also sent to intensive care. Hours later, my friend's condition deteriorated, and the doctors at this top-level hospital simply could not stem her bleeding. They rushed her back to the operating room with grim expressions.
An hour later, while pacing outside the operating room with silent prayers in my heart, I suddenly remembered my friend in Nigeria who had told me of the tablet that stopped her postpartum bleeding. I fished for my little orange notebook, and leafed through the pages to find the name: Misoprostol. The minute one of the surgeons came to give us an update that they were still battling to save my friend's life, I asked him: "I'm sorry to be so bold, but have you heard of Misoprostol and its ability to stop postpartum bleeding? We use this in under-resourced hospitals in Nigeria."
He was silent, briefly, and then said, "Interesting ... I think it's worth a try." And that was how a tip from one mother, through another mother, to a third mother, about a drug used in villages and small towns in a developing country, along with state of the art medical technology and expertise, saved the life of my friend, in a top-level hospital in one of the world's most developed cities.
This was a life-changing event for me. I experienced the power of shared knowledge as well as the great significance of "little" tools and timely interventions. If only these were equitably distributed among people and access to these tools were not hindered by financial, social and geographic barriers. Unfortunately, this is usually the case with reproductive, maternal and child health medicines and treatments in sub-Saharan Africa.
It is this philosophy that has been the driving force behind The Wellbeing Foundation Africa (WBFA), an NGO headquartered in Nigeria, which I founded about a decade ago. WBFA works through building advocacy/awareness, charitable funding, and community mobilization to empower mothers and families and provide them with the tools and life-skills they need to make sure no woman or child dies from complications with pregnancy or childbirth. By making these tools and practices available, such as capturing the health information of both mother and child, from the mother's first ante-natal visit until the child turns 5 years old; and the Safe Delivery Kit that provides all the essential commodities for attending a clean birth in one bag, WBFA gives people across Africa the ability to seek better lives for themselves and for their communities and ensure that mothers can continue to change lives, every day.
You share, they give: each time you 'like' or share this post via the social media icons on this post or comment below, Johnson & Johnson will donate $1 (per action) to help improve the health and wellbeing of moms and kids worldwide through MAMA. The Mobile Alliance for Maternal Action (MAMA) empowers new and expectant mothers living in poverty with life-saving health information via mobile phones. Every $1 provides a women in Bangladesh a month of mobile messages to support her through pregnancy. You can also Donate A Photo* and Johnson & Johnson will donate $1 when you upload a photo for Girl Up or Shot@Life -- you can help raise up to $250,000 in seconds with the click of your mouse or snap of your smart phone. Share this post with the hashtag #GlobalMoms, and visit GlobalMomsRelay.org to learn more.
The United Nations Foundation, Johnson & Johnson, BabyCenter and The Huffington Post created the Global Moms Relay with a goal of improving the lives of women and children around the globe.
* via the Donate A Photo app for iOS and Android. Johnson & Johnson has curated a list of trusted causes, and you can donate a photo to one cause, once a day. Each cause will appear in the app until it reaches its goal, or the donation period ends. If the goal isn't reached, the cause will still get a minimum donation.
Related