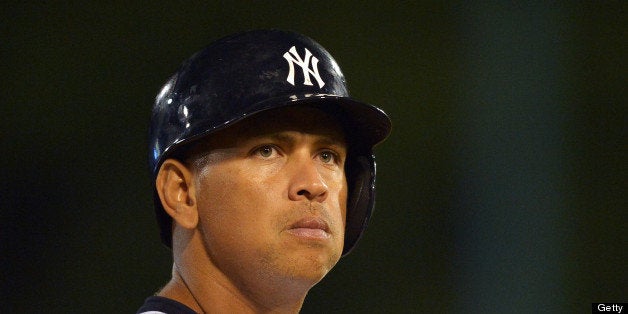 A few weeks ago a former MVP who, is still one of the best and highest profile players in the game, was suspended for the duration of the 2013 season. However, nobody is talking about Ryan Braun anymore because this story has been completely eclipsed by the possible lifetime ban now facing New York Yankee slugger Alex Rodriguez. The issues around this possible suspension are complicated because while most people recognize Rodriguez has been a user of PEDs, he has not failed a drug test since 2003. Rather he has been linked to Biogenesis, the medical lab which distributed PEDs to many players. More significantly, the discussion of Rodriguez's possible punishment appears to be somewhat capricious rather than grounded in policies or specific rules.
Although Rodriguez is at the center of this issue and faces the loss of enormous amounts of money, whatever is left of his reputation and his livelihood, this story is only somewhat about Rodriguez. It is also a reminder of what a complete, and neverending mess MLB, led by longtime commissioner Bud Selig, has made of the steroids issue.
The modern steroids era began around 20 years ago. It is generally traced back to when the Bash Brothers, Jose Canseco and Mark McGwire were young sluggers on an Oakland A's team that was one of baseball's best in the late 1980s and early 1990s. McGwire and Canseco went on to become high profile and controversial players associated with home run records, steroid abuse and, in the case of Canseco, bizarre public statements. Since those early years MLB has tried various approaches including encouraging steroid use, initiating testing for PEDs, declaring the steroid period over and now threatening enormous penalties. Throughout these roughly twenty years these different approaches have all been characterized by caprice, weak internal logic, shifting blame away from MLB, and an oddly personal approach that seeks to identify, and vilify high profile scapegoats. Now it is Rodriguez's turn, but McGwire, and most notably Barry Bonds have previously occupied that role.
Rodriguez, like Bonds before him, has become a target of MLB not because he is the only or most egregious steroids user, but because he is, or was, the best player in the game poised to possibly break several records, and because he is disliked by media and fans. Lesser players who are relatively well liked by the media and also connected to steroids like David Ortiz, Andy Pettitte or even Sammy Sosa have never been punished in a serious way by MLB. There is a lot of uncertainty surrounding these players and questions of their steroid use, but in part due to the bungling of the issue in general, uncertainty surrounds much of the steroid issue in baseball.
The precedent which would be established if Rodriguez were to receive a lifetime ban would be terrible for players and fans. The message, despite what MLB thinks, will not be that baseball has finally gotten serious about fighting steroid use. Instead the message will be that punishment and consequences remain erratic and can be influenced by the wishes of Bud Selig or team owners. Rodriguez is very unpopular with fans and with the media and is owed a lot of money by a Yankee ownership that would be very happy to terminate Rodriguez's contract. Moreover, much of what the public has seen of Rodriguez's personality is not pleasant, but how is this relevant to how he should be treated and whether or not he should be singled out? If Rodriguez gets a lifetime ban, baseball will not have succeeded in sending a message only that players with bad contracts or who run afoul, for whatever reason, of Bud Selig, the media, or the owners of their team will be very vulnerable to similar consequences.
Rodriguez is fighting back and in a relatively short period of time appears to have moved MLB away from the possibility of a lifetime ban. This is good news for Rodriguez but is also further evidence of the caprice underlying the initial threat. If MLB had evidence, precedent or a clear policy in place, they would stick with the proposed lifetime ban. Absent these things, baseball is simply negotiating with Rodriguez, who is, in turn, trying to cut the best deal possible.
A lifetime or even very long ban for Rodriguez will not solve the steroid problem, even if other players, as will likely happen, face suspensions as well. The majority of steroid users, will still have gone unpunished; Rodriguez will over time be seen as having been unjustly punished and baseball will be forced to mete out similar punishments, suspensions or bans to other players or appear hypocritical.
There is much that is unknown, or perhaps unknowable, about steroids, including who, over the last twenty or so years, did or did not use steroids, what the true effects of PEDs actually are, and what records would not have been set or championships would not have been won without steroids. Unfortunately, the only thing we know for certain is that Selig and MLB have bungled this issue almost every step of the way.
Calling all HuffPost superfans!
Sign up for membership to become a founding member and help shape HuffPost's next chapter