The Great Orchestra of Christmas Charity is the biggest and the most successful event of its kind in Poland. The charity was established 24 years ago by charismatic Jurek Owsiak (who, by the way, was born in Gdansk).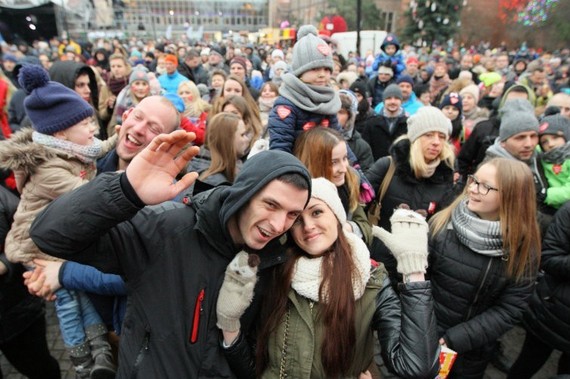 Photo: Grzegorz Mehring
"Every year, the Grand Orchestra of Christmas Charity Foundation selects a detailed aim, or theme of its fundraiser" -- we read on its website. This year's theme was buying equipment for paediatric wards and for medical care for seniors.
I take pride in actively participating every year by collecting donations on the streets of Gdansk. This year my two daughters were accompanying me. We raised more than 500 Euro!
This year's hot finale of the Great Orchestra of Christmas Charity is behind us. The traditional, long awaited "light to the sky" ceremony had gathered thousands of spectators on Coal Market in the centre of town.
Our residents managed to collect over half a million Euros. But the amount is still growing - thanks to online auctions like the one on Allegro portal, traditionally accompanying the City of Gdansk in fundraising.
To entice even more interest I put up an original and attractive auction prize - the highest bidder will accompany me in the first, opening walk through the under-river tunnel, which is to be inaugurated in April. In addition, people can also bid for T-shirts and balls autographed by popular sports personalities, overalls and gloves used in the rally, local delicacies and sweets, and even co-producing the program "Good morning Gdansk" on local television. For those who, instead of under the river, prefer to travel on its surface, we offer a sailing cruise on historic STS General Zaruski, or a cruise with the Municipal Water Police patrol.
On Sunday the sky lit up with thousands of firework lights symbolizing good thoughts for the beneficiaries of the fundraiser, the patients of paediatric and geriatric wards. I will see you in one year on the next Grand Orchestra of Christmas Charity finale in Gdansk 2017!
Calling all HuffPost superfans!
Sign up for membership to become a founding member and help shape HuffPost's next chapter