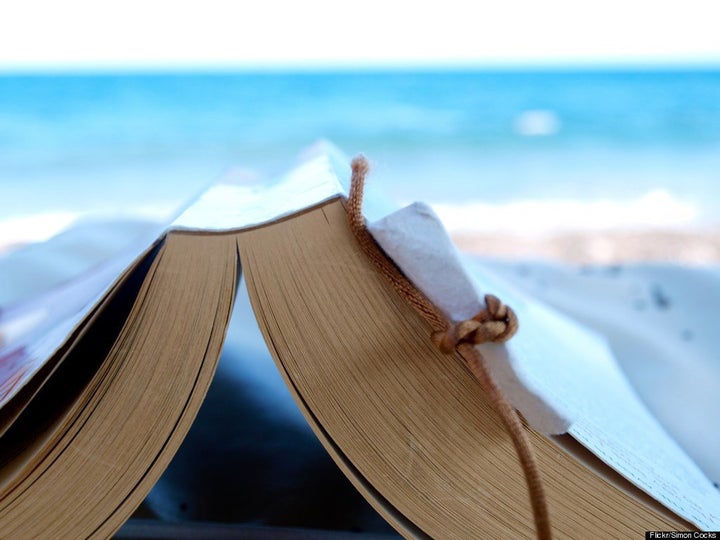 I am staring down a copy of The Unbearable Lightness of Being.
I have not read this book, but if you were standing in my hallway and plucked it from the shelf, I might nod vaguely at you and say something like, 'Kundera is moving' before quickly changing the subject to James Joyce. Not Portrait of the Artist as a Young Man because, though I have three editions of it, coming-of-age novels are trite in the home of a nearly 31-year-old single woman. No, I'd be more likely to chat about Araby, nuzzled safely in a short story collection sleeping on my highest shelf. The one I need a footstool to reach.
My thoughts flash back to a farewell lunch date last week with some friends. I lamented to them how my mother has suggested that before this next move across the country I should, you know, donate some of my books to charity. I explain that this feels like a blasphemous betrayal of an only child's imagination, that the characters and verbs on these pages are still alive to my 8-year-old, 16-year-old, 22-year-old, right-this-minute self. My friend Kristin laughs and says, "Dr. Phil has the perfect book on how to get rid of stuff; you should get it!"

I do not buy Dr. Phil's book, but I am having a hard time coming to grips with whether I will ever read The Unbearable Lightness of Being or if it belongs in the begrudging pile I've started by the couch. In some respects, I believe a good book finds you at the exact moment in your life when you need to read it. I've gotten past the first couple chapters a couple of times, and this could be a definitive moment in terms of whether I am ever inspired by Czechoslovakian literature and the principle of eternal return. My friend Tim thinks this book is a work of art, and I have this quirky, affectionate habit of reading other people's favorite books.
A sidelong glance at the pile reveals: I am parting ways with Al Gore's The Assault on Reason (too pedantic); Jeremy Scahill's Blackwater (have it memorized and, really, the world needs it more than me); the entire Sisterhood of the Traveling Pants series (keeping Bridget Jones's Diary, so that's just borderline pathetic); The 7 Habits of Highly Effective People (when will the country acknowledge that this book is annoying as shit?); and Creating Web Pages for Dummies (I know how to manually type a link and it's time to admit that's as far as it's going to get).
I cannot bear to sacrifice The Federalist Papers, the collective works of Nick Hornby and Tom Perrotta, the Norton Anthology of English Literature, The 4-Hour Work Week, or even the last Dan Brown book because surely it will be invaluable on a beach vacation in the indefinite future even if it is out of place next to Frankenstein and Anna Karenina.
Among the indisputable keepers are Gone With the Wind (the first grown-up book I ever read in fifth grade, which explains a lot about me!), Scarlett and Rhett Butler's People. My favorite of Arianna's writings, The Fourth Instinct. Paul Starr's The Creation of the Media chronicles the history of the news business back to the printing press! Audrey Niffenegger's Her Fearful Symmetry, which feels like being hugged by Wuthering Heights. A copy of Anne Lamont's Bird by Bird was the first book ever given to me by the man I've loved most, and despite the many times I've almost trashed it I'd miss him haunting me. Only a heartless soul or an anorexic chick could part with Jennifer Weiner's Good in Bed. The Scarlet Letter has my favorite sentence of all time: "The truth seems to be, however, that, when he casts his leaves forth upon the wind, the author addresses, not the many who will fling aside his volume, or never take it up, but the few who will understand him, better than most of his schoolmates and lifemates."
There is a third pile of good intentions. For example, perhaps this summer I will read the autobiography of Jay-Z or The Omnivore's Dilemma. They are next on the list after John Barrymore: Damned in Paradise, a history of the Kennedys and Autobiography of a Yogi.
I pretend I am not irked by the absence of some significant titles. Most conspicuously missing is Paulo Coehlo's Eleven Minutes. (Girls, it is a rite of passage to give this book to a man, and you must promise to do it someday.) My friend Katie is holding my copy of The Fountainhead hostage somewhere in Seattle. My former assistant, Tom, has co-opted Selling for Dummies, and my pal Sarah has, regrettably, stolen Tom Wolfe's I Am Charlotte Simmons. I would gladly give Where the Red Fern Grows to have any of these mind-blowing books back, but it is probably the karmic consequence of stealing my Northwestern professor's copy of Live From New York: An Uncensored History of Saturday Night Live and never returning it.
I assure you I have read virtually all of these books, except The Unbearable Lightness of Being. If you see a copy of it in a second-hand shop, know that I didn't give up. I just wanted you to read it.
Related
Popular in the Community