Paris is, and always has been, a moveable feast for writers. For centuries, impecunious and erstwhile unknown writers have flocked to the City of Lights to cut their teeth and soak up the city's intoxicating and never-ending sources of inspiration. Every summer I return to this city in the hope of unearthing a previously unexplored corner of this glorious city, and every time I leave feeling artistically refreshed, with a new favorite café or bookshop to add to my burgeoning list. Where else can you trace the footsteps of your favorite writers in a city redolent of literary tradition?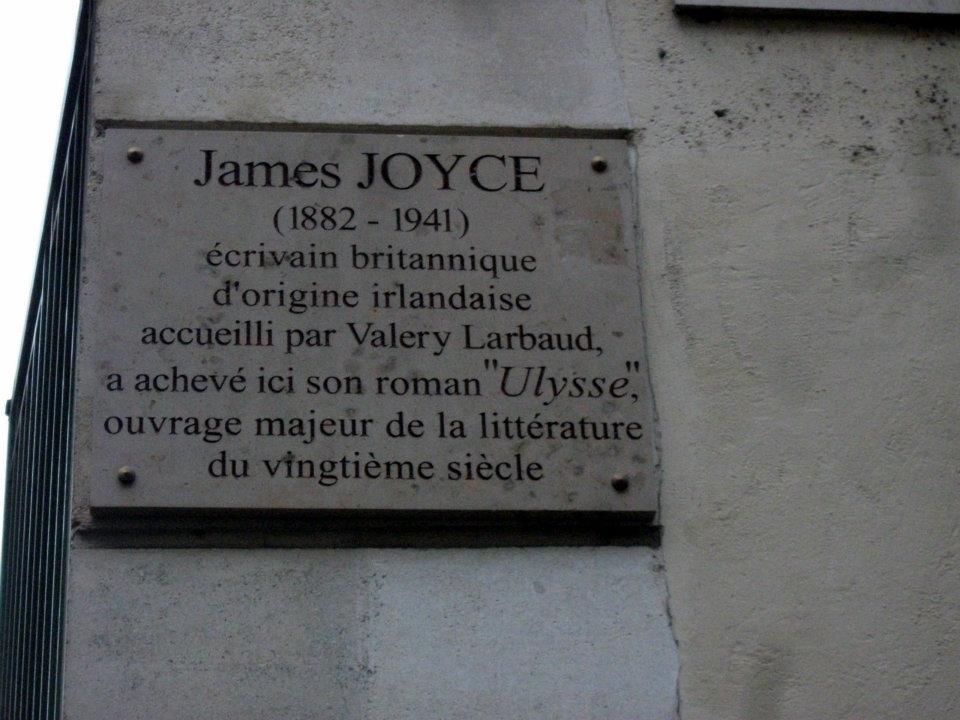 Stumbled upon: 71, rue du Cardinal Lemoine, where James Joyce wrote Ulysses.
Remnants of Paris' literary past are scattered across the capital, providing endless opportunities for bibliophiles to pay homage to their literary icons. For the past two years, I have stayed in the Quartier Latin, Paris' geographic and cerebral beating heart. Rewind almost 100 years to 1920s Paris; La Rive Gauche is home to an artistic community of bohemian expats, dubbed the 'Lost Generation,' after Gertrude Stein overheard a garage owner admonishing an inept mechanic, stating "You are all a "génération perdue." This is the generation that comprised Ernest Hemingway, F. Scott Fitzgerald, T. S. Eliot, Ezra Pound, Jean Rhys, among many others. Lost they may have been, but this post-war expatriate community found themselves sharing the same patch of Parisian soil during the apotheosis of twentieth-century literature.
At the heart of this circle was American writer Gertrude Stein, doyenne of expatriate artists in Paris, whose home at 27 rue de Fleurus was host to a Saturday evening gathering of writers and artists for four decades. Devoted attendees of the Stein Salon included Pablo Picasso, Henri Matisse, James Joyce, F. Scott Fitzgerald, Guillaume Apollinaire, Ezra Pound and Ernest Hemingway. A hive of artistic activity for 40 years, some of the twentieth century's greatest thinkers, writers and artists passed through Stein's doors. Today, the rue de Fleurus is a quiet, unobtrusive street and one could quite easily walk straight past it. On my first pilgrimage to this tucked-away street, a mere stone's throw from the Jardin du Luxembourg, I looked around at fellow pedestrians wondering if they too were venturing to feast their eyes on the literary monument lying just a few streets away. Alas, they were not. As I stood outside Stein's former home reflecting on the authors and artists who had stood in my place, I wondered why I was not amidst a flock of tourists.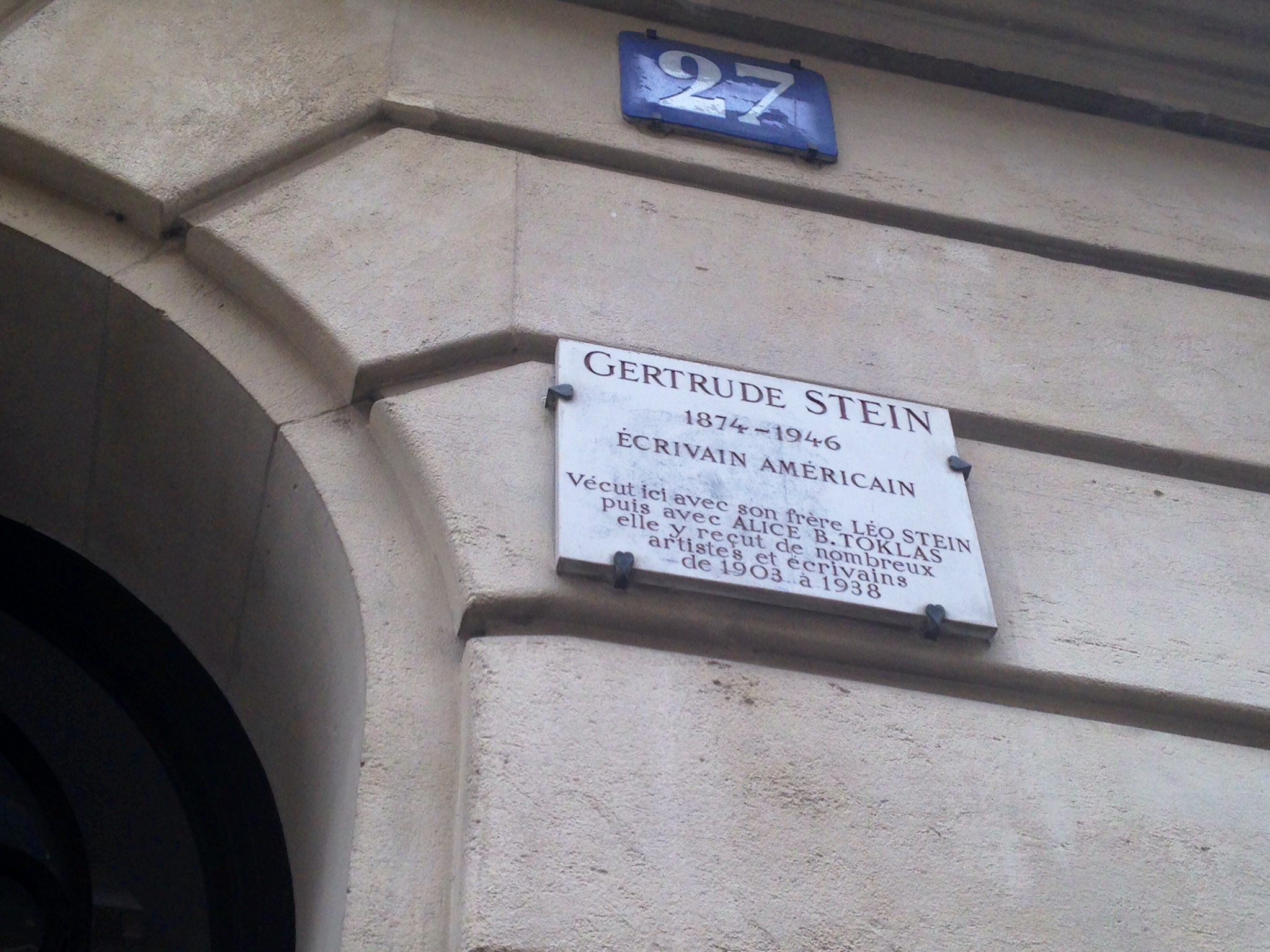 F. Scott Fitzgerald and Ernest Hemingway were vanguards of the American expat community, and the former was certainly far less enchanted with Europe than his Europhile counterparts. In 1921, Fitzgerald ventured to Paris with his wife Zelda. Staying in the Hotel de Saint-James Albany overlooking the Jardin des Tuileries, the hedonistic couple caused something of a stir after leaving a "pungent goatskin" in their room, and fastening the elevator to their floor with a belt so they would never have to wait. Needless to say, the revelers were ejected from the hotel for their unseemly behavior. From London, Fitzgerald wrote of his disappointment: "God damn the continent of Europe. It is of merely antiquarian interest. [...] France made me sick."
Hemingway felt altogether more at home in Paris, and his posthumously-published memoir A Moveable Feast is an ode to his formative years spent as a young writer in Paris. In the city where writers and philosophers would use cafés as their offices, sitting for hours with friends and fellow artists, passersby and patrons would have witnessed literary history unfolding before their very eyes, and might not have even realised it. Hemingway dedicated an entire chapter in A Moveable Feast to an encounter with Ford Madox Ford in a café. Amongst Hemingway's favourite haunts was Les Deux Magots, situated in Saint-Germain-des-Prés. Albert Camus, Bertolt Brecht, Pablo Picasso and James Joyce were also regulars at the café which still stands sentinel in Place Saint Germain des Prés. The cafe's rival, Café de Flore, boasted a large stove around which penniless writers would congregate to keep warm during winter. Hemingway was a steadfast patron of Café de Flore, which counted Truman Capote and Lawrence Durrel as devoted regulars, yet its greatest claim to fame lies in its hand in the conception of existentialist ideas. During the Occupation, two of the café's most loyal customers -- Simone de Beauvoir and Jean-Paul Sartre -- would install themselves from 9 am until 12 am day in day out, where they would sit and work, and discuss existentialism. "This could seem strange to you, but at this Café, we were at home," Sartre wrote of the café. "During 4 years, the road to the Café was for me the Road to Freedom." The café retains its old-school charm, and it is a perfect spot for people-watching over coffee and croissants.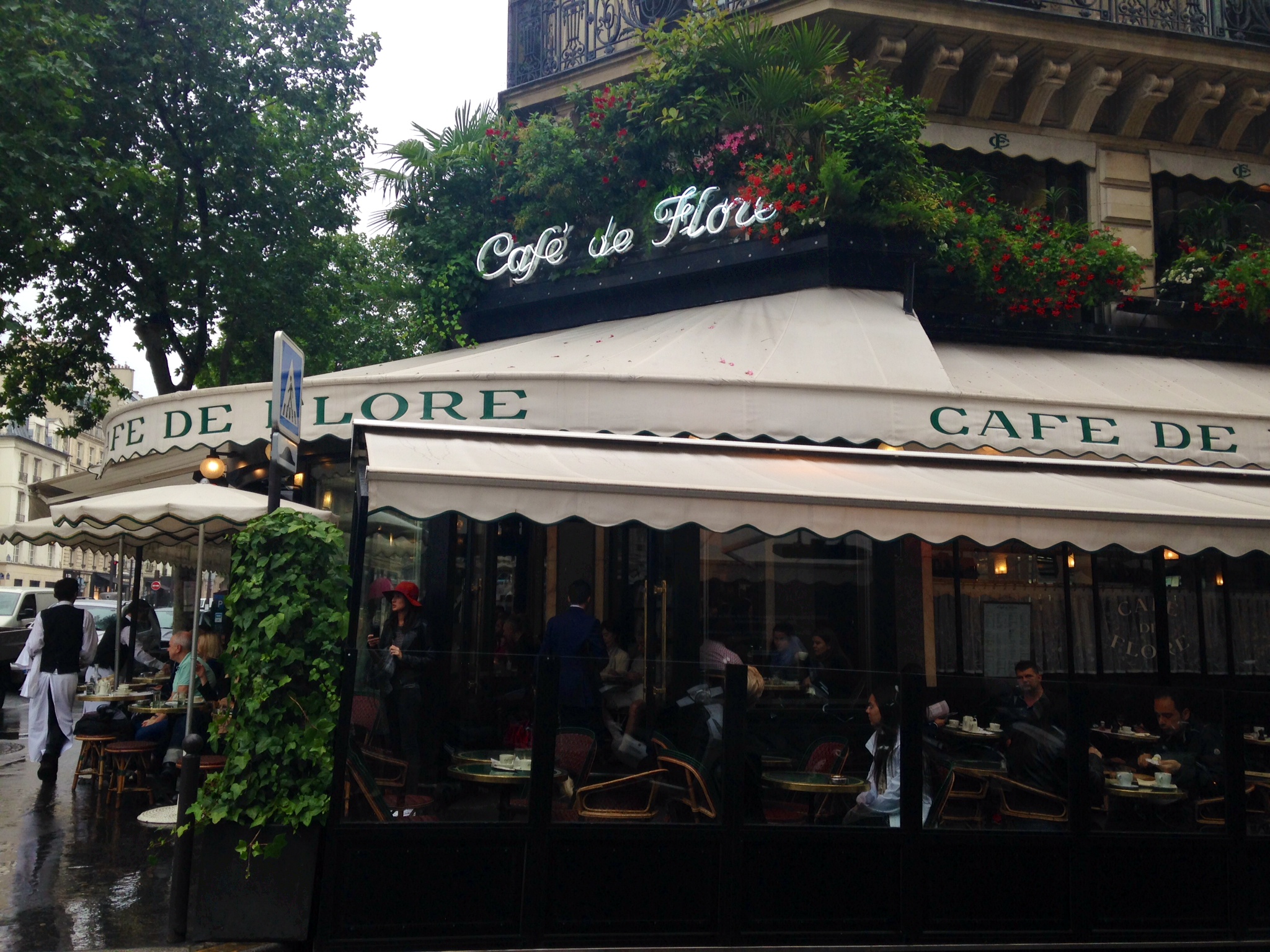 "In those days there was no money to buy books," wrote Hemingway in A Moveable Feast. So he borrowed from the rental library of Shakespeare and Company, an independent bookshop on the rue de l'Odéon. This "lovely, warm, cheerful place" was the centre of Anglo-American literary culture in the early twentieth century. Nicknamed 'Stratford-on-Odéon' by James Joyce, who used the bookshop as his office, writers of the Lost Generation considered this their home from home. The original bookshop closed in 1940 during the German occupation of France during the Second World War, and in 1951 another Anglophone bookshop was opened at 37 rue de la Bûcherie, overlooking Notre Dame. Frequented by Anaïs Nin, Henry Miller, William S. Burroughs and Allen Ginsberg, the bookshop became the epicenter of Beat culture in bohemian Paris.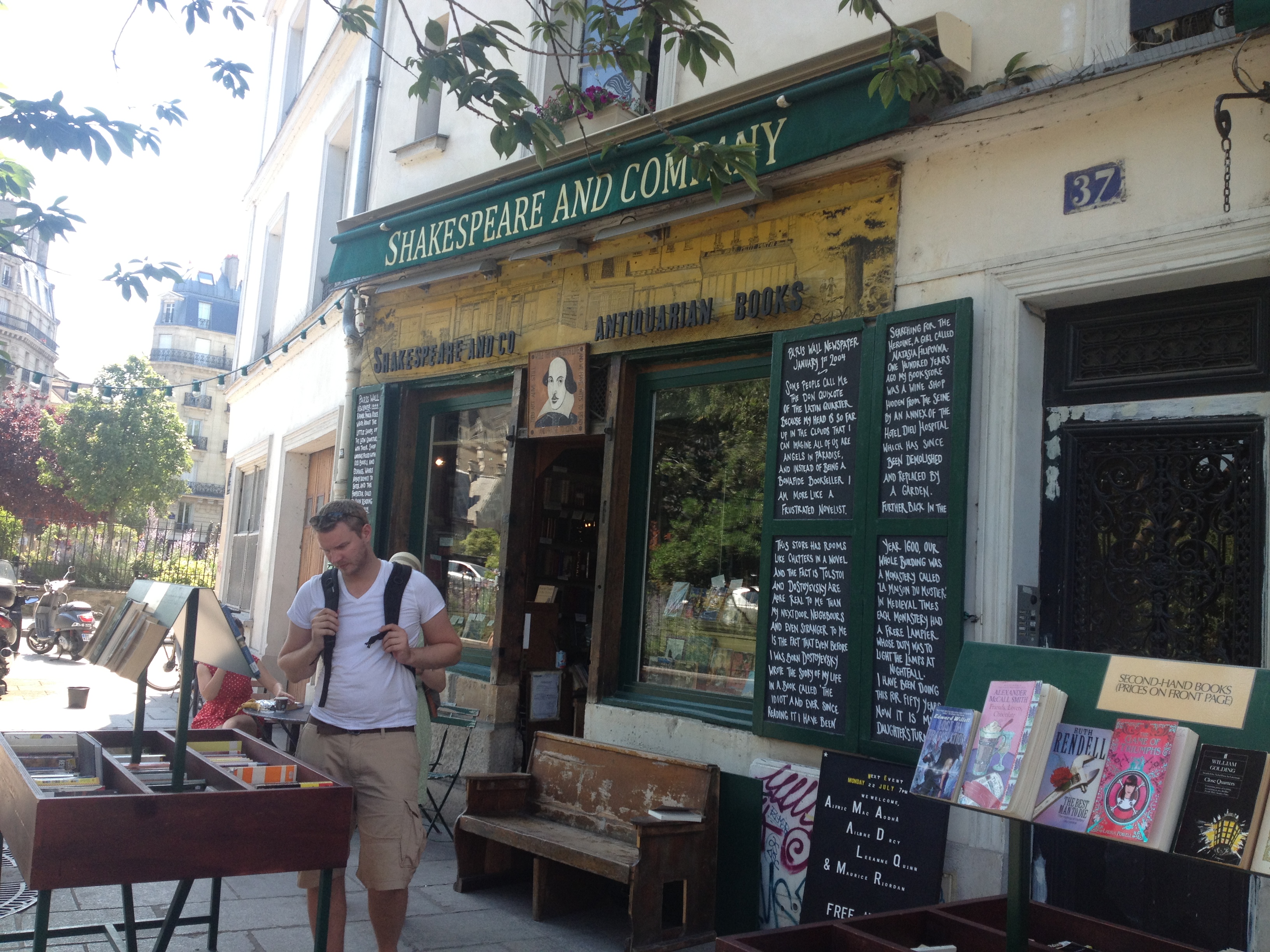 Nowadays, Shakespeare and Co. is a haven for bookworms and writers, where battered secondhand books are flanked by signed editions, and the walls are bedecked with faded postcards and calling cards. Venture upstairs and you will likely encounter a customer playing the piano, and each room is peppered with writers and readers engrossed in creativity. To this day, Shakespeare and Co. remains a constant friend to itinerant writers, and with its 13 beds within the bookshop, around 40,000 people have slept there over the years.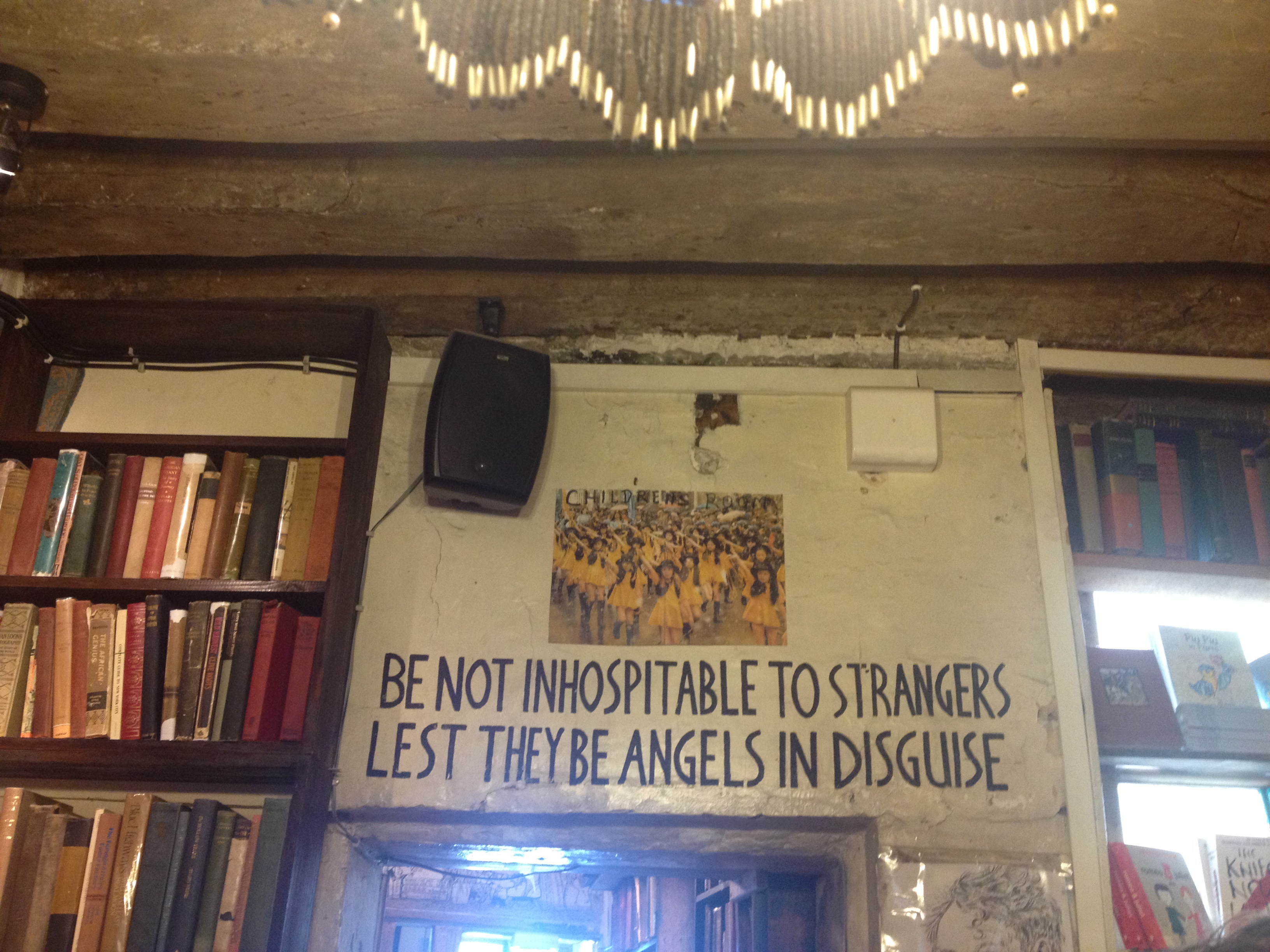 'Be not inhospitable to strangers....': Yeats' words adorn the walls of Shakespeare and Company at 37 rue de la Bûcherie.

Paris is home to another friend to strangers, in the form of American-born Jim Haynes, who has hosted an open dinner in his atelier in the 14th arrondissement every Sunday since 1978. At the forefront of the underground cultural scene in the 1960s, Haynes founded an experimental theatre in Edinburgh, before launching Suck newspaper, which celebrated sexual freedom; its first issue published an explicit photo of Germaine Greer and an erotic poem credited to W. H. Auden. Writers in Jim's life have included Norman Mailer, Samuel Beckett, Christopher Hitchens, among many more. Who else can say that Henry Miller lived just up the street when he published Tropic of Cancer? The dinners started off by accident, and since then, over 150,000 guests have dined in his studio, which every Sunday is transformed into an international gathering of expats, travellers and passers-through. Jim's open dinners are exactly what it says on the tin: open. No need to have mutual friends to wangle an invitation, it suffices to email Jim in advance to ask to be added to the list. Two years ago, during my first repast chez Jim, I encountered a wonderfully eclectic mix; an Italian expat in Paris, an Australian yogi passing through, an American professor, and an Israeli girl staying at Shakespeare and Co.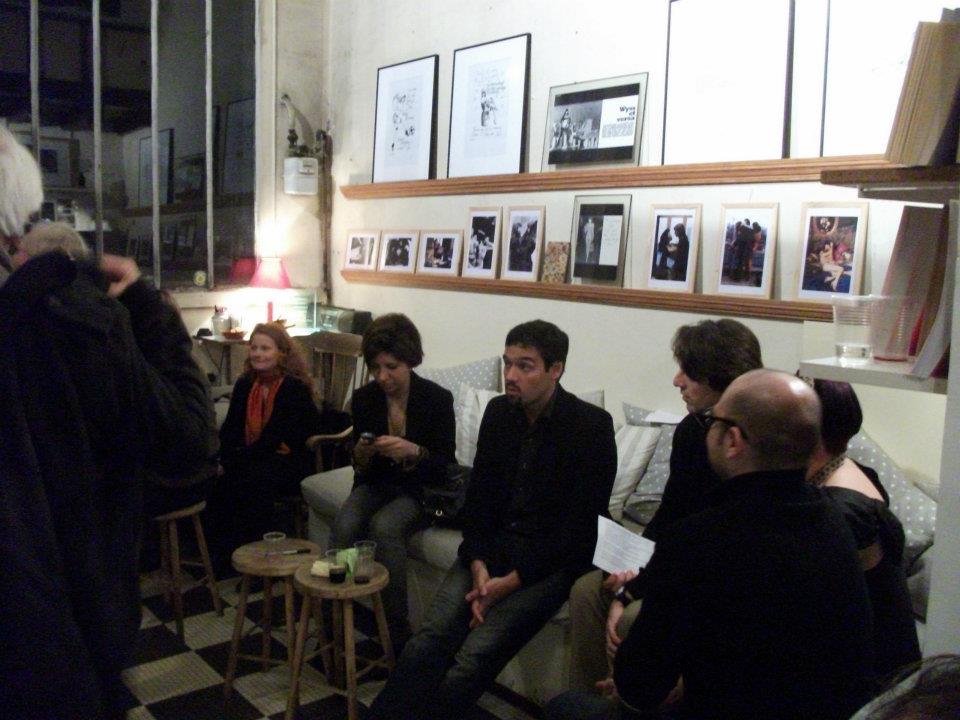 Paris is considered the most romantic city in the world, so it will come as no surprise that it is also the city of affairs. Jean Rhys and Ford Madox Ford are said to have begun a brief affair at la Cité Fleurie, an artists' colony on Boulevard Arago, where Ford also launched the Transatlantic Review. Anaïs Nin and Henry Miller began their passionate love story on the fifth floor of Hotel Central on the rue du Maine.
Whether you're traveling to Paris or just passing through, the city's literary past has been well-preserved, and, at almost every street corner there is a place of literary significance to stumble upon. Today, the literary past mingles harmoniously with the present, and, if you look close enough, connections to that Lost Generation can be found.
Popular in the Community