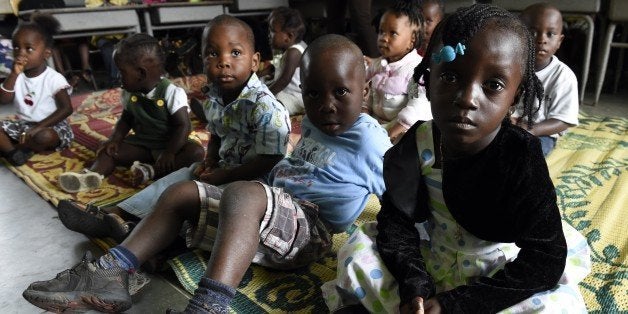 To quote Dickens, my experience in Liberia over the past six months has been the best of times and the worst of times. I have loved and lived in this remarkable country for two years now, and previously served as a Peace Corps Volunteer here for five, and the resilience and beauty of the people has always been an inspiration to me. The Ebola outbreak has proven this to be true again.
The epidemic has started to reach a crescendo, and help from the international community is already providing a fresh hope. But we have a long way to go.
The way we're going to beat Ebola is by making sure people know the facts, and it's critical to raise awareness about the virus and dispel the many myths around it. I see the results of misinformation every day, and unfortunately it's measured in the lives of people. And on top of it all too many Liberians lack access to health care, and the country's hospitals and clinics are overwhelmed from this crisis.
A couple of weeks ago I was visiting some of our sites in the countryside, and on the side of the road more than 100 people were surrounding a woman lying in the grass 50 yards from a clinic. They were talking in whispers, staring, pointing. The Liberian woman was feverish and very weak, and she did not have the strength to stand. Twine had been strung around her to keep people from getting too close, with handwritten signs reading "Ebola is real, Ebola kills."
Health clinic staff in the town denied the woman entry because they had no protective gear. They were understandably concerned for themselves and the other patients. They called for the county ambulance to bring her to an isolation unit, but the ambulance never came.
As she lay dying, another woman sat next to her, cradling her head, unconcerned with the risk she faced by exposing herself to the disease. I took the opportunity to grab a megaphone from our car and start educating the crowd about what Ebola is, how you can catch it, and how you can avoid it.
I learned later the woman spent another night on the ground, through the rain and gawking onlookers, until her struggle ended and she died.
But there are new stories, stories of hope beginning to emerge.
Last week a colleague met a 14 year-old boy name Elijah. Elijah was living with his aunt when she and other family members became sick and died of what was suspected as being Ebola. Upon their deaths Elijah returned to his father's home in the same community where the woman in the field had died.
Elijah's father refused to let him in the house and told to sleep at the school. The principal of the school wouldn't let him in, and he was forced to lie on the side of the road near a clinic. It was a Monday evening when my colleague met Elijah. We tried to contact the district health commissioner to get an ambulance to take him to a newly opened Ebola Treatment Unit, but no one was available.
We decided Elijah should take shelter in a phone card kiosk since he was showing symptoms. We provided him with a flashlight, blankets, and food for the night. Thankfully, it did not rain.
In the morning we reached the district commissioner, and he sent an ambulance from an hour away to pick up Elijah.
Elijah was one of the lucky ones. He got in a new Ebola Treatment Unit and because the staff was not yet overwhelmed they were able to provide him with individualized medical and psychosocial care. Elijah survived.
But the story doesn't end there as Elijah is experiencing what it's like for an Ebola survivor to go home to their families and communities. There is fear, distrust, and anger directed at the survivors, and Elijah's father was no different. He did not trust that Elijah was cured and he did not want him home.
That's when our team stepped in. We went to Elijah's town and held meetings and serious discussions with the family members and the community at large about what it means to survive Ebola. We helped them understand that Elijah's survival was not unusual, and when you seek treatment, many people survive.
I met Elijah's father and spoke with him parent-to-parent, and I have spoken with him many times since. His fear caused him to banish his son from home, but in doing that he may have saved Elijah and the rest of his family. We must get patients out of the home, we must get them into care as quickly as possible, and we must protect the other members of the family.
That's the importance of community care and what we're doing on the ground in Liberia. Making sure people have the facts and that care and treatment are available. This will ensure the next Elijah is given all the care and love he needs to survive.
Jolene Mullins is the Liberia country representative for PCI (Project Concern International). You can learn more here.
This post is part of a special series produced by The Huffington Post in recognition of the threats posed by Ebola, particularly to West Africa. To see all the posts in the series, read here.
Related
Popular in the Community