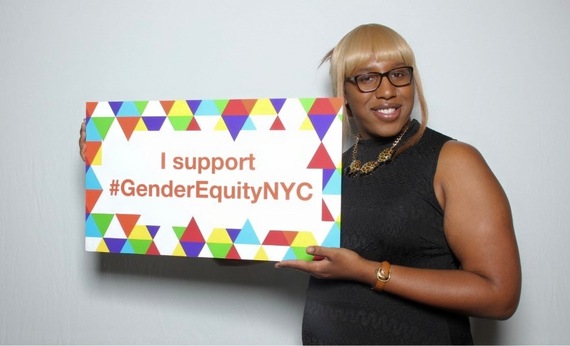 As the LGBTQ community celebrates a favorable ruling on Marriage Equality, many activists around the country are seeing this as only the beginning. While the social climate of America is starting to carve out places for the LG and B, the T remains fighting most battles on it's own. For many trans and gender non-conforming people, the latest supreme court ruling will not stop violence from happening to them on the streets, nor will it offer feasible options for healthcare, housing or employment protections. In fact, according to PlanetTransgender.com, as of February 2015, a trans person is killed every 28 hours. While this violence occurs across the board, trans, queer and gender non-conforming people of color garner the highest death statistics. With death and violence plaguing the streets, Marriage Equality is only seemingly a light through the keyhole for the trans community. For Lewis, that light is more than enough for her.
"Marriage Equality is what made me realize the need for our own center," says Lewis. She's been fighting as an openly transgender activist for the last 4 years, as well as leading by example for those diagnosed positive with HIV. "As a woman of color and of trans experience, I understand the disparities that we face and know some of what we need to succeed," she says. "This center will also be a place where our narratives will be told, but recorded, so people will know our history."
Being a wife to a trans husband as well as a mother to a 5 year old, having a family has only fueled her desire to advocate for those who cannot speak their truth. "I have found myself marching with mothers in solidarity after the Eric Garner situation. I have been at the rallies of Black Women that have been slain by law enforcement officials," she says. On top of the reality she faces as a trans woman, she also describes her reality as a mother. "I have been enlightened on the issues of raising a young black boy and the disparities in which he will face in this country, because of the simple fact of whom he is," says Lewis.
With unrelenting support, her community center is nearing it's goal of 5,000 dollars. "This center will not be measured on how many people that enter through the doors, but by the betterment of the people who leave afterwards," says Lewis, whose hope is to offer access to resources, education, employment, and housing opportunities for trans and gender non-conforming people. It also plans to offer them the ability to to obtain their HSE (High School Equivalency) and even learn a certified trade. "I will always encourage them to be themselves and never be afraid to speak their narratives. I [will] always tell the young ladies in which I am fortunate enough to work with, that at the end of the day it is not about me, but about those I was able to assist," says Lewis.
"Living in your authentic truth is Revolutionary."
Click here to donate to Octavia's center!
REAL LIFE. REAL NEWS. REAL VOICES.
Help us tell more of the stories that matter from voices that too often remain unheard.