Durham proved once again what an amazing food city it is becoming at the recent Taste 2015 events. The three-day food event kicked off with a VIP reception on Friday, April 23, 2015 hosted by 2011 James Beard winner Andrea Reusing. Proceeds from ticket sales went to the Food Bank of Central and Eastern North Carolina. I attended several of the Taste 2015 events as a guest of event producers, Shannon Media, publishers of Chapel Hill and Durham magazines.
In a portable kitchen set up within the cozy back patio of Bar Lusconi, Reusing and her team cooked up a number of delights, including North Carolina shrimp pickled in Louisiana lemon juice and spiced with turmeric; deviled ham on points of rye toast and topped with mustard seeds; a deviled egg sprinkled with North Carolina trout roe and lemon grass, and the lightest, crispiest, freshest chiccarones I've ever tasted. The duo Teacup Gin provided a mix of bluesy standards ideally suited to the slim setting of Bar Lusconi.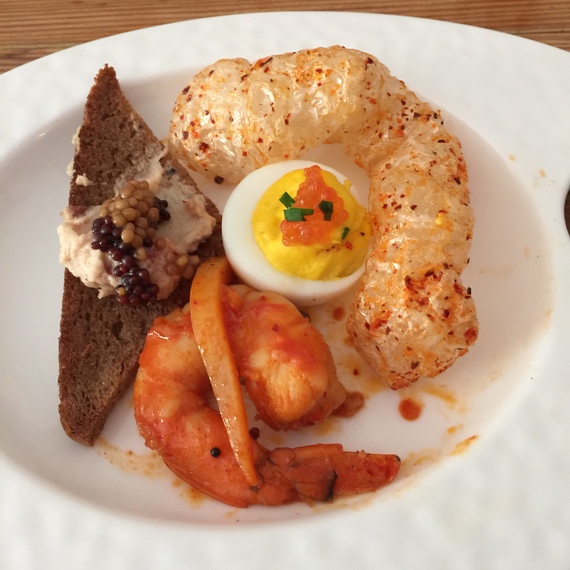 Reusing, whose Chapel Hill restaurant, Lantern, is among Gourmet magazine's top 50 restaurants, will be opening a new restaurant and rooftop lounge atop the soon-to-open Durham Hotel. The restaurant will depart from Lantern's familiar Asian-fusion cuisine, giving Reusing wider creative range. Reusing and staff will operate all of the Durham Hotel's food and beverage operations.
Only a few blocks away at the Durham Armory, one of downtown's most centrally located private event venues, the sparkling lights flickered over the Grand Taste Experience. Here more than two dozen of the area's top chefs prepped to impress a lively crowd with small taste plates of their offerings. The most memorable selections were both creative and delicious. Chef de cuisine John Childers of Herons, the double five-star restaurant within the swanky Umstead Hotel in Cary, N.C., awed guests with a white chocolate sphere with caviar, lemon, crushed almonds, white asparagus, brown butter and fennel, over which he ladled a hot violet potato soup. As the hot soup flowed across the sphere, the white chocolate melted and spread into the soup. The taste, both savory and slightly sweet, was as spectacular as the presentation. Here's a video I made of the presentation.
Other highlight presentations came from One Restaurant's Kim Kloresca and Daniel Ryan and G2B Restaurant and Brewery's Travis Robinson. One Restaurant featured chicken eggs blown out clean, decorated, then filled with a tangy citrus drink to complement the mocha donut on the side. G2B made an edible vegetable garden of smooth white cheese mulched with bread crumbs made from the leavings of grain used in their brewing processes. Into this they planted small root vegetables which guests pulled out and ate.
Just plain delicious food emerged from Piedmont restaurant (deviled eggs with smoky bacon jam), Juju Asian Tapas (Hawaiian ahi poke with macadamia-soy jus, avocado, nori and sweet onion), Basan (chili salmon sushi roll). The longest continuous line queued to Matthew's Chocolates, where an assortment of handmade confections and gelatos were depleted in record time.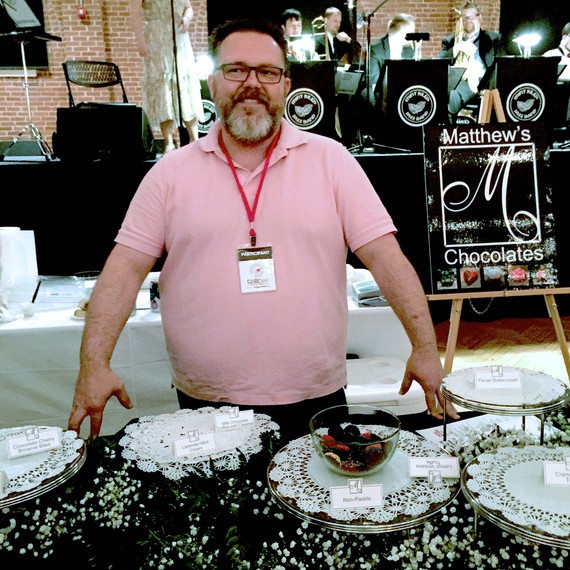 The following night foodies gathered at the Sarah P. Duke Gardens for the Foggy Ridge Cider Dinner. Chefs from two Durham restaurants prepared a four-course dinner, plus hand-passed appetizers, each paired with a distinctive cider from Foggy Ridge Cider of Dougspur, Va. Chef Ricky Moore from Saltbox Seafood Joint and chef John Eisensmith of Six Plates Wine Bar collaborated on the appetizers, then split up for the courses.
Ciders--we're not talking that commercially made sparkling cider you give your kids on New Year's Eve, but handcrafted hard ciders--are gaining taste momentum here in the States. In Europe ciders have a legacy and renown not unlike beer and wine. Apple trees fared well in the cooler climes of Northern Europe, where wine grapes did not. Cider was the natural alternative to wine. With the many varieties of apples, each cider bears a distinctive characteristic, lending itself to pairing with foods. Some ciders are sweet, some dry like a chardonnay, some tart and tangy. Hard ciders have a six to seven percent alcohol content, which is similar to most common beers and some white wines.
As each course was introduced at the dinner, Foggy Ridge Cider founder Chuck Flynt took to the podium to describe the cider being paired with the selection. While all of the selections were brilliant in both presentation and taste, the stand-out of the evening was the fish course created by chef Eisensmith. He started with North Carolina monkfish poached in olive oil, served it over smoked cheddar grits and asparagus, then topped it with a perfectly piquant romesco sauce. The presentation and flavor of the monkfish was deceptively similar to lobster outside the shell, yet distinctive in its flaky texture and savory taste. The crisp, semi-sparkling Foggy Ridge Handmade Cider paired well with the monkfish entrée.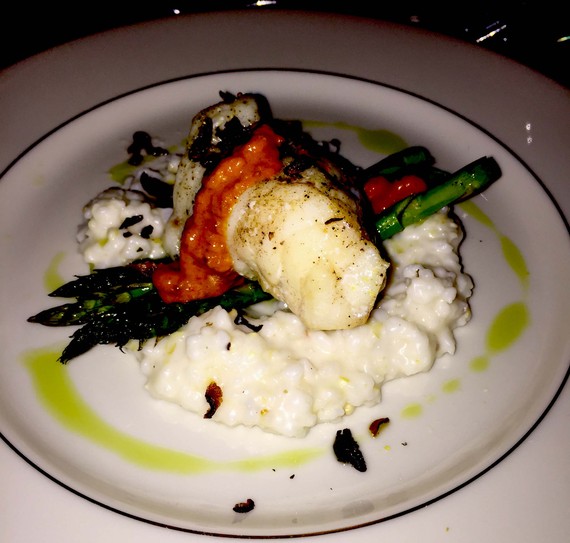 The dessert deserves mention for its presentation alone--a lemon-blueberry pound cake prepared as French toast, topped with cider-poached apples, ginger caramel, pecans and sage crème Anglaise artfully encased in a thin, gelatin sphere that required you to pop it with a fork or spoon to release the sauce. Its pairing with Foggy Ridge Pippin Black, a port-like sweet cider, sealed the evening for a perfect finish.
Saturday saw two additional Taste 2015 events. At lunchtime hardcore foodies gathered for a Burger Smashdown at Durham's Fullsteam Brewery. Restaurants competing in this burger bash were Mattie B's Public House, Tyler's Taproom, Al's Burger Shack, Buns and Only Burger. A panel of distinguished guests made the final selection after burgers were voted on by guests. Tyler's Taproom walked away with the honors for its retake of the western classic bacon cheeseburger. Sean Lilly Wilson of Fullsteam paired handcrafted beer with each burger/side combo.
Dinner on Saturday night featured five of Durham's best craft cocktail makers--Tim Neill of Bar Lusconi and Peccadillo, Olivia Gray of West End Wine Bar and Billiards, Crawford Leavoy of Piedmont, Brad Weddington of NanaSteak and Shannon Healy of Alley Twenty Six--pouring libations paired with a menu designed by chefs from Durham restaurants Piedmont and Revolution.
Sunday supper started at 6 p.m. for the Roots of North Carolina Dinner at Watts Grocery. Watts Grocery owner and chef Amy Tornquist was joined by Marcie Cohen Ferris, author of The Edible South: The Power of Food and the Making of an American Region. While chef Tornquist cooked, Ferris gave a narrative history of North Carolina foods. Watts presented such Southern comforts as cheese straws and cheddar-pecan coins; braised pork belly with sorghum apples and sweet pickled rhubarb; fish stew with shrimp, clams, and local fish in a tomato fennel broth, and old south caramel cake with strawberry compote.