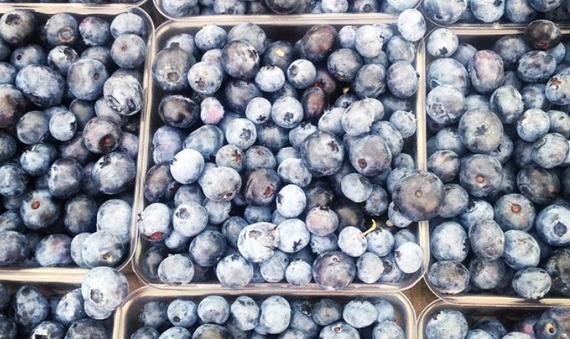 These days many of us are looking to get more fresh, local, and sustainably grown food onto our plates. Now we have a chance to ensure that New York students have more access to local produce too.
The New York State legislature is reviewing a proposal that would reward school districts for sourcing locally grown ingredients in school lunches. The proposal, which is the first of its kind, would reimburse schools an extra five to twenty-five cents per meal for dedicating more of their purchasing budgets to local food. It presents schools with a unique opportunity to increase the quality of kids' lunches while also supporting New York State's farmers. It could be a powerful tool in enhancing kids' understanding of the food system, and it will have the greatest impact if it's paired with effective, innovative nutrition education.
We all agree that children need and deserve high quality food. Too often, though, we overlook the role that school lunches play in helping to introduce kids to healthful ingredients at an early age. Those of us who are fortunate enough to have ongoing access to good food might also forget that school meal programs are the only dependable source of nutrition in many kids' lives.  
New York State is a top producer of fifteen different fruits, vegetables, and dairy products. Incentivizing loyalty to local farmers and ranchers will increase school districts' operational and purchasing budgets, enhance local agriculture, and give children access to fresh and high-quality ingredients. The incentive should encourage the purchase of a wide range of crops, including fruits, vegetables, dairy, and whole grains.
Of course, procurement of quality food is only part of what's needed to help transform kids into enthusiastic, healthful eaters. Nutrition education, which includes gardening, cooking, and tasting, allows schools to maximize their investment in school meal programs. It shows young people--many of whom have little exposure to agriculture or gardening in their home lives--where food comes from. Hands on experience with cooking and food preparation inspires even picky eaters to try new flavors and ingredients. 
So it's critical that the NYSNA incentive work hand-in-hand with the other two pillars of farm to school: school gardening and nutrition education. Evidence shows that school meal programs have the greatest impact when they're complemented by nutrition education, and that nutrition education is associated with lower rates of childhood obesity. Coupling fresh, locally sourced school meals with hands-on nutrition education can positively impact health and learning outcomes for life. New York State already has some limited farm to school grants, but this incentive will go even further in providing kids with the tools and understanding they need to make healthful choices.
It's rare that we have a chance to encourage healthy eating, support local economy, and reduce strain on the environment in one fell swoop. The NYSNA initiative is just that, and it deserves the support of every parent, caretaker, or consumer who believes that our children are entitled to fresh, locally grown food.
The New York State Legislature is working on next year's budget now. Speak up for farm to school initiatives by contacting your NYS Assembly Representative and Senator and urging them to support the Farm to School Procurement Incentive in their respective budgets. You can also encourage your representatives to recognize that the incentive will be most successful if it's combined with comprehensive nutrition education in schools.
Calling all HuffPost superfans!
Sign up for membership to become a founding member and help shape HuffPost's next chapter