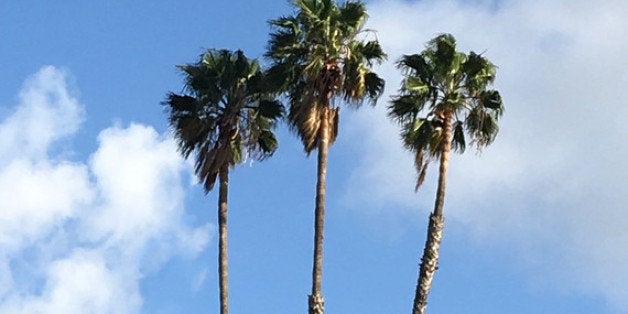 Los Angeles has over 8,000 restaurants, spread across 503 square miles, offering every cuisine imaginable, and then some.
Which is why on my most recent trip to L.A., having only four nights to spare, an aversion to research and planning that borders on the pathological, and a propensity for paralyzing indecision whenever I dare try, I decided to leave the repast task in the hands of those who know the city's dining scene best: locals.
The restaurants I dined in were as fun and eclectic as the group of friends who showed me around. Here were a few of my favorites, for one reason or another:
Edendale Grill - Housed in an old firehouse (L.A. Fire Station #56), and named for L.A.'s first movie studio, the Silver Lake-based space oozes a certain charm that new construction can never quite capture. Built in 1924, the restaurant has several well-appointed, welcoming rooms. We choose to wile away the afternoon in its light-soaked bar, where massive firehouse doors open out on to the front patio, and an enormous skylight runs nearly the length of the original tin ceiling. Everything coming out of the kitchen looked great, but we decided to stick with spicy Bloody Marys, the Market Salad, and Tater Tots, all of which were delish.
Wurstküche - As a lifelong vegetarian-vegan, who only likes Corona, I was skeptical about going downtown to the Art District to experience "the mother of all hipster sausage joints and biergartens," but I shouldn't have been: the space is great, and they serve the WORLD'S GREATEST FRENCH FRIES (are you sensing a potato fetish?). You order up front at a counter that resembles a bakery for sausage, then take your number and your beer (in my case, Bitburger) down the hall and around the corner into a big loft-like space with wood galore that is sort of a cross between a sushi restaurant, a ski lodge bar, and a cafeteria at a really cool tech company in Portland. The diverse crowd -- from khaki-pants-wearing office guys to artists making art -- easily mingle at picnic-style tables and a bar in back.
Gjelina - At first glance, this trendy restaurant in Venice has all the hallmarks of someplace incredibly annoying: three different friends were "dying" to take me there; as many beautiful people were waiting outside as there were gorgeous waitstaff inside the small, crowded, perfectly-decorated-to-be-perfect space; it serves small plates of fancy-sounding foods that inherently aren't fancy; and you choose from a menu with a font size so small it basically screams, "you are too old to be eating here." However... I loved it.
The space is truly lovely, the hostess couldn't have been nicer (zero pretension... something that never happens at the "it" place at home in NYC), we never felt rushed, our waiter didn't flinch when we ordered water instead of wine, and the food was redonk good. My favorite dish -- I swear I'm not doing this on purpose -- was the Crispy Purple Potato with Dill Pesto, Pickled Mustard Seed, & Lemon. The Butterscotch Pot de Crème, Salted Caramel, & Crème Fraîche was a close second.
Little Dom's - I immediately dug the vibe at Little Dom's, which though located in Los Feliz, could have easily substituted for my favorite neighborhood brasserie (only with Italian food) in NYC. The space is intimate, warm, and cozy, and the local crowd is hip and good-looking, but easygoing and friendly. I broke tradition and ordered the Pizza Margherita (they only had Calamari Fries and I'm veg), which was not only delicious, but also the size of a large placemat (read: very, very large), and for only $12, a seriously good deal.
Cole's - Opened in 1908 (reopened in 2008), this storied joint is steeped in history. The original Pacific Electric building, it was the turnaround for the Pacific Electric Railway Trolley, or so the very nice bartender (who also mixed a mean Moscow Mule) told me. He explained how the original owner's daughter (the place is now owned by a restaurant group) dated Charles Bukowski, who loved the place so much they put a plaque in the men's room in his honor. I can see why: the bar, modeled after a Pacific Railway Red Car, is cluttered with old photos and memorabilia, with the original Tiffany glass windows, tile floor, and old wood bar still in place. We never made it past the bar to the dining room... the music was too good and our seats at the bar too prime to bother.