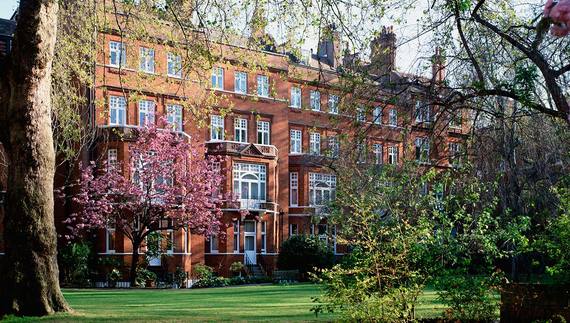 (London's Draycott Hotel seen from its private garden.)

If you were James Bond and needed a London hotel where you could operate clandestinely, where would you stay?
Probably a small town house hotel, such as the Draycott.
There must be 50 similar townhouse hotels scattered across London, but this is probably one of the least well known. Perfect for a spy on the lam.
At just 31 rooms cobbled together from three Victorian-era homes near Sloane Square, the Draycott is the perfect London digs in which to hide out.
In fact, it's so private you might have trouble finding it. Tucked in among other anonymous homes in Cadogan Gardens, you should prepare to circle the block at least once (look for the British flag flying out front; there's a small sign but it's easy to miss). To enter, you have to press the doorbell. You can't just walk in.
Which is why, on a recent visit, James Bond was sitting in the library, sipping not a Martini but a glass of Champagne, while reading a book from the hotel's interesting library.
Of course it wasn't really James Bond, but rather one of the several handsome actors who have played 007 over the years. I won't say which one, to protect his privacy and to honor the hotel's tradition of discretion, but what impressed me most was that the few other guests joining him for the daily complimentary Champagne service were discreet enough not to blow his cover. No one asked for an autograph or complimented his work or exchanged knowing glances. With his beard, I didn't even recognize him at first. Another guest, Jill Sinclair, who runs a travel service connecting interesting locals with visitors to London, later made the ID. "This is the perfect hotel for a famous actor to relax like one of the common folk without being pestered," she noted.
The Draycott isn't just for celebrities. Businessman Keith Hemmings was here for his fourth stay. "It reminds me of home," he told me over the bubbly. "My daughter knew I would like it, she's the one who booked it years ago. It's home from home. You can meet interesting people in a small place like this, just as we're doing. My granddaughter loves it because they serve hot chocolate at night. And I love the free Champagne."
Upstairs, the rooms are all different. Many have 12-foot ceilings and gas fireplaces, but some are so cozy they only have single beds (at a greatly reduced nightly rate). Bathrooms are modern but hardly spacious, although the rain shower fixtures, heated towel racks, deep soaking tubs, supersized towels, thick terry robes, and Penhaligon toiletries make up for their diminutive size.
One of the best features is a large private garden in the back of the hotel. It's an urban oasis perfect for relaxing in fine weather, and easily accessible from the living room.
But the best thing is clearly the feeling that you're staying in a private home. No bustling, noisy lobby; no conventioneers or pretensions like you'd find at one of London's grand dame hotels. Just a home from home in the heart of London. And the occasional celebrity to pretend isn't there.
The Draycott Hotel, 22-26 Cadogan Gardens, London SW3 2RP, United Kingdom
Phone:+44 20 7730 6466
Rates vary with room type, but begin at 154 pounds ($220) for a small single room.
Related