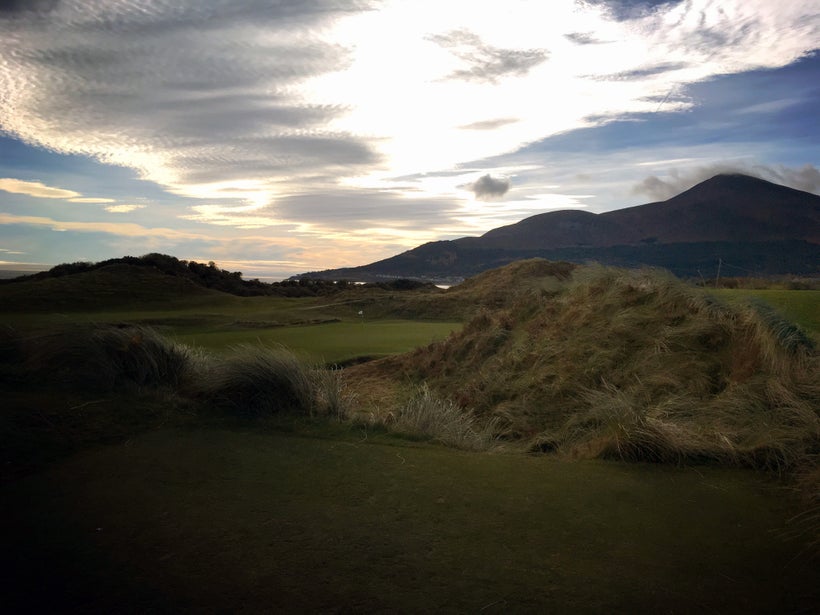 Standing on the ninth tee box at 3:30 in the afternoon, as the sun began to set behind the Mourne Mountains, I suddenly realized I was the only person on the number one golf course in the world.
To my left was the Irish Sea, to my right was a rumpled patchwork quilt of Irish farms. Over the dune before me, the charming seaside holiday town of Newcastle was tucked down under a 3000 foot peak called Slieve Donard. It was one of those moments you feel completely insignificant and completely alive all at once.
Royal County Down was named the best golf course in the world by Golf Digest earlier this year. It's an honor wholly deserved. The course, laid out in 1889 by Old Tom Morris himself, tests not only your entire game, but seemingly your entire personality, your entire makeup.
Most of the best golfers of the last hundred years have made their way to try their games against it; one legend has Tiger Woods shooting in the 80s in his prime his first time around. But when Rory McIlroy hosted the 2015 Irish Open there for the first time in 75 years, the golfing world got an extended view of the magnificence of the links.
The beauty of the place is the first thing that jars you. It looks like a Lord of the Rings set, and it feels comfortably ancient. There's something about that massive mountain rising so quickly out of the sea. You might see things like that in Hawaii or New Zealand, but it seems mystical in a location less than two hours from the tidal flatness of Dublin.
"It's the most incredible setting," says Head Professional Kevan Whitson, a Scotsman who first became entranced by these links 25 years ago. "I can't think of any other place where you see mountains right on top of a links of this magnitude."
I'd driven from Dublin straight from an overnight flight from the East Coast. So I was still groggy when Whitson invited me to sit down and chat under the giant grill-room windows that overlook the drama of the course. His graciousness was reminiscent of Royal County Down's inclusive vibe.
In Irish fashion, the membership has opened their doors to outsiders, a practice unfamiliar with most of the top-ranking private American courses. "The members have their very strong traditions as a private members' club," Whitson says with a smile, "but it's fantastic that they've opened up this wonderful golf course for the world to come and play. "
A short while later, as I was walking over to the first tee, a smiling caddie lugging two bags hustled over, welcomed me, and told me a couple of older members were coming out to play as well. "We're going to move about here rather quick. They'll invite you to play, because they're wonderful gentleman, but if you want to take pictures and take your time, we'll just get out in front and around and you can enjoy yourself—they'll only play a few."
As promised, the two elderly gentleman graciously asked me along, and when I politely declined with the explanation that I was just off a plane, sleepless, and would be moving slow, they smiled, turned, and promptly hit two bullets right down the middle of the banking fairway. Their speed was as advertised; I never even came close to catching them.
My opening tee shot wasn't nearly as fortunate.
"Sea may get that un," the starter said with a dire grin before it sliced into the Irish Sea.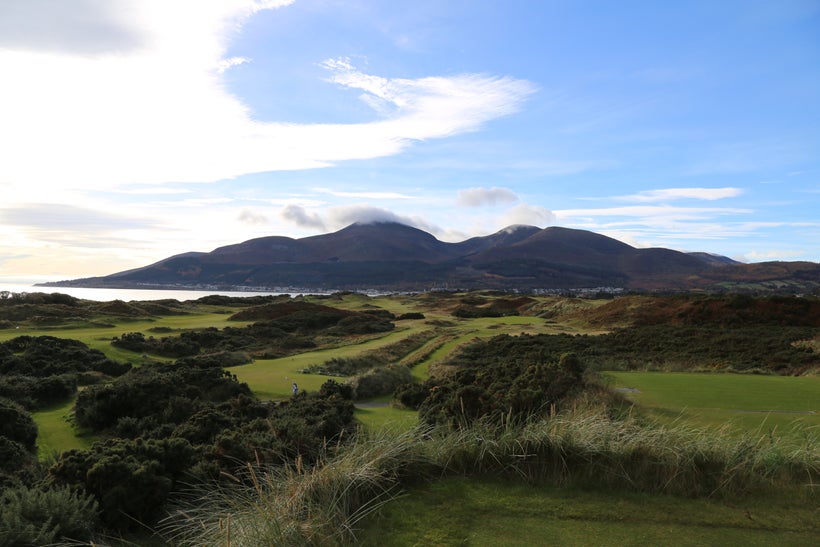 Interestingly, the first is the only hole on the links where the sea is in play, most of the rest of the outward and inward nines hug the coast and give frequent glimpses of whitecaps that are luckily just decoration.
The front nine is hole upon hole of breathtaking golf.
The third, a 475-yard par four stunner, is bracketed by wild, multi-grassed and gorsed dunes. I hit a gentle push on my second shot and figured it was hole-high twenty yards right of the pin. Upon reaching the green, there wasn't a sign of it. But in the several minutes of hunting for it, I got the time to take in the surroundings of what most consider the best front nine in golf.
The high dunes on the ocean side of the green are like a lowland forest of danger and wonderment. The third green is backed by another giant dune, out of play and looming behind, its top blown out, volcano-style, to reveal a beautiful sandy scoop. It frames the far end of the layout, and though the course is a giant, sprawling brute, those dunes make you feel tucked tight into the experience.
After holing out on the third, you rise again to the elevated tee of the par-three fourth, the hole that Whitson calls his favorite. "You've got a panorama of the whole golf course. You have Dundrum Bay on the left-hand side, you've got the Mountains of Mourne behind the golf course, you've got the sleepy town of Newcastle on the right-hand side, it just encapsulates the whole feeling."
Of course, amid all this beauty, you still have to hit the shot.
As you climb to the fourth tee box and turn back toward that panorama and catch your breath, you realize you have a shot of 215 yards over the most terrifying gorse you've ever seen.
Much has been written about gorse through the centuries. Its diabolical beauty—the gentle yellow flowers intermittent in November between the two-inch thorn spikes—is Royal County Down in a nutshell. Here, the walking paths lead you through and among it as you navigate from tees to fairways to greens back to tees. It's an altogether magical walk. As the thorny bushes rise above your head, you feel like a knight getting ready to storm a castle.
And it goes on like that for another four gorgeous holes of dips and bends and turns and rises.
Then you reach the ninth: the most beautiful golf hole you'll ever see. The drive is blind, the tee box is tucked between the mounds. You pick your spot over the top of dune and hope it all turns out.
Most Americans tend to hate blind holes. At my home course in suburban Philadelphia, a small nine-hole, 100-year-old track laid out by legendary Merion designer Hugh Wilson, we suppress our grins at the bewilderment of our first-time guests trying to navigate our several blind tee shots. "Where am I supposed to hit it?" they huff.
And it's true that most modern blind holes are, well, dumb.
But when you hit that tee ball on the ninth and begin the steep walk down the path between the gorse bushes, and a ribbon of fairway, the raised green, the gorgeous bunkers, and the red-brick steeple down in town spill out below you, it literally takes your breath away. It's a view that makes overnight flights, narrow death-defying Irish roads in a rented Fiat, and bracing 40-mile wind gusts so, so worth it.
Because it was late in the year on a Monday afternoon, I was gifted with a completely empty back nine, which suited me entirely fine. At home on a Saturday, there's nothing I love more than making fun of my golfing buddies' inadequacies in our rowdy foursomes. But this place, this revered place, seemed perfectly suited for an afternoon of stillness and contemplation.
"It's such a solitary game in so many ways—it's such a sociable game—but it's such a solitary game," Whitson had said to me in the grill room when I asked about why he loved it so. "The battle you have with the game itself is controlling your own thoughts. It's really what this game is about."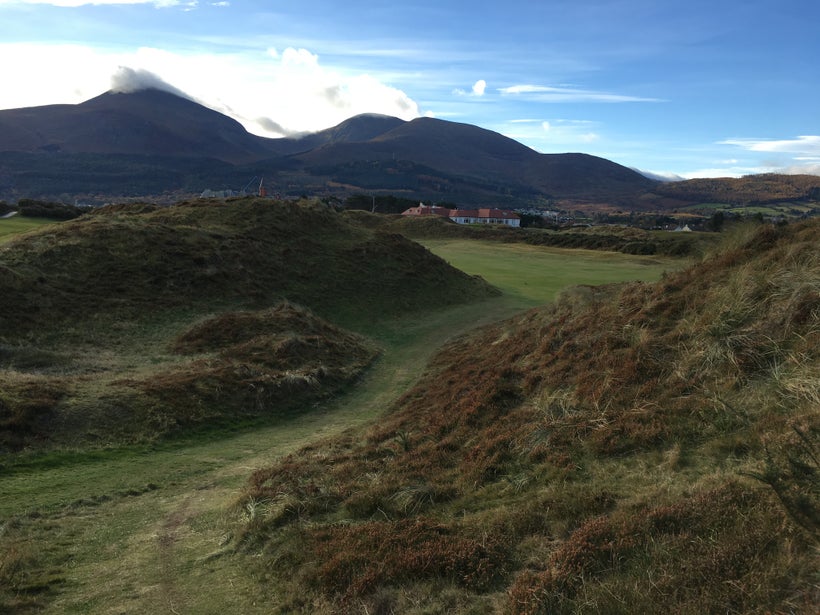 I came to embrace the game later in life than most, at a time when learning a new sport involves more unlearning than anything. But the journey of it, the epic futility of mastering it, has been a great gift to my life and my psyche. Quite simply, it's made me a better person—mostly by putting me in direct confrontation with my often swinging emotions.
When I was a boy, my material grandfather had tried to put me onto the game he loved. He was a solitary sort himself, bitter really. As children we saw him as just an old grouch, but of course it was much more complicated than that. His first daughter had fallen down the stairs and died at two, and the guilt of it, the pain of it, had never left him. Seeing photos of him from his smiling youth contrasted with the older face we knew was like looking at a before-and-after snapshot of grief. He always seemed on the verge of rage or tears.
But he liked me, mostly. Certainly much more than my sisters, who, if I'm being generous, likely reminded him of what he'd lost. He'd give me things, mostly wordless, thrust them at me and say a few words: "here, I can't use this anymore." Perhaps a box of intricately tied trout flies, or on more than one occasion, a battered golf club, cut down and re-gripped to my size.
I hadn't thought of him at length in years really, but as I ambled through the gorse bushes, I couldn't shake the memories of him. I thought of him playing the game to try and control something uncontrollable, much like what he was trying to do with the rest of his life. And it was clear that although we had a difficult time seeing anything resembling love within him, there was something about the game he loved. Something perhaps, about trying to manage what you can manage, and trying to let go of the rest, at least for a shot, a hole, an afternoon.
Late in his life, I joined him for a round at his adopted course he had joined after retirement had brought him south. I supposed it to be just the two of us, and I steeled myself for what was likely to be a long day of enduring his head shaking at my ragged game.
When I arrived, I was shocked to find him laughing among what appeared to be friends. They slapped me on the back and welcomed me, kidded me about my sneakers, and said, "you ready for your granddad to hit every fairway like he usually does?" And behind me, I could just catch a glimpse of a smile.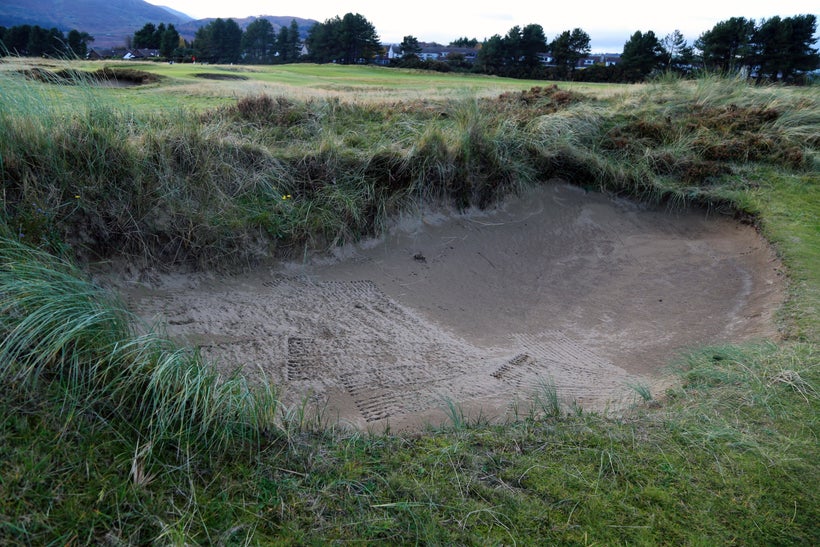 The back nine is another mixture of the beautiful and the sublime, perhaps slightly less dramatic than the front, but wonderful and wildly strategic too.
Of course, what the game also gifts you is a day full of choices and living with them.
In fact, the beauty and the memories took so much of my attention that I began to play better: step up, hit the ball. As anyone who knows the game understands, the less you think about it, the better you typically do.
There was a solid five iron from the gorgeous elevated tee of the 188-yard par three tenth—a tee fully and painfully in view of those grill-room windows. There was a grooved mid iron out of one of the "bearded" bunkers on the beautiful short par-five twelfth. But mostly, with each shot, each walk through the dunes or occasionally down a fairway, there was gratitude at the experience of it all, the old mixed with the new memories, the exultation with the disappointment.
The thirteenth is another beautiful long par four that bends around a picturesque dune. You either hit a gentle cut, or a two-yard draw, or you likely go hunting in the high grasses again.
After a good drive, I had a six iron left to a tucked pin over a front bunker. It was a foolish shot to even try really.
Did I mention that without the full arsenal of your game at Royal County Down, you're going to lose a lot of balls and shoot an insanely high score?
But on this day, I figured fortune favored the brave. While the ball was in the air, my thoughts went from "that's good" to "that's really good" to "that might go in." When it hopped a couple inches from the pin, I stuck my chest out and grabbed my bag.
As I did, the ball began to creep, creep down a slope past the pin, picking up speed, eventually hurtling itself off the back of the green, where suddenly my sure birdie turned into a dicey chip.
A chip that I didn't get up-and-down.
"Managing these great golf courses, they are not exact," Whitson smiled. "You can't say that it's 140 yards to the pin and pull out an eight iron. You've got to work out the nuances. It's that game of chess that you play with golf that is fascinating."
And in the moment, as I slogged to the next hole, there was nothing to do but take a deep breath of the November Irish breeze and smile.
REAL LIFE. REAL NEWS. REAL VOICES.
Help us tell more of the stories that matter from voices that too often remain unheard.
This post was published on the now-closed HuffPost Contributor platform. Contributors control their own work and posted freely to our site. If you need to flag this entry as abusive,
send us an email
.