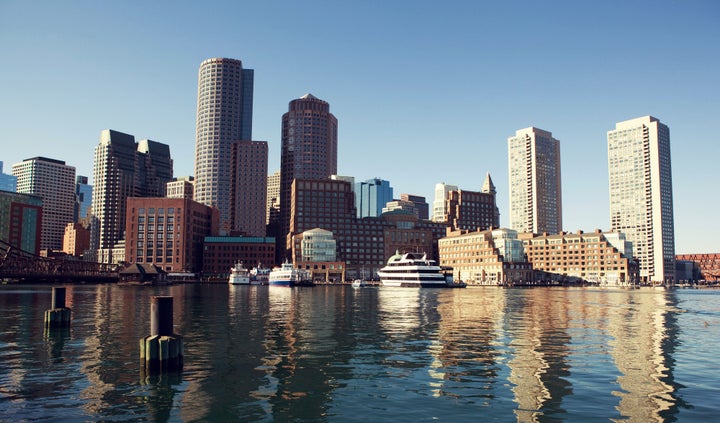 I'm always amazed by how many people who consider themselves travelers have never visited Boston. True, having lived there for most of my formative years, I'm a bit prejudiced, but I've been to almost every city worth visiting and I can honestly say that none is more beautiful, especially now that the hideous Central Artery roadway has been placed underground.
Few cities juxtapose old and new like this city on the Charles River does, with modern skyscrapers soaring amid street after brick-sidewalked street of 18th- and 19th-century townhouses and historic sites.
Even if you've visited before, you'll find something new to discover. This city that locals modestly call The Hub (as in the Hub of the Universe, no less) is continually changing, and the last few years have seen some amazing new developments.
Another plus: In a city where driving is a contact sport and public transportation takes you everywhere worth visiting, a cah (sorry, car) isn't really necessary. The best way to see this beautiful town is on foot, so bring comfortable shoes and -- since Boston's streets are notoriously confusing -- a good map or GPS device. Herewith, an itinerary for a three-day weekend that will show you the best of what Boston has to offer.
If you arrive at Boston's Logan Airport, take the "T" (the region's public transit system) to your hotel (cabs are quite expensive, especially after you pay tolls and airport fees, even though the airport is very close to the city proper). Long known for only having a few grand dame hotels worth mentioning (e.g., The Ritz Carlton, now a Taj property, and the recently renovated Fairmont Copley Plaza), the city has seen a lodging boom in recent years. One of my favorites is Fifteen Beacon, the city's first luxury boutique hotel, but several less expensive choices have popped up, including several new Kimpton properties, such as Nine Zero and the Onyx. (Beware that hotel rates skyrocket during convention, college homecoming, graduation and leaf peeping periods, so try to avoid visiting then).
Once settled, I suggest a walk. Indeed, if all you do is stroll Boston's historic neighborhoods, that is reason enough to visit, but, of course, there's much more to do and see. Start at the corner of Beacon and Charles Streets, at the foot of Beacon Hill. Feel free to pop into the many unusual shops along this gas-lit thoroughfare, but our first official stop is cobblestoned Louisburg Square, perhaps Boston's most beautiful street, "the cynosure of historic Boston's plain-spoken, cold roast elite, the Hub of the Hub of the Universe!" in the words of poet Robert Lowell, so take a right on Mt. Vernon Street and climb the hill. Among the notable residents of this beautiful square, past and present, are U.S. Senator John Kerry and Louisa May Alcott, who put pen to paper at No. 10.
Continue on to 55 Mt. Vernon Street, and tour the Nichols house Museum (that rarity of rarities, a Beacon Hill townhouse open to the public), former home of Rose Nichols -- writer, landscape architect, and niece of sculptor Augustus Saint-Gaudens, whose moving Robert Gould Shaw Memorial, made famous by Lowell in his poem "For the Union Dead," is cast in bronze nearby at the corner of Beacon and Park Streets.
But Mt. Vernon Street's real architectural stars are the Charles Bullfinch-designed Second Harrison Gray Otis House (1802) at No. 85 and the Stephen Higginson House next door at No. 87, both now in private hands. Taking a right on Walnut and another down Chestnut, stop to admire Nos. 13, 15 and 17, all Bullfinch designs. Turn right again onto Willow, then left onto much-photographed, impossibly charming Acorn Street with its heel-wrenching cobblestones. Back at Charles Street, stroll through the serene Public Garden (stopping, perhaps, for a ride on the iconic Swan Boats if they're in operation during your visit), and in a southwesterly direction head toward Arlington Street and the Back Bay.
Next, climb to the 50th floor of the unlovely Prudential Tower for a sweeping, 360-degree view of Greater Boston and beyond (a similar observatory at the top of the John Hancock Tower was closed after the 9/11 attacks, with the owners citing security concerns).
Nearby, in Copley Square, peek inside the Boston Public Library (1895), the United States' seventh largest. Upstairs on the third floor of the McKim Building you'll find the Sargent Gallery. John Singer Sargent (1856-1925), celebrated for his society portraits, considered these seldom-visited murals his masterpiece, and today they remain one of urban America's true hidden treasures.
Lunch awaits at Legal Sea Foods in the Copley Square mall. The first outpost of this now-famous empire was established across the river in Cambridge in 1968, and although there are now locations along the eastern seaboard, management hasn't lost its focus on freshness and continues to win "best clam chowder" and other awards. (When I'm feeling naughty, I go for the whole-bellied New England fried clams slathered in tartar sauce; but more sensibly, I stick with the baked Boston scrod).
Walk off any calories you've accumulated by strolling toward the river to Beacon Street to visit another of Boston's hidden gems, The Gibson House museum. Scion of a distinguished Boston Brahmin family, Charles Gibson belonged to the city's most exclusive clubs, and indeed the six-story Victorian house that bears his family's name looks so lived-in that one can't help thinking the old boy has just popped out for a bite of scrod and Boston baked beans at some members-only enclave. This unique setting is the closest any of us will ever get to experiencing life in a Back Bay mansion in the days when the Lodges spoke only to the Cabots -- or was it the other way around?
Complete your walking tour of the Back Bay by heading west along Commonwealth Avenue. Winston Churchill thought this 240-foot-wide boulevard, with its leafy center mall, to be one of the world's most beautiful. Modeled after Baron Haussmann's Parisian thoroughfares, no wonder the French Consulate feels at home here at No. 3. Then head east along gas-lit Marlborough Street through one of America's loveliest urban neighborhoods, admiring the multi-million-dollar townhouses dating from the 19th century.
You've earned the calories you'll be savoring at Mistral, tonight's dinner venue. Boston's culinary scene has come a long way since the days of the bean and the cod, and this buzzing, high-energy restaurant, under the supervision of chef/owner Jamie Mammano, is one of the reasons.
With dozens of great museums, Boston is a culture maven's delight. The best-known and most worthwhile are the Museum of Fine Arts and the Isabella Stewart Gardner Museum. Take the "T" E train for a ride on America's first (1897) subway and alight at the MFA. Particularly strong here is the collection of French impressionists -- including the largest trove of Monets outside of France -- and the American masterpieces by Copley, Homer, Cassat and Whistler. After a morning of wandering through the galleries, have brunch at Bravo, the museum's fine-dining restaurant (the crab cakes are delicious, and the wine list outstanding if a bit pricey).
Then it's on to the much smaller, but no less impressive, Gardner, a short walk along the Fenway, dating from 1899 and built in the style of a 15th-century Venetian palace. Once the home of Boston socialite Isabella Stewart Gardner, today it houses more than 2,500 works of art spanning 30 centuries, including masterpieces by Raphael, Manet, Botticelli, Rembrandt, Matisse and Sargent. Step into the peaceful courtyard, take afternoon tea in the café.
You've done enough walking today, so take a cab to dinner at Menton, local culinary star Barbara Lynch's latest effort. Along with fellow native Lydia Shire, Lynch has revolutionized Boston dining (her other local hot spots are No. 9 Park in Beacon Hill and the more casual B&G Oysters in the South End). But Menton, located in the once-desolate Fort Point Channel neighborhood, is perhaps her best yet. The menus (a four-course prix fixe and a seven-course chef's tasting) change frequently.
Get an early start with room service breakfast and then join the three million or so visitors who trek the 2.5-mile Freedom Trail each year. With its 16 historic sites (13 are free), the trail is a walking tour through U.S. history. Many visitors do the entire length, marked by a red painted or bricked line, from the information kiosk on Boston Common to the Bunker Hill Monument in Charlestown. Others join the U.S. Park Service's free 90-minute guided tour that takes in seven of these sites. The entire trail can take a full day to compete, but four hours should get you at least to Old Ironsides in Charlestown.
Step into the elegantly simple Old State House (1713), one of the oldest public buildings in the United States, now a museum and a portal to the State Street T station. Cross over the site of the infamous Boston Massacre on your way to Faneuil Hall (1742), still used for public meetings, in the shadow of Quincy Market, once a collection of warehouses but now a beehive of upscale shops and restaurants.
In past years, you'd cross under the hideously green Central Artery (part of Interstate 93) on your way to the next stop, Paul Revere's house (Boston's oldest building), but that's all gone now. In its place is a lovely park, the Rose Kennedy Greenway, now that the highway has been moved underground thanks to the multi-billion dollar "Big Dig" project, reputedly the biggest public works project in U.S. history. From here, it's on to the Old North Church (1723). One of America's most beautiful places of worship, this is where sexton Robert Newman hung the lanterns (the church still owns one of the two originals) that signaled the advance of British forces.
Follow the red line to Copp's Hill Burying Ground, across from Boston's narrowest house at 44 Hull Street (known as Spite House, this 10-foot-wide structure was built in 1874 as the result of a family dispute, and you can actually rent it for a short stay if you'd prefer living in a bit of history). "Old Ironsides," the USS Constitution, oldest (1797) commissioned warship in the world, lies at anchor below in the Charlestown Navy Yard. It's a 15-minute walk from here, but hop a cab instead. To get back to Boston proper, take the MBTA water shuttle from the Navy Yard to Long Wharf on the Boston waterfront.
Hungry? For lunch, we're off to the Union Oyster House, reputedly America's oldest continually operating restaurant, whose past habitués include Daniel Webster and John F. Kennedy. You've requested a cozy booth in the oyster bar downstairs or a window booth in the Pine Room upstairs. Although it's a bit touristy, the décor looks like it hasn't changed much in 200 years, and the oysters, lobster and other seafood selections are fresh and authentic.
Speaking of the sea, our next stop is a nautical treat so rare that many natives don't even know it exists: a tour out to Boston Light on Little Brewster Island, the only remaining manned lighthouse in the U.S.
With the harbor and Boston skyline as a distant backdrop, you get to climb the lighthouse's 76 narrow winding steps and two ladders, at the top of which awaits a huge Fresnel lens, as it slowly revolves and flashes every 10 seconds. Tours, which last three hours including the trip out and back depart twice a day Friday through Sunday, from June 15 to September 30, so kudos if you planned your trip during the summer.
Dinner tonight is at one of my very favorite restaurants anywhere. I can already hear the foodies out there raising objections ("How can a restaurant with such amazing views also have good food!") but I'll stand my ground. We're headed to the Top of the Hub, perched on the Prudential Tower's 52nd floor. True, many "view" restaurants are more view than cuisine, but this one offers both exemplary food and dazzling vistas that showcase much of what you've seen in the past three days (try to snag the room's corner table). A reasonably priced ($58) three-course prix fixe menu is one way to go (the lobster soup with coconut milk, lemongrass and ginger has been on the menu for ages, and with good reason); but everything on the a la carte menu is worthy of the scenery. The desserts here are first rate, too, but you might want to save room for one more treat.
Hop in a cab or walk across Massachusetts Avenue's Harvard Bridge to Central Square in Cambridge. Your destination is Toscanini's, purveyors of arguably the best ice cream and sundaes in the United States, if not the known universe ("Best ice cream in the world," according to the New York Times, with apologies to Jenni's Ice Creams in Columbus, OH). Don't worry, the line moves quickly and the wait is worth it. From here, it's a lovely walk across the Charles back to Boston. Or heck, you've walked enough -- take a taxi. Just ask the cabbie not to drive like a true Bostonian.
Popular in the Community