If you're looking for a single investment platform that offers professional investment management at very low cost, and doesn't require a fortune to open, Betterment is the service for you. It combines all of these features and a whole lot more. In fact, Betterment offers an investment package that hasn't been available to new and small investors up until this time. If you need more, you can check out an additional Betterment Investing Review here.
About Betterment
Betterment is the largest independent "robo-advisor" platform on the internet. The company has over 175,000 customers with more than $5 billion in assets under management. They offer a technology driven investment platform that provides a diversified portfolio of exchange traded funds (ETFs), that is compiled to offer the best possible expected returns for retirement planning, building wealth, and other savings goals.
Betterment offers investors professional investment management at a fraction of the cost of traditional investment advisors. They offer both regular taxable investment accounts as well as retirement accounts, providing a one-stop shop for all of your investment needs.
Betterment's goal is to "...democratize financial advice and management...(by delivering) personalized, optimal advice which is immediately implementable, and (to) manage client portfolios continuously."
How Betterment Works
Betterment works as an automated investment service. They determine your time horizon, goals and risk tolerance, then build a custom-designed portfolio that works within those parameters. They then manage the portfolio on an ongoing basis and rebalance it to make sure it remains consistent with the original design. As an investor you need only to fund your account on a regular basis. You have no responsibility to establish or to manage your portfolio whatsoever.
The investment management method is based on Modern Portfolio Theory, or MPT. Within MPT, the driving force is proper asset allocation, which has been found to be more important than the selection of individual securities and funds. The right asset mix will provide both a maximum rate of return while keeping risk to a minimum.
Betterment's portfolios are comprised of ETF's, which are also index funds. They use index funds because they 1) represent broad baskets of individual stocks, 2) have lower investment expenses than stocks and mutual funds, and 3) are more tax efficient than other funds because they trade less frequently, generating less in capital gains.
Your entire portfolio is a mix of 13 ETFs, covering both stocks and bonds, and in both domestic and international markets. These 13 funds are comprised of literally thousands of individual securities giving you more than adequate exposure to the major markets.
Investment buckets. Your account can be divided into three different buckets -- or goals. Each can be established for different purposes, and may involve different investment strategies. The buckets include retirement savings, short term savings and savings for specific purposes, such as the down payment on a house.
Betterment is set up specifically to be a "hands-off" investment platform, which is to say that it isn't designed for the do-it-yourself investor. You cannot select individual funds, invest outside the 13 ETFs chosen by Betterment, or add individual stocks to your portfolio. It is however perfect for the person who wants to turn the investment job over to a professional, and focus their time on living their lives.
At present, Betterment is available only in the United States, and for regulatory purposes, it cannot accept customers residing outside the country. In addition, customers must have a permanent U.S. address, a U.S. Social Security Number, and a checking account from a U.S. bank.
Investing With Betterment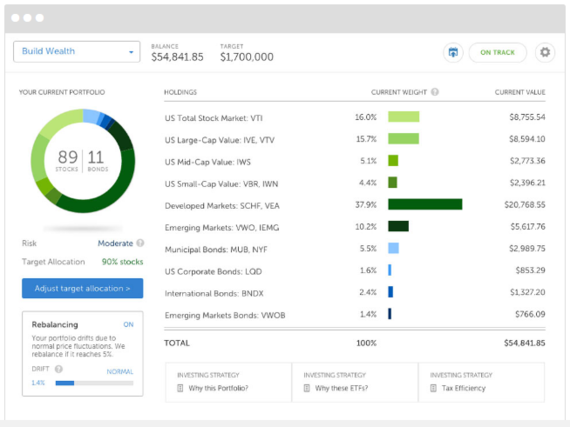 Betterment uses six ETFs to comprise the stock portion of your portfolio, and seven for the bond portion. They are set up to cover various sectors of each asset class for both US and foreign securities. The stock funds represent investment growth, while the bond funds provide capital preservation.
Here is the list of the six stock-based ETF's that are contained in the Betterment portfolio as of June 15, 2016. The entire global stock markets are covered with these funds:
US Total Stock Market - Vanguard U.S. Total Stock Market Index ETF (VTI)
US Large-Cap Value Stocks - Vanguard US Large-Cap Value Index ETF (VTV)
US Mid-Cap Value Stocks - Vanguard US Mid-Cap Value Index ETF (VOE)
US Small-Cap Value Stocks - Vanguard US Small-Cap Value Index ETF (VBR)
International Developed Stocks - Vanguard FTSE Developed Market Index ETF (VEA)
Emerging Market Stocks - Vanguard FTSE Emerging Index ETF (VWO)
These are the seven bond funds that Betterment invests in as of June 15, 2016:
Short-Term Treasuries - iShares Short-Term Treasury Bond Index ETF (SHV)
Inflation Protected Bonds - Vanguard Short-term Inflation-Protected Treasury Bond Index ETF (VTIP)
US High Quality Bonds (IRA and 401(k) accounts) - Vanguard US Total Bond Market Index ETF (BND)
National Municipal Bonds (Taxable accounts) - iShares National AMT-Free Muni Bond Index ETF (MUB)
US Corporate Bonds - iShares Corporate Bond Index ETF (LQD)
International Developed Bonds - Vanguard Total International Bond Index ETF (BNDX)
Emerging Market Bonds - Vanguard Emerging Markets Government Bond Index ETF (VWOB)
In looking at the seven funds, you can see that they cover US and international bonds, as well as various bond sectors, including corporate and government bonds, emerging market bonds, TIPS, and municipal bonds. Betterment covers the entire global bond markets with just seven funds.
The use of 13 ETFs in total enables you to achieve an incredible amount of investment diversification with a very small amount of money.
Once your portfolio is established, Betterment will rebalance it as needed as funds change in value.
Betterment Features and Benefits
Minimum initial deposit. There are no minimum account balances required, either to open an account or to maintain one. You can even start your account with regular monthly contributions, rather than by depositing a large lump sum.
Types of accounts offered.
Betterment offers the following account types:
Traditional IRA
Roth IRA
Trust account
An account solely under your spouse's name
A Traditional IRA under your spouse's name
A Roth IRA under your spouse's name
A joint account
Taxable investment account
SEP IRA (single participant only)
Betterment for Business (the Betterment version of a 401(k) )
Account protection. Betterment accounts are covered under SIPC insurance. This protects your account for up to $500,000 in cash and securities (including up to $250,000 in cash) per account type. This coverage does not protect against losses due to market fluctuations, but it does insure your account against broker failure.
Betterment Mobile App. Betterment offers mobile apps for both iOS and Android. You can download them at Apple Store and Google Play.
Customer Service. You can contact Betterment by email or by Live Chat, Monday through Friday, 9:00 am to 8:00 pm Eastern Time (ET), and Saturday and Sunday, from 11:00 am to 6:00 pm ET. You can also contact them by phone Monday through Friday, 9:00 am to 8:00 pm ET, and Saturday and Sunday from 11:00 am to 6:00 pm ET.
RetireGuide Methodology. This is Betterment's retirement planning tool, which provides you with unbiased, holistic advice to help you stay on track and achieve your retirement goals. The tool helps you to determine how much you may spend in retirement (your after-tax income from all sources), as well as how much you need to save, and even which accounts to save in, including an employer plan, a traditional vs Roth IRA, or taxable accounts. You can easily and securely sync all of your retirement accounts, not just those with Betterment.
SmartDeposit. This is Betterment's automated cash investment tool. It is designed to put more of your money to work by investing your excess cash. That makes the investment funding job automatic, giving you complete control over the entire process while maintaining the liquidity you need.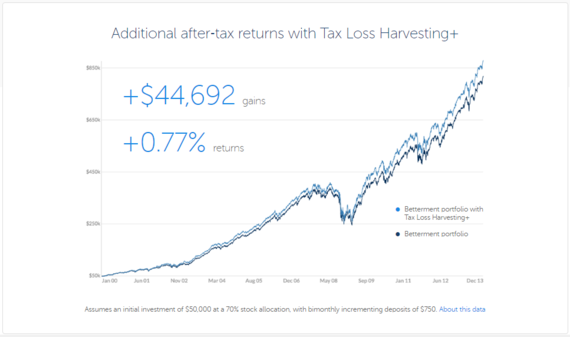 Tax Loss Harvesting (TLH). Betterment offers this service with taxable accounts only (since tax-sheltered accounts don't generate taxable capital gains). Betterment claims that it generates twice the tax benefit of other automated tax loss harvesting strategies, in fact as much as 1.94% in mean annual tax offsets compared to 0 .95% by other automated services. (See Betterment's Tax Loss Harvesting White Paper for a full discussion.) Translation: Your average annual investment returns should improve with Betterment's Tax Loss Harvesting strategy working for you.
Tax loss harvesting is fairly complicated, but it generally involves selling securities that have sustained losses, then buying correlated assets (ones that provides similar exposure) to replace them. The strategy allows the investor to generate valuable capital gains losses, while keeping the portfolio balanced at the target allocation mix.
Personal Consultation. Betterment provides this service to investors who maintain account balances of at least $500,000. It gives you access to make personal calls to one of Betterment's investment experts, seven days per week, for personal investment consultation.
Betterment Pricing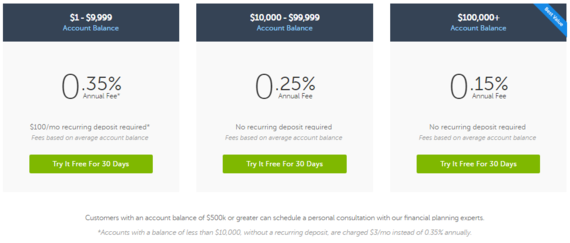 Betterment charges a percentage fee on the amount of money that you have under management on the platform. There are no separate fees charged for trading, transactions, rebalancing, withdrawals or minimum account balances.
The fee structure has three pricing tiers:
Account Balances Under $10,000: 0.35% of your average annual balance. There is no minimum initial account balance required, but you must commit to a $100/month minimum automatic deposit, otherwise you will be charged a flat rate of $3 per month. That will work out to be more than 0.35% on any balance under $10,000.
Account Balances Between $10,000 and $100,000: 0.25% of your average annual balance.
Account Balances Greater than $100,000: 0.15% of your average annual balance. That means you can get professional management of a $100,000 portfolio for just $150 per year.
Please note that there are small fees charged with the ETFs used in your portfolio, as there would be for ETFs held in any type of investment account available with any provider.
Will Betterment Work for You?
For most investors the answer is yes! Betterment offers an all-in-one investment platform, that provides ongoing portfolio management at very low fees. It's perfect for inexperienced investors, and for those who want to invest but have no interest or inclination to get involved in the actual process.
Betterment is also the perfect investment platform for new investors. The fact that the service has no required minimum initial deposit, in combination with the very low fee structure, makes it the perfect service for people with little or no experience investing. You can even set up an automatic deposit system that will fund your account, with no need for making an upfront deposit.
The use of portfolios comprised of a small number of broad-based investments also gives an investor the ability to diversify into virtually the entire investment universe with just a small amount of money. You can handle short-term investing, as well as long-term retirement planning, all in the same platform.
Check out all that Betterment has to offer, and see if it will work for you.
Related
Popular in the Community