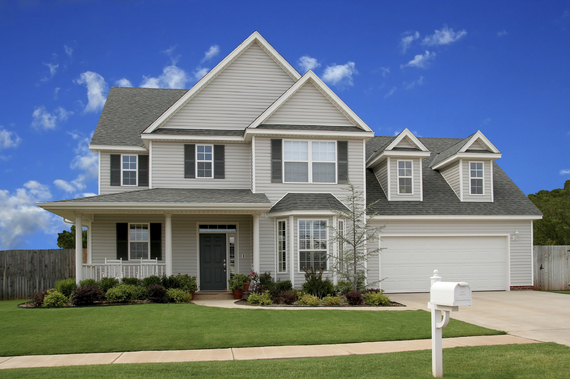 Image Source
Members of different generations tend to view the world through different lenses. This is certainly true when it comes to taste in music, movies, and entertainment, but it's also true when it comes to housing as well.
The National Association of Home Builders conducted an extensive study in 2015, interviewing 4,300 recent and prospective home buyers to determine the differences and similarities in housing preferences among the generations. The study uncovered key variances between desired size, features, and layout amongst seniors (born 1945 or earlier), baby boomers (born 1946 - 1964), Gen Xers (born 1965 - 1979), and millennials (born in 1980 or later).
Size of the Home
Many people want a different size home than what they currently have. Whether they want a bigger or smaller home, however, depends on their age.
Seniors and baby boomers are looking to downsize to less than 1,900 square feet, while Gen Xers and millennials are looking to upgrade to more than 2,300 square feet. This makes sense when you consider younger generations are in the midst of building and raising families, while the older generations typically have fewer people living at home.
Number of Rooms
The older and younger generations go in opposite directions again when it comes to a number of rooms in a house. Both Gen Xers and millennials want four or more rooms in their homes, while seniors and baby boomers are quite satisfied with three.
Number of Floors
Again, the older generations prefer the opposite of the younger generations, with 75% of baby boomers and 88% of seniors looking for homes with only one floor. Less than half of millennials and Gen Xers share the same preference. When you consider the physical challenges that arise as people age, making stairs a difficult obstacle, it makes sense that so many of the older generation prefer single-floor living.
Finished Basements
Millennials want more living space than any other group. Millennials also prefer a finished basement with 77% listing this feature as important. Contrast that only 43% of seniors who find a finished basement important to their home.

Foyers
Stylistic features in the home vary across the generations as well. Both seniors and baby boomers aren't too enthralled with two-story foyers and family rooms, with this feature appearing on the most unwanted list for both generations.
Outside
Millennials like having the option of extending their living areas into outdoor spaces. They were the only group that ranked three outdoor spaces in their top 10 list: a patio, front porch, and deck.
Similarities
Even with all these differences, you'll find some similarities in preferences among the generations with all generations preferring a single family detached home.
The Environment
Across the board, the majority of home buyers ranked Energy Star appliances and windows high on their list of preferences. However, while most people want Energy Star appliances and windows, very few are willing to pay more for a home out of pure concern for the environment.
Location
Surprisingly, the generations also agree on the aspect of location as the majority of home buyers don't want to live in city centers. The majority of home buyers today prefer homes in the suburbs especially the millennial generation.
Many new home builders such as Legend Homes in Houston, TX report that a large percentage of their home sales over the past two years have been to millennials moving out of city centers and establishing roots in new home communities in the suburbs.

Laundry Room
Everyone wants a functional laundry room, and everyone wants it on the first floor. All generations rated this feature high on their preference list with baby boomers, Gen Xers, and millennials actually ranking a first-floor laundry room as their first most wanted feature.
Storage and Lighting
All generations ranked garage storage and a walk-in pantry high on their lists of preferences, and all generations ranked exterior lighting in their top 10 most desired features.
While some housing preferences can be the same across all generations, one thing is for certain. There will always be some stark differences when it comes to housing preferences between one generation to the next, and the biggest differences can often be seen between the oldest and youngest generations as they tend to want and need very different things when it comes to housing
Related