Illinois rang in New Year's Day 2011 with an unpaid bill backlog that totaled $6.38 billion.
Within two weeks, in the final hours of a lame duck Legislature, Democratic lawmakers and Gov. Pat Quinn had passed a four-year, 67 percent state income tax increase to address what rapidly had become a financial crisis for state government.
This report from CBS2 Chicago was typical:
Democrats said the tax hike will help plug a $15 billion budget hole.

"We're going to pay bills on time, and that's a huge change," said state Senate President John Cullerton (D-Ill.)

Cullerton emphasized that the tax hike is only one portion of a solution to the state's budget crisis.

"The taxes are going to not borrow anymore; to make our pension payments without borrowing our pension payments; to make up for the loss in federal revenues. They're not going for any new programs or any new spending," Cullerton said. "There's going to have to be further cuts, even with this tax."

The tax hike will be coupled with strict 2 percent limits on spending growth. If officials spend above those limits, the tax increase will automatically be canceled. The plan's supporters warned that rising pension and health care costs probably will eat up all the spending allowed by the caps, forcing cuts in other areas of government.

But Republican critics say the hike will harm middle class families.

"This means hundreds of dollars for Illinois families that they'll be paying more to the State of Illinois, and the irony is the money they have been sending to the state has been so grossly mismanaged for the last decade," said state Senate Republican Leader Christine Radogno (R-Lemont.)
But when the tax increase expired as scheduled on New Year's Day 2015, the bill backlog remained at $4.36 billion. Growth in the state's pension obligations had consumed much of the revenue from the tax increase.
With the state moving into its third month with no budget and spending continuing at an unsustainable pace, Illinois State Comptroller Leslie Geissler Munger warned that Illinois is on pace to be in even worse shape on Dec. 31, 2015, than it was five years earlier.
Read the rest of the report at Reboot Illinois, where you can also check out this chart of Illinois' bill backlogs over the last 10 years.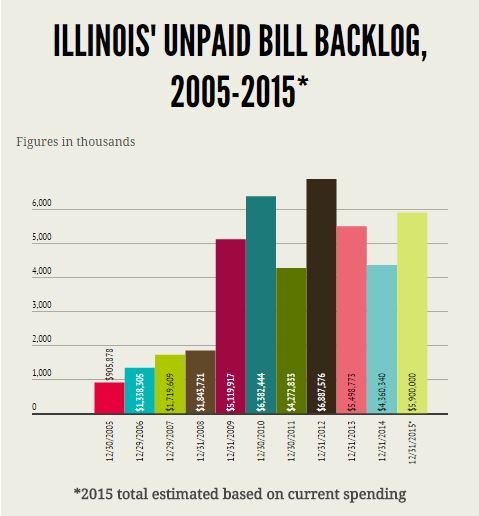 Given these annual funding crises, how should the state re-orient itself when it comes to budgets and spending? What is the best way to fund government? Cook County Board Commissioner and former Chicago mayoral candidate Jesus "Chuy" Garcia, Ald. Roderick Sawyer and Cook County Commissioner Peter Silvestri examined this question at Reboot Illinois. Check out some of their ideas, including government restructuring.

REAL LIFE. REAL NEWS. REAL VOICES.
Help us tell more of the stories that matter from voices that too often remain unheard.