Businesses succeed and fail at the same time. Such is the reality.
Even in an economy that is booming, it takes agile, savvy, and focused businesses to make the cut and keep on moving forward.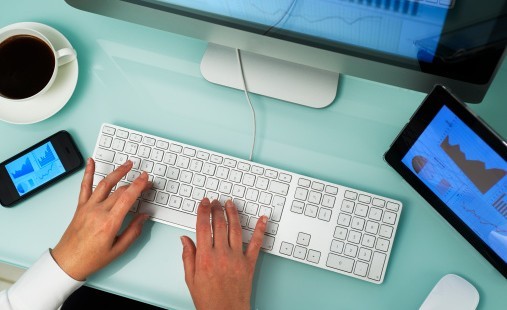 Among the biggest reasons a business will fail, one of the easiest, yet the most challenging, is to determine how to approach and enact a business's web presence.
Of the top million websites in the world, more than 413 thousand are hosted in the US, representing more than five times as many as any other nation on the planet. (Pingdom)
Content management is a jungle out there, with more than three of five companies not using any established resource management tools, and of the remainder, only 2out of 3 using a single tool, WordPress. (W3Techs)
Businesses have so many options, from free web-hosting, where they manage their own sites completely like GoDaddy or freehosting, template-based support like Webs, or more sophisticated and helpful ones that combine website design and hosting in industry specific packages like Herolocity.
When business was first moving into cyberspace, it was good enough to be one of the few that had your own site, and the level of sophistication, user engagement, even solid content could be sacrificed for presence. Times have changed and suddenly your content mattered. The utility of the site mattered. The level of site utility and sophistication mattered.
By the time management of search engine optimization became necessary, the field changed again. It wasn't good enough just to be discovered on the internet, you had to be innovative, pertinent, and the site had to have its own life, its own value.
Today's customers are demanding yet another change, and the success companies achieve making this next hurdle will define the marketplace for the next wave of changes. Social valuation is becoming, as the millennials would say, "a thing".
When a consumer goes browsing, he doesn't just want a cat video, he wants a cat video that has a message that meets what he is looking for. He doesn't want just a well-designed and intuitive site layout; he wants to get what he wants from the site without even realizing he has done it.
What makes sense, what the businesses, engineers, and site optimizers have to consider is the mind of the consumer, the intellect behind the choices. Research helped discover the acquired 'banner blindness" that is familiar to most internet-savvy marketers now.
Similar research has also pointed out that certain strategies, such as creating adverts that mimic native page features are effective, but unethical. (NNGgroup)
For companies that are increasingly dependent on their web presence for customer engagement, they will do well to consider three options for today's market place.
The first option is to invest time in learning how to do their own brand engagement well, if they are going to keep and maintain their own website.
The second option is to hire and communicate with web personnel that can bridge the gap, and make the website really connect through innovative uses of the available resources like Web templates and the like.
The final option, and what might be best, would be to consider a site that provides both Website design and hosting options, with direct customer support and consultation, so they remain on the cutting edge as the times continue to change.
In all candors, the intensity of the internet business world is getting increasingly intricate. One does need to consider whether it best to base your business on what you can learn yourself, or trust the technology alone, or put a professional behind you for the years ahead.
Every business is different, so keep your head in the game, and make sure what is best for your business isn't only a factor of your perceived bottom line.
What has your business experience been like? How helpful have you found the template-type sites to be? Let us know your thoughts on the future of corporate websites by leaving a comment below.
REAL LIFE. REAL NEWS. REAL VOICES.
Help us tell more of the stories that matter from voices that too often remain unheard.